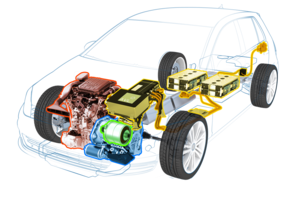 Powertrain Design for Passenger Cars
Reduced CO2 emissions and low fuel consumption, optimized driveability and maximum safety are the main drivers for the design of modern passenger car powertrains – requirements that often collide with the increasing pressure on the manufacturers to reduce development and production costs as well as the time to market.
Design is at the center of new powertrain development, integrating the often conflicting requirements to provide an overall solution and documenting that solution for repeatable mass production.
AVL understands and handles the complexity of modern powertrains and all its elements. For us, the engine, exhaust aftertreatment, transmission, electric, electronic and safety - including the correlated control systems and software - are the well-tuned components of one integrated solution.
---
Customer Benefits
Relying on AVL expertise is the best solution to gain technical advantages:
Experienced multi-disciplinary team for development projects based on the specific demands and needs of our customers
Covering of all powertrain-specific aspects under one roof (design, simulation, development, research, plant and production engineering)
Experience with all kinds of conventional powertrains
Experience with all kinds of hybridization including battery design
Detailed and proven concepts with an accurate prediction of fuel consumption, emissions, driveability, reliability and function
From the first concept up to design to test and production
Utilization of database of benchmark and measurement data for target and trend analysis
Decision support by highly sophisticated simulations for all relevant areas
Use of synergy effects with other development areas, e.g. for energy management simulation
---
References
AVL has broad experience in processing all kinds of powertrain development projects and offers a unique spectrum of services that cover all aspects of the development of modern powertrains.
Engine family concepts
Cooling system layout
Aggressive downsizing
Minimized friction
Vehicle integration
Hybridization
Transmission
Battery
Range extender module
---
Solutions
Definition and evaluation of concepts for all elements of the passenger car powertrain in close cooperation with the customer
Efficient design processes on the base of a simulation-driven "front-loading" approach
Familiar and experienced with the most recent requirements for IC engines in terms of downsizing, exhaust aftertreatment, electrification and hybridization
Unique system know-how of all modern types of transmission (Powershift, DCT, CVT)
Manufacturing-oriented design solutions under consideration of customer needs and product costs
---