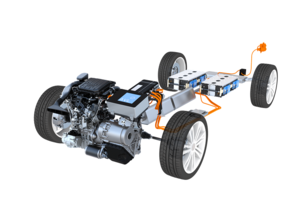 Powertrain Design
Sustainable and clean powertrains require the permanent design improvement of the traditional IC engine. Due to the increasing complexity between the interrelation of the IC engine, transmission, electric motor, battery and controls, a comprehensive development approach is also required to deliver market-tailored, competitive powertrain solutions on schedule.
---
---
AVL Approach
The AVL design team represents the key role during the development process ensuring product function, cost and quality by early involvement of simulation, combustion and mechanical development, production engineering and supplier management.
With a worldwide team of more than 400 design engineers AVL offers premium solutions by taking responsibility for:
Prototype design
Pre-production and production design up to SOP and beyond
Technical process development

Flexible project execution is guaranteed through:
Integration into customer workflow and decision process
Experienced teams at headquarters or tech centers close to customer location
On-site engineering by means of fully embedded teams
Common methodology, tools and processes
---
Benefits at a Glance
AVL's experience from numerous projects with all major powertrain manufacturers worldwide provides the secure basis for a development program that results in a highly competitive product for future market demands.
Key benefits:
High degree of maturity of prototypes providing fully representative performance, emission, and initial durability targets by early integration of simulation results as well as series production requirements
Vast experience in manufacturing technology as well as established cooperation with system, component, machining, and assembly line suppliers guarantee series production feasibility
Proven development process representing the multidisciplinary interaction between customer, suppliers and AVL saving time and costs
Benchmark database of all competitor line-ups worldwide
Fully integrated product lifecycle management (PLM) including complete release and documentation for all development phases according to VDA standards and/or customer system
Early detection and solving of problems during product and process development from concept to production ramp-up
---
References
AVL Design has been involved in more than 1000 engine and powertrain development programs within the last decade
160 powertrain design projects from 2-wheelers, passenger car diesel and gasoline, hybrids, commercial vehicles up to large engines executed annually
10 complete powertrain systems designed annually
10% of turnover invested in R&D annually
Approximately 60 patents annually
---