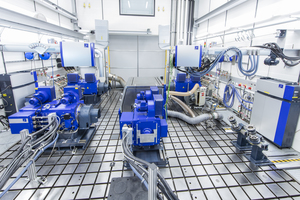 ACCELERATE INNOVATION
AVL RACING Testing Solutions and Services
AVL provides standardized and custom tailored systems, products and services to the majority of the competing teams and manufacturers in the premier leagues of motorsport.
---
AVL Approach
For all testing requirements in the racing industry AVL offers a broad variety of test rigs with the necessary precision, support and customer service.
Engine and Powertrain Testing
One of AVL's specialties are systems for engine, powertrain and gearbox testing. The portfolio covers all kinds of testsystems ranging from research and development, durability to race simulations.
Single Cylinder and Components Testing
Testing single components reduces the prototyping effort dramatically. AVL therefore offers a broad variety of scalable and multi-functional test equipment for all kinds of powertrain and vehicle components testing.
Simulation
AVL offers a fully dynamic vehicle simulation software used on the race track, offline in the office as well as integrated on AVL testbeds.
Services
AVL is well aware of the special demands and needs of racing customers, and therefore offers tailored services special to the racing community.
---