Press Releases 2018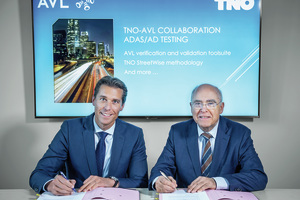 Real-world scenario-based validation helps to realize safe automated driving
Press Release: AVL and TNO join forces to accelerate development and validation of selfdriving vehicles
One of the biggest hurdles for the launch of self-driving vehicles (and advanced driver assist systems) is validation to ensure that the system does not cause any failures or undesired side effects. Traditional testing approaches require an exponential increase in efforts, therefore new innovative methods and tools are needed. AVL CEO Helmut List: "The recent collaboration between AVL and TNO combines strengths in order to accelerate development and validation of self-driving vehicles, helping to make traffic safer for all participants. AVL develops a scenario-based open validation and verification toolchain which integrates TNO's StreetWise methodology."
---
Verification and validation of complex automated driving functions are difficult tasks. Especially showing that they work properly in all possible situations and under all conditions poses a new challenge in the automotive development.
Traditionally, vehicle manufacturers ensure that new vehicles have undergone intensive testing with the necessary amount of road miles. Before a car is approved by authorities, it has already driven hundreds of thousands of kilometers. If the same approach would be applied to vehicles with higher levels of automation, one would have to execute billions of kilometers of road testing – an impossible task! Thus new innovative so-called scenario-based verification and validation approaches help to overcome these challenges by optimizing testing efforts, at the same time ensuring that the vehicles will be safe on the road.
As a leading test system provider, AVL is developing a scenario based open verification and validation toolchain which enables efficient test planning and execution in various testing environments. TNO, the Netherlands Organisation for Applied Scientific Research, has developed a unique methodology to extract scenarios including statistics from real driving data. By integrating scenarios from the TNO StreetWise database, AVL will create test cases and plans with its so-called AVL Test Case Generator, a key component of the verification and validation toolchain. Georg List, responsible for strategy at AVL: "ADAS validation requires new approaches. TNO´s Streetwise Database gives unique insights in the statistic distribution of real driving situations. AVL´s scenario generator and open testing environments make it possible to blend virtual and real testing in an optimized test plan. Both features bring us closer to smart testing of ADAS functions, which we are all looking for."
As part of the cooperation, TNO will increase the number of scenarios in the StreetWise database rapidly by establishing partnerships with clients all over the world including AVL, who will contribute real driving data. As a neutral and independent research organization, TNO will maintain the governance and safeguard the data content in the StreetWise database for all. Daan de Cloe, responsible for the Automotive Business at TNO: "To support and speed up the development and deployment of automated vehicles, the international automotive industry needs a global database with real-life scenarios for safety assessment and performance validation. TNO has established the StreetWise Methodology to provide all OEMs and TIERs with a virtual scenario database based on real world driving data. Together with AVL we want to enable test case generation, validation and replay of these scenarios from the database in simulation and testing environments."
TNO as Dutch Research Institute will make available on non-exclusive terms and conditions its validation and verification toolchain to interested marketparties worldwide including the access to the TNO StreetWise scenario database for scenario-based testing. The partners have jointly developed an interface to ensure direct and fast scenario access and data exchange for efficient test planning and execution.
About AVL
AVL is the world's largest independent company for development, simulation and testing technology of powertrains (hybrid, combustion engines, transmission, electric drive, batteries and software) for passenger cars, trucks and large engines. The company has over 9,500 employees worldwide and achieved a turnover of 1,55 billion Euro in 2017.
About TNO
The Netherlands Organization for Applied Scientific Research (TNO) is an independent research organization. We connect people and knowledge to create innovations that boost the sustainable competitive strength of industry and well-being of society. Now and in the future. This is our mission and it is what drives us, the over 3,000 professionals at TNO, in our work every day. We work in collaboration with partners and focus on transitions or changes in nine social themes that we have identified together with our stakeholders.
The automotive research activities by TNO are widely recognized by OEMs and TIERs all over the world as a valuable knowledge partner with unique expertise, methodologies and facilities for the development of advanced software algorithms for automotive control applications and tailor-made solutions that make our vehicles more safe, efficient and sustainable.
Contact
Michael Ksela, Company spokesman AVL
Phone +43 664 132 81 78
michael.ksela@scoopandspoon.com