Press Releases 2018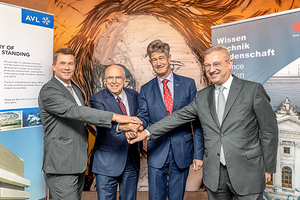 Press Release: Talent for the automotive industry: AVL and TU Graz promote young technical talent
AVL and the University of Technology in Graz are closely connected in research, development and innovation. Now the two partners are also strengthening joint talent development.
---
At the heart of the new talent initiative is an "AVL Class" at the University of Technology (TU) in Graz, which was officially established with the signing of the contract on 14 November 2018 in the Helmut List Halle. This joint networking and funding platform creates added value for companies and students alike. The aim is to strengthen networking between students and AVL experts and to introduce them to entrepreneurial problems. Master and PhD students of the University of Technology in Graz who work in AVL research projects can participate in the AVL class. Students who are involved in AVL-sponsored competition teams of the University of Technology, such as the TU Racing Team, are also welcome in the AVL class.

Helmut List, CEO of AVL, explains: "In the very dynamic environment of the global automotive industry, AVL is constantly expanding its research and development activities in Austria. Only with comprehensively trained technicians is it possible to find innovative solutions for the diverse challenges of the future. With the AVL class, we are building further bridges between universities and companies for training purposes."

University of Technology Prinicipal Harald Kainz is also pleased with the new initiative and the opportunities it offers young technicians: "The next generation of technicians at the TU is integrated in AVL research projects in many ways. With this additional offer, our students now also gain a direct insight into the structures and processes of a world-leading company, benefit from the contacts and are thus even better prepared for their careers in industry and commerce".
Exclusive offer for students
The AVL class offers students exclusive opportunities to look beyond their research collaboration with AVL to deal with topics from industry and business, take a look behind the scenes of the automotive industry and build a worldwide network. The spectrum of activities within the AVL class ranges from excursions to individual AVL branches and invitations to in-house network meetings to fireside chats with the AVL management. In short, students in the AVL class gain exclusive access to the world and corporate culture of AVL and get to know the company's executives and experts personally.

Christine Schichler, responsible for the coordination of the AVL class at the TU Graz, is pleased with the lively interest shown by TU students: "The students greatly appreciate the advantages of networking and talent promotion. The first feedback and conversations with them have shown this".

AVL is the world's largest independent company for the development, simulation and testing of drive systems (hybrid, combustion engines, transmissions, electric motors, batteries and software) for passenger cars, commercial vehicles and large engines. AVL employs over 9,500 people worldwide. In 2017, sales amounted to 1.55 billion euros.