{attributes={}, name=downloadList, data=, type=selection_break, options=[], optionsMap={}, mainTitle={attributes={language-id=en_US}, name=mainTitle, data=Discover more, type=text, options=[], optionsMap={}}, sectionList={attributes={}, name=sectionList, data=, type=selection_break, options=[], optionsMap={}, sectionIcon={attributes={language-id=en_US}, name=sectionIcon, data=newsletter, type=list, options=[], optionsMap={newsletter=Newsletter, download=Download, software=Software, white-paper=White Paper, webinar=Webinar}}, sectionName={attributes={language-id=en_US}, name=sectionName, data=Contact us, type=text, options=[], optionsMap={}}, downloadFiles={attributes={}, name=downloadFiles, data=, type=selection_break, options=[], optionsMap={}, LinkTitle={attributes={language-id=en_US}, name=LinkTitle, data=Get in touch with our experts, type=text, options=[], optionsMap={}}, CTALink={attributes={language-id=en_US}, name=CTALink, data=https://www.avl.com/registration-cta?articleId=26151393&groupId=10138, type=text, options=[], optionsMap={}}, DownloadFile={attributes={language-id=en_US}, name=DownloadFile, data=, type=document_library, options=[], optionsMap={}}}}}
false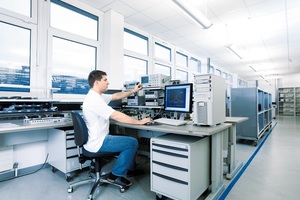 Equipment Calibration
On-Site and Factory Calibration and Adjustment Services
To keep your AVL equipment running properly and to ensure that is producing accurate, consistent and plausible results, it must be regularly calibrated. AVL is able to provide calibration and adjustment services at your location, or in our factory.

For all product calibrations, AVL offers a package price to enable simple cost planning and uncomplicated, fast handling of test equipment. For the duration of the calibration, you can rent a replacement device from the AVL rental pool, subject to availability. A fixed charge applies, depending on the device.

On-Site calibration

An engineer can visit your site to calibrate your test equipment. Calibration intervals of 12 months are recommended – though it may be shorter if devices are used for legislative emissions testing.

Factory Calibration

For technical reasons some equipment must be calibrated at an AVL Calibration Centre at intervals that vary between 12 and 36 months. For legislative emissions testing, mandatory intervals for calibration and linearity checks might apply.

Accuracy is ensured to both international and national standards, and check-out tests are carried out to ISO 9001, VDA 6.4 and AVL testing standards. A full report is made of any actions taken and the calibration results.

To find out more, speak to your local AVL Sales or Service representative.
---