{attributes={}, name=downloadList, data=, type=selection_break, options=[], optionsMap={}, mainTitle={attributes={language-id=en_US}, name=mainTitle, data=Discover more, type=text, options=[], optionsMap={}}, sectionList={attributes={}, name=sectionList, data=, type=selection_break, options=[], optionsMap={}, sectionIcon={attributes={language-id=en_US}, name=sectionIcon, data=newsletter, type=list, options=[], optionsMap={newsletter=Newsletter, download=Download, software=Software, white-paper=White Paper, webinar=Webinar}}, sectionName={attributes={language-id=en_US}, name=sectionName, data=Contact us, type=text, options=[], optionsMap={}}, downloadFiles={attributes={}, name=downloadFiles, data=, type=selection_break, options=[], optionsMap={}, LinkTitle={attributes={language-id=en_US}, name=LinkTitle, data=Get in touch with our experts, type=text, options=[], optionsMap={}}, CTALink={attributes={language-id=en_US}, name=CTALink, data=https://www.avl.com/registration-cta?articleId=26316219&groupId=10138, type=text, options=[], optionsMap={}}, DownloadFile={attributes={language-id=en_US}, name=DownloadFile, data=, type=document_library, options=[], optionsMap={}}}}}
false

Release Notes 2020 R1
AVL Virtual Fuel Cell Development - Components and Systems
In order to support the current and future needs of our customers, we regularly update our products and services. New features, improvements and refinements are added, and here we outline the updates in release 2020 R1 of our Fuel Cell portfolio.

FIRE™ M
PEMFC media supply:

Simulation of gas flow in PEMFC applications now fully supports turbulent and laminar flow regimes in the manifold and stack domains.

PEMFC cell / stack simulation:

The new homogenized channel model enables the fast and accurate simulation of flow, thermal, and species conversion processes in single cells and stacks.

Flexible operating voltage positions:

The specification of the operating voltage is supported by the flexible selection of arbitrary cathode and anode side locations.

Extended 2D and 3D results output:

Dissolved species mole fractions, water mass transfer gas/dissolved, water mass transfer liquid/dissolved, are now all available as standard output quantities.

Convergence acceleration:

The convergence speed of the liquid water in combination with Microporous Layers (MPLs) has been increased by a factor of five.
CRUISE™ M
Electrochemical PEMFC model:

An electrochemical model of PEM fuel cell stacks is provided, using a highly efficient hybrid analytical-numerical approach. This describes the transport of mass, species and heat in the gas channels, the diffusive and advective fluxes through the gas diffusion layers and the membrane, and the electrochemical reactions in the catalyst layer.

Membrane Humidifier model:

A dedicated membrane humidifier component model is now available supporting plate and shell tube configurations, with all geometry parameters to be freely specified. The physical properties of the membranes are available from the database.

Air Water Separator:

A dedicated air-water separator component model has been implemented for removing water from a given gas stream. This is done by calculating the flow pressure drop following an orifice equation and empirically modelling the water separation process.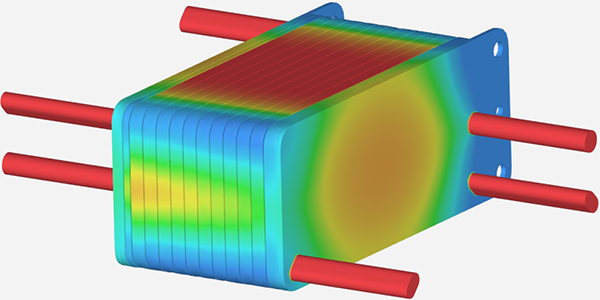 Figure: Three-dimensional multi-physics PEM fuel cell model




Figure: Electrochemical PEM fuel cell model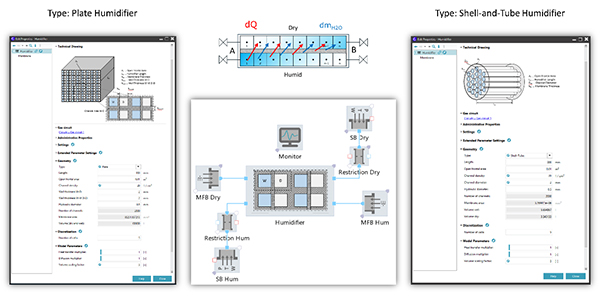 Figure: Humidifier Component featuring two main design types
---