{attributes={}, name=downloadList, data=, type=selection_break, options=[], optionsMap={}, mainTitle={attributes={language-id=en_US}, name=mainTitle, data=Discover more, type=text, options=[], optionsMap={}}, sectionList={attributes={}, name=sectionList, data=, type=selection_break, options=[], optionsMap={}, sectionIcon={attributes={language-id=en_US}, name=sectionIcon, data=newsletter, type=list, options=[], optionsMap={newsletter=Newsletter, download=Download, software=Software, white-paper=White Paper, webinar=Webinar}}, sectionName={attributes={language-id=en_US}, name=sectionName, data=Contact us, type=text, options=[], optionsMap={}}, downloadFiles={attributes={}, name=downloadFiles, data=, type=selection_break, options=[], optionsMap={}, LinkTitle={attributes={language-id=en_US}, name=LinkTitle, data=Get in touch with our experts, type=text, options=[], optionsMap={}}, CTALink={attributes={language-id=en_US}, name=CTALink, data=https://www.avl.com/registration-cta?articleId=26344937&groupId=10138, type=text, options=[], optionsMap={}}, DownloadFile={attributes={language-id=en_US}, name=DownloadFile, data=, type=document_library, options=[], optionsMap={}}}}}
false

Release Notes 2020 R1
AVL Virtual Function Development - Controls and ADAS
Updates and improvements to AVL's simulation solution for virtual function development
At AVL we engage in a continuous program of improvements and updates for all our products and services. We do this to cater for the changing needs of our customers, and to ensure that we adapt to the ongoing transformation of the automotive landscape.

The latest release of our simulation solution for virtual function development, 2020 R1, includes new software capabilities to cater for control function and ADAS development. The focus of these improvements has been to add model integration and co-simulation capabilities, software interfaces, and the standards necessary for control function development and calibration, such as FMU and XCP. Additionally, it includes the industrialization of the most common use cases. Here is the overview of the main features.

INTEGRATION SETUP FOR ADAS FUNCTION DEVELOPMENT, USE CASE "HIGHWAY PILOT"
​​​​​​​


The picture above illustrates the realization of the integrated model for development and validation of the ADAS control functions for the "Highway Pilot" within the integration and co-simulation platform Model.CONNECT. The set-up includes an environment model from VTD Vires, a vehicle model from AVL VSM, "Highway Pilot" controls as FMU created from C-code, and the online evaluation of maneuver quality and safety perception by AVL-DRIVE 4 ADAS. With its customized actuation interface, it is possible to change environment settings, such as traffic situations and weather conditions, either online with its web application or automatically within a large-scale DoE set up on an HPC or in the cloud. With this set up it is not only possible to validate the developed "Highway Pilot" functions for different driving scenarios and vehicle variants, but also to simultaneously optimize function parameters in order to improve both objective and perceived safety performance.
INTEGRATION SETUP FOR vECU DEVELOPMENT AND VIRTUAL VALIDATION
​​​​​​​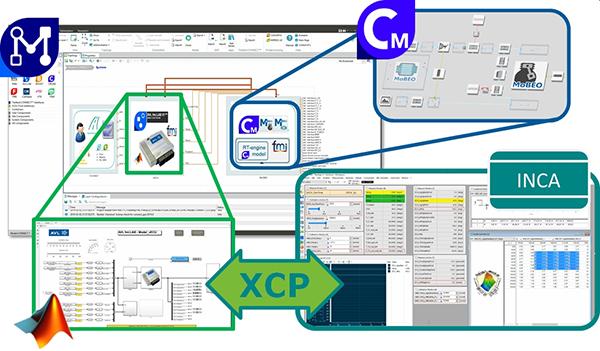 For ECU function development and virtual validation, we offer a complete toolchain for the creation of vECU-FMUs out of Simulink. This includes tunable scalars and maps, and the ability to connect with the high quality plant models from AVL CRUISE™ M. Our integration platform, Model.CONNECT, connects your plant model, including real-time models of the engine and aftertreatment system, with the model of the control unit, exposing the tunable parameters via an XCP interface to external standard calibration tools such as INCA, CANApe and others. Special care is taken of stability and usability in model creation and the performance of the virtual calibration process
AUTOMATED CO-SIMULATION MODEL CREATION AND EXECUTION

As well as being able to create and run co-simulation models from the dedicated GUI, a whole set of API functions has been added in 2020 R1. These facilitate automatic model creation, the setting of model parameters and connection properties online, as well as the running and control of the simulation from python or other similar scripting environments.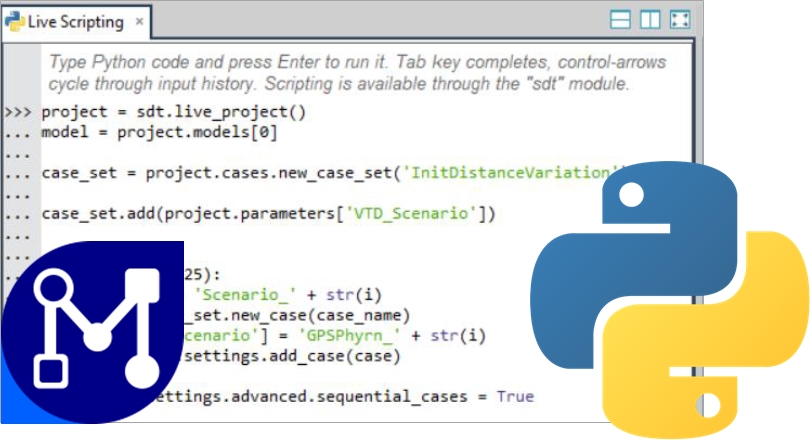 This allows for automatic model creation, parametrization and execution both at local and remote computing resources, such as HPC or in the cloud.
EXTENDED SUPPORT FOR LINUX AND CLOUD COMPUTING

For many applications, especially use cases related to ADAS/AD system set-up and variant simulations, it is necessary to support remote HPC and cloud computing environments based on Linux OS. Extended support includes the running of Dymola models in Linux, and scripts are provided for running co-simulations on Linux in so-called embedded mode.

For ADAS use cases and cloud computing, we now also include the integration of AVL VSM vehicle models in the distributed Linux co-simulation environment.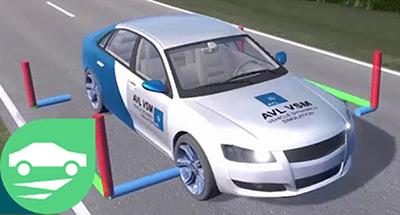 AVL VSM FOR LINUX
Integrated in AVL ADAS toolchain
Suitable for cloud computing
C++ API for customized solutions
NEW FEATURES FOR PLANT MODELS, CONTROLS AND RT INTEGRATION

With the latest release of Model.CONNECT we provide the support for new software tools such as MapleSim and the latest versions of different simulation tools such as MATLAB/Simulink, MSC ADAMS, Dymola, GT Suite, LabView and Simpack.

We also provide new features for interfacing with those tools, such as AMESim variable step solver support, parsing support for Simpack models, support for running Model.CONNECT GT Suite models in standalone mode, including all road mark tessellation points in VTD binary ports and more. Furthermore, multiple tool interface elements within a sub-system can be exported as one single FMU.
​​​​​​​


In relation to RT/non-RT applications, a new version of USB-CAN adapters, Peak CAN 4.0, is also supported. Generally, in case the non-RT part of the co-simulations is finished sooner, there is an option to reset the output signals to a safe user-defined init value.
SHIFTING MAP GENERATION TOOLBOX FOR AVL SPA™

The shifting strategy assessment tool AVL SPA features a new tool for an easy automatic creation of shift-lines with experience-based rules and tunable parameters, as well as an automatic pedal map generator for different vehicle types and driving models. Several improvements have also been made for Drive Cycle visualization and analysis.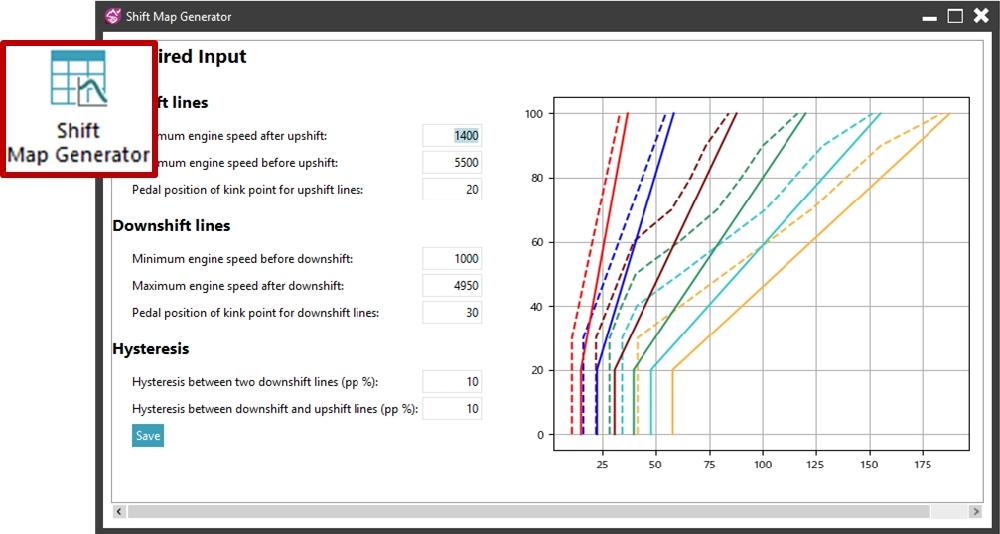 More details on these and other platform related features are available in the release notes of Model.CONNECT™ and AVL SPA™ 2020 R1.
---