{attributes={}, name=downloadList, data=, type=selection_break, options=[], optionsMap={}, mainTitle={attributes={language-id=en_US}, name=mainTitle, data=Discover more, type=text, options=[], optionsMap={}}, sectionList={attributes={}, name=sectionList, data=, type=selection_break, options=[], optionsMap={}, sectionIcon={attributes={language-id=en_US}, name=sectionIcon, data=newsletter, type=list, options=[], optionsMap={newsletter=Newsletter, download=Download, software=Software, white-paper=White Paper, webinar=Webinar}}, sectionName={attributes={language-id=en_US}, name=sectionName, data=Contact us, type=text, options=[], optionsMap={}}, downloadFiles={attributes={}, name=downloadFiles, data=, type=selection_break, options=[], optionsMap={}, LinkTitle={attributes={language-id=en_US}, name=LinkTitle, data=Get in touch with our experts, type=text, options=[], optionsMap={}}, CTALink={attributes={language-id=en_US}, name=CTALink, data=https://www.avl.com/registration-cta?articleId=27091376&groupId=10138, type=text, options=[], optionsMap={}}, DownloadFile={attributes={language-id=en_US}, name=DownloadFile, data=, type=document_library, options=[], optionsMap={}}}}}
false

Release 2020 R1
AVL Virtual System Development - Concept, Layout and Integration
The only constant in the automotive industry is change. For seven decades at AVL we have been supporting, facilitating and driving the innovation that leads to change. In order to ensure that our industry partners embody and harness the power of change, we regularly update our products to ensure they remain at the cutting edge.

Below you can find some of the more significant updates that we've made to our portfolio of industry-leading products in Release 2020 R1.

Powertrain Concept

Powertrain Model Generator

The latest version of AVL CRUISE™ M offers a new Powertrain Model Generator to automatically create different passenger car powertrain layouts using a few basic input parameters. It supports experienced users with a fast setup of model topologies, as well as less experienced users by creating reasonable parameterized ready-to-run models.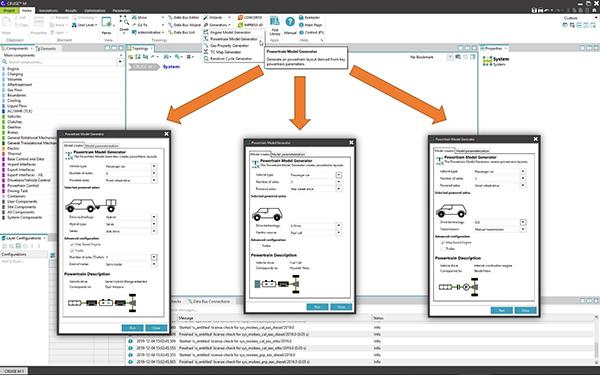 With the given inputs, the model layout is automatically created and all input parameters are estimated for the selected vehicle size. The parametrization is carried out using correlations from literature and our vast modeling experience. Besides the model, a driving task (i.e. FTP, RDE etc.) can be set up and a simulation dashboard created for a quick online assessment of key model results.

Automated Manual Transmission Control

In the latest updates, a new component has been introduced to control gear changes in manual transmissions. AMT Control is operated in an open loop that manages the clutch and the acceleration pedal during a gear change phase.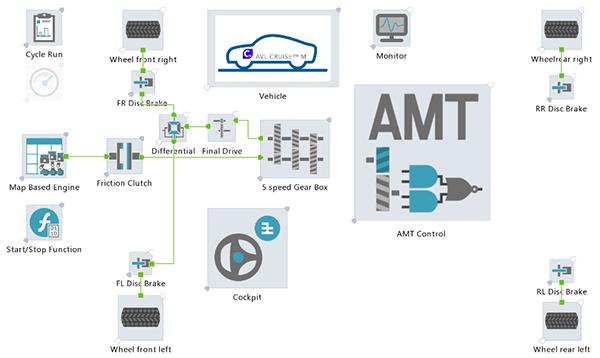 ​​
KPIs for Model Result Assessment

The introduction of a new set of KPIs (Key Performance Indicators) enables easier model results assessment. Report generation that features scalar input and results values as individual component KPIs, scalar values as model and integrated circuits KPIs is also now included to allow the creation of more comprehensive reports. Furthermore, it also enables the use of maps and characteristics as component input data among results.

A new KPI component has also been introduced to enable the assembly of arbitrary user-defined KPIs using values obtained via data bus channels in combination with evaluation operations. Such scalar results are also highly beneficial for the setup of DoE or optimization simulations and can be picked directly as design responses to shorten the setup of design variation studies.

Connection Usability Improvements in Data Bus Editor

The high usability of the data bus editor (DBE) is key to efficiently set up and manage data bus connections, which are a core functionality in the creation of the simulation model. This release elevates the DBE capabilities with:
Focused view, exposing the reduced list of selected elements
Channel bundle, to easily move the channels into an existing or new bundle
To create a new data bus instantly by creating a new input/output channels including the name and unit from the channel source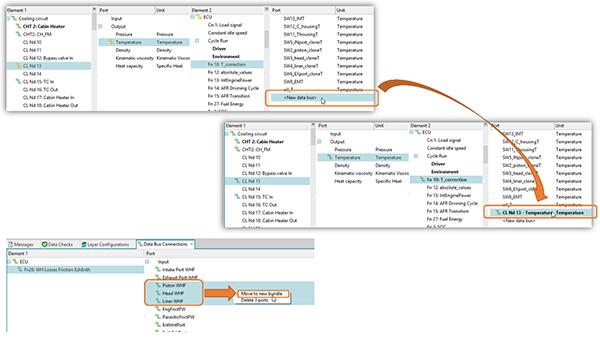 New Automatic Domain Synchronization

New Automatic Domain Synchronization speeds up simulations by up to 20 % so that more simulations can run in the same time. It achieves this by coordinating the different domains at defined synchronization time points. Specifically, multi-rate co-simulation is a functionality that efficiently simulates systems of multiple physical domains featuring individual requirements on numerical procedures and integration time steps, which require the proper coordination in order to be efficient.
E-Network

Electrical Network Improvements Related to Power Electronics

The numerical procedure for solving electrical networks has been enhanced by several measures to raise the flexibility to set up electrical networks. The improvements start with a new power balance control, managing different network energy losses imposed by open or closed switch, including the handling of possible isolated elements. Additionally, the lower boundary of allowed resistance values has been decreased to 10e-6 Ohm.

Battery Management System

A new component, the Battery Management System (BMS), has been introduced to control the health of batteries during a simulation. It takes the desired current, battery temperature and SOC into account to limit the charge and discharge current, depending on user-defined continuous and peak operating limits. When exceeding the limits, a time-based duration algorithm is applied to continuously reduce the permitted limits back to the continuous operating level. In case of SOC limit violation, the simulation can be stopped or continued with warnings.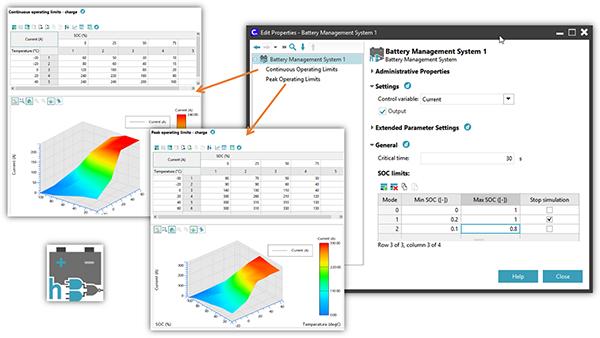 ​​​​​​​​​​​​​​Physical PMSM Electric Machine Model

A new "Dynamic E-machine" (EM) component has been released to model the physical behavior of permanent magnet synchronous machines (PMSM). The model describes the electromechanical coupling of the PMSM by the fundamental wave model, based on a field synchronous field system (DQ-system).
​​​​​​​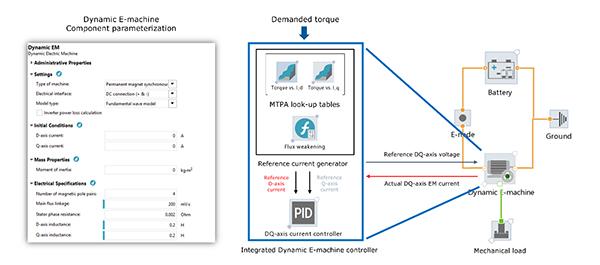 One key benefit of this new model is that it is parameterized by a few input data from regular manufacturer sheets. It also includes an inverter model in order to give an approximate estimation of inverter power loss and can operate either as a motor or as a generator.
VTMS / HVAC

Solid Wall Elements Now Feature Their Own Domain

With this version of CRUISE M, all the solid wall elements of a model feature their own domain and related solver settings. Settings include timestep, which is computationally beneficial, especially for large models within multi-domain environment.

Internal Solid Wall Option Within all Gas Path and Liquid Flow Components

The new Internal Solid Wall option enables the fast setup of simplified thermal models. It does this while simulating the transient behavior of the wall, without connecting external Solid Wall elements.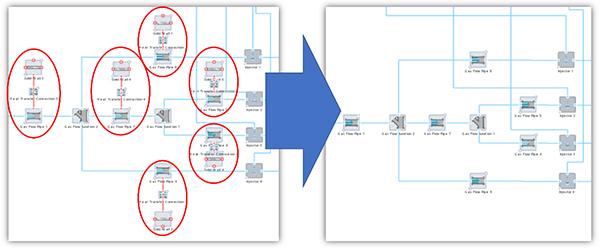 Additional 2D Cylindrical Coordinates in Discretized Solid Wall

The Discretized Solid Wall component supports the 2D modelling of the heat conduction fields of solids now also in cylindrical coordinates. This enables the straightforward thermal modeling of systems such as cylindrical batteries.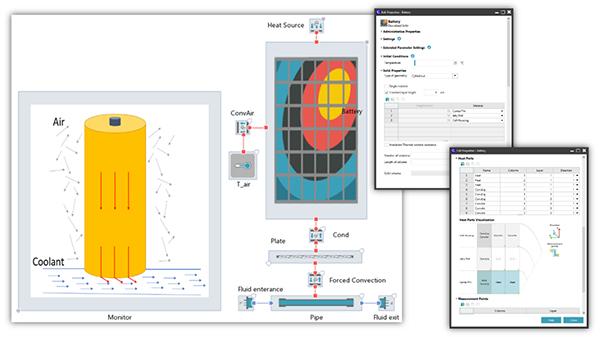 New Organic Rankine Cycles Dedicated Components

Our new dedicated components enable the easy setup of Organic Rankine Cycles (ORC), which extend VLE (Vapor Liquid Equilibrium) simulation capabilities. The pump and the efficiency-based expander feature additional mechanical connection anchors to get and provide mechanical power and thus close the overall power balance. Furthermore, the numerical sensitivity of ORC models is tackled by applying updated and refined material properties, which are exported from TILMEDIA.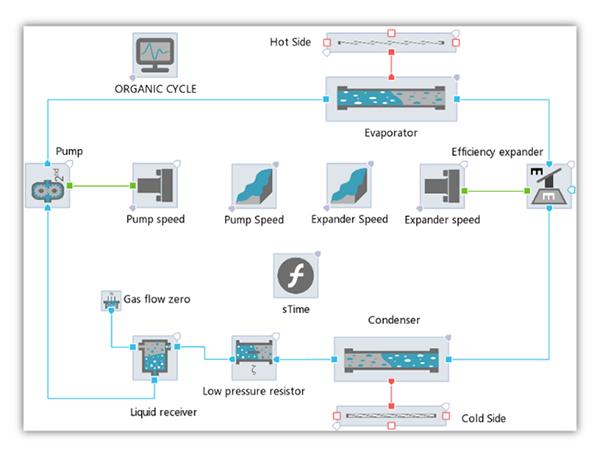 Virtual Integration

Automated Deployment to RT-Node

This latest version of CRUISE M supports an automated plant model deployment process to reduce manual effort and risk of mistakes, thus raising process safety. All relevant inputs are specified in one place within CRUISE M and, if connected to the same network, transferred directly to the right location on RT-node. If they're not on the same network CRUISE M needs to be installed on the host PC to use automated deployment feature.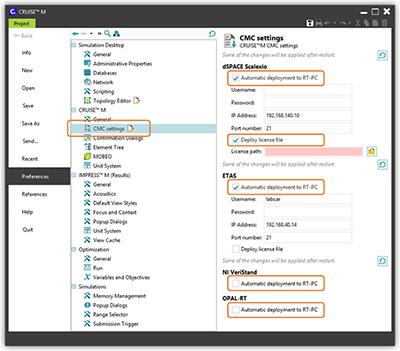 Unified Access for Online Parameters and Data Bus Channels

This release now unifies explicit differentiation between data bus channels and online parameters by using data bus channels. These provide user access to selected parameters during online simulations, which ease up the usage and make it more transparent.

​​​​​​​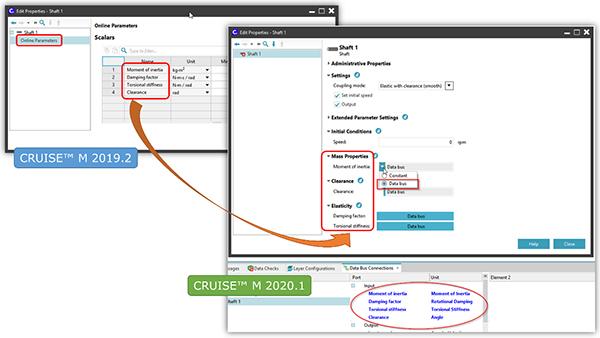 ---