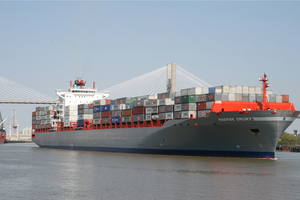 Large Engines
AVL aims to be the industry's preferred partner throughout the entire life cycle of large engine products – from strategy all the way through to production and field operation.
---
In the current very competitive economic environment, large engines must perfectly match the customer's needs:
Compliance with forthcoming emission regulations at low fuel consumptions
Multiple application environment
Strategic fit to the customer's profile and to its business objectives
Optimum performance at targeted cost and reliability standards
Design aligned to the OEM manufacturing resources
Technical solutions leverage the accessing supply chain
Operation and maintenance practices
---
AVL Approach
AVL offers solutions, products and support from feasibility studies via advanced simulation, design and development, testing and validation, all the way up to system integration and field support:
Strategic services: developing the product/market strategy
Feasibility study: technology selection, basic identification, cost evaluation, risk assessment
Design and development: from advanced simulation to comprehensive product design
Establishment of manufacturing structures and development of the supply base
Support in sourcing and QA for components and subsystems
Prototype building support
Testing and validation: from component testing to engine testing and optimization, from field validation to full production release
System integration: integration of engine with aftertreatment and complete power systems
Enhancement of existing products for new applications or for performance improvements
Product support: field support, troubleshooting, emission reduction, performance improvements and adaptation for new applications
---
Benefits at a Glance
Specialist engineering expertise for large engines for Diesel, Gas and alternative fuels
World-class product design tailored to the performance and business goals
Shorter overall development time and fewer test cycles through advanced simulation and an optimized development process
Proven validation for high accuracy and confidence
Broad experience in the testing of reciprocating engines
Competitive product with a clear USP through highly innovative technologies
Efficient alignment of the product design to manufacturing and supply requirements
Assurance of optimized, reliable and safe engine and installation operation
Support throughout the product life cycle
Extension of product's usable life through problem resolution and/or upgrades
Reduction of operating costs
Accurate and efficient problem investigation and practical solutions
Confidentiality in dealing with field problems
---
Market Requirements
Large Engines designed and developed by AVL are used for applications in ships, power stations, locomotives and mining trucks.
---
AVL Strengths
Being involved in LE development programs with all the major LE manufacturers and the supplying industries worldwide, AVL has the competence to provide precisely tailored solutions and leading edge technology for their clients.
Leading development competence for diesel and gas engines
Advanced virtual product development methodology
Solutions guided by seamless simulation workflows on the basis of an interactive and integrated simulation tool chain
AVL proprietary development process insuring shortest possible time to market
Technology expertise from thermodynamics and combustion to structures, noise and vibrations all the way through to complete systems
Close cooperation and team building with customers through AVL's worldwide presence
AVL Single Cylinder Engine System (SCE) a unique development platform with high modularity and flexibility in a wide range of parameters for technology evaluation, combustion development, performance assessment and component validation
Testing facilities for multi-cylinder engines
AVL EPOS™ – open diagnosis system for monitoring the operation of large combustion engines and their auxiliary systems in the field
---
References
Due to specialist engineering expertise for large engines, AVL has set trends and played a major role in the development of more than 140 large engines for Diesel, and Gas fuels as well as for Dual Fuel operation.
---
Related Elements & Systems
---