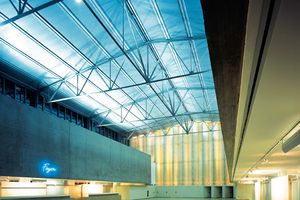 Science & Art
"With this project we want to bridge the gap between science and art in a future-oriented and sustainable way. This bridging synergetically unites acoustic know-how and artistic competence and thus makes scientific progress exploitable for new challenges to be met with regard to cultural productions and socio-political issues." Helmut List
---
---
About
IT ALL BEGAN IN THE YEAR 2003
In the year 2002, a factory hall was saved from demolition and revitalized by being remodelled into an event centre which caters to every need. HELMUT LIST HALLE has it all and its event management leaves nothing to be desired as we would not set limits to your imagination!
HELMUT LIST HALLE owes its clear structure and unobtrusive classic elegance to its history and the intuition and sensitivity of its architect, Markus Pernthaler.
The equipment and cutting edge technology further contribute to the state-of the art standard of this event location.
HELMUT LIST HALLE provides the perfect combination of acoustic excellence and special flexibility on a floor space of about 2,000 sqm, a capacity of up to 2,400 people for varying production forms.
Situated right in the middle of a formerly working class industrial area of town, HELMUT LIST HALLE exemplarily demonstrates the possibilities of upgrading former industrial zones.
In close cooperation with involved stake holders such as steirischer herbst, styriarte, Graz 2003 – Cultural Capital of Europe and the private investor AVL List GmbH, the profile of an event location was worked out which meets the highest acoustical requirements and at the same time allows for the highest level of flexibility. In this way the location covers the whole spectrum from old music, to contemporary productions and, according to the needs of its customers, can as well be turned into a conference center.
(…) Bringing together arts and science, technology and modern cultural productions is expressed formally in the synthesis of old industrial architecture and contemporary design.
(Architect DI Markus Pernthaler)
In December 2003 HELMUT LIST HALLE was appraised as a building project, "which has to be described as exemplary in achieving its building tasks and implementation of construction work meeting highest standards in its architectural design, social commitment and innovative character".
(Austrian Architects Association).
---