{attributes={}, name=downloadList, data=, type=selection_break, options=[], optionsMap={}, mainTitle={attributes={language-id=en_US}, name=mainTitle, data=Discover more, type=text, options=[], optionsMap={}}, sectionList={attributes={}, name=sectionList, data=, type=selection_break, options=[], optionsMap={}, sectionIcon={attributes={language-id=en_US}, name=sectionIcon, data=newsletter, type=list, options=[], optionsMap={newsletter=Newsletter, download=Download, software=Software, white-paper=White Paper, webinar=Webinar}}, sectionName={attributes={language-id=en_US}, name=sectionName, data=Contact us, type=text, options=[], optionsMap={}}, downloadFiles={attributes={}, name=downloadFiles, data=, type=selection_break, options=[], optionsMap={}, LinkTitle={attributes={language-id=en_US}, name=LinkTitle, data=Get in touch with our experts, type=text, options=[], optionsMap={}}, CTALink={attributes={language-id=en_US}, name=CTALink, data=https://www.avl.com/registration-cta?articleId=20532638&groupId=10138, type=text, options=[], optionsMap={}}, DownloadFile={attributes={language-id=en_US}, name=DownloadFile, data=, type=document_library, options=[], optionsMap={}}}}}
false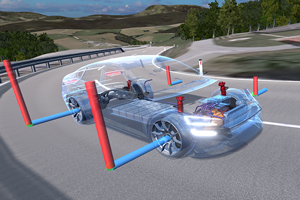 Attribute-driven vehicle development
Vehicle Concept Definition
Balancing vehicle efficiency and driving attributes
The push for efficiency and the need to accomplish attractive driving characteristics, such as handling, performance, driveability, ride comfort and steering is greater than ever. OEMs are striving to come up with solutions that not only tick all the boxes but also manage the increased technological complexity of these demands.

The AVL Solution: AVL VSM™

With AVL VSM™, we offer a real-time vehicle simulation tool for virtual development and testing. It features a wide range of modelling possibilities for all kinds of vehicle systems, starting from the tires, suspension and chassis to the full powertrain. It covers all dynamic aspects.

Our innovative tool supports the integration of these simulation models in different real-time environments, such as engine dyno, powertrain dyno and driver simulator. One of VSM's highlights, live visualization, allows you to see the vehicle behavior and the environment in real-time, facilitating deep-dive analysis. Features such as data importer and multicore calculation also make the life of the engineer a lot easier.
Perceive, Develop and Shape

Using virtual prototypes throughout the development process saves both time and money. More than that though, it also enhances driving pleasure. The AVL VSM simulation tool will give you greater confidence when making technology decisions. It allows you to perceive, develop and shape driving characteristics at the earliest stages of the development process, by observing both efficiency and driving characteristics in the greatest detail.
We Focus on the Driver

Modelling and balancing efficiency, consumption and driving characteristic in this way enables OEMs to understand if their vehicle concept will meet legislative and market demands. Furthermore, it gives a clear indication of how the driver will feel behind the wheel. It allows you to understand what the handling and performance will be like, and how emotionally engaging their experience will be.

Accelerating and simplifying calibration and validation tasks, it significantly reduces the number of vehicle prototypes required. With this innovative tool we can efficiently support an early solution to the often-conflicting goals of consistent driving pleasure and CO2 reduction.
---
---