{attributes={}, name=downloadList, data=, type=selection_break, options=[], optionsMap={}, mainTitle={attributes={language-id=en_US}, name=mainTitle, data=Discover more, type=text, options=[], optionsMap={}}, sectionList={attributes={}, name=sectionList, data=, type=selection_break, options=[], optionsMap={}, sectionIcon={attributes={language-id=en_US}, name=sectionIcon, data=newsletter, type=list, options=[], optionsMap={newsletter=Newsletter, download=Download, software=Software, white-paper=White Paper, webinar=Webinar}}, sectionName={attributes={language-id=en_US}, name=sectionName, data=Contact us, type=text, options=[], optionsMap={}}, downloadFiles={attributes={}, name=downloadFiles, data=, type=selection_break, options=[], optionsMap={}, LinkTitle={attributes={language-id=en_US}, name=LinkTitle, data=Get in touch with our experts, type=text, options=[], optionsMap={}}, CTALink={attributes={language-id=en_US}, name=CTALink, data=https://www.avl.com/registration-cta?articleId=10710849&groupId=10138, type=text, options=[], optionsMap={}}, DownloadFile={attributes={language-id=en_US}, name=DownloadFile, data=, type=document_library, options=[], optionsMap={}}}}}
false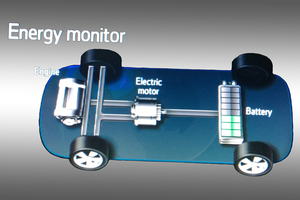 Frontload your E-Development Process
Simulation for Vehicle Energy Efficiency
AVL provides a comprehensive simulation environment that supports you in the Vehicle Energy Management Systems (VEMS) analysis of increasingly complex challenges of powertrain electrification. It establishes seamless development processes that enable you to achieve the optimum setup for your specific needs.

AVL CRUISE™ M
AVL CRUISE™ M is a multi-disciplinary system modeling and simulation solution. It supports the investigation and optimization of the vehicle energy management from energy source to conversion and consumption via vehicle driving losses. It enables a fully coupled system-level simulation that considers transient interactions between all of the sub-systems.

Thanks to its flexibility, you can model any kind of drivetrain and consider different operating strategies. Energy flow graphics provide a visual representation of the energy flow between integrated components and energy loss distribution analysis within the entire vehicle.

These features, among others, help to establish AVL CRUISE™ M as one of the most powerful system engineering tools for future powertrains.
---
---