{attributes={}, name=downloadList, data=, type=selection_break, options=[], optionsMap={}, mainTitle={attributes={language-id=en_US}, name=mainTitle, data=Discover more, type=text, options=[], optionsMap={}}, sectionList={attributes={}, name=sectionList, data=, type=selection_break, options=[], optionsMap={}, sectionIcon={attributes={language-id=en_US}, name=sectionIcon, data=newsletter, type=list, options=[], optionsMap={newsletter=Newsletter, download=Download, software=Software, white-paper=White Paper, webinar=Webinar}}, sectionName={attributes={language-id=en_US}, name=sectionName, data=Contact us, type=text, options=[], optionsMap={}}, downloadFiles={attributes={}, name=downloadFiles, data=, type=selection_break, options=[], optionsMap={}, LinkTitle={attributes={language-id=en_US}, name=LinkTitle, data=Get in touch with our Simulation experts!, type=text, options=[], optionsMap={}}, CTALink={attributes={language-id=en_US}, name=CTALink, data=https://www.avl.com/registration-cta?articleId=48475025&groupId=10138, type=text, options=[], optionsMap={}}, DownloadFile={attributes={language-id=en_US}, name=DownloadFile, data=, type=document_library, options=[], optionsMap={}}}}}
false

Release Notes 2021 R2
Virtual Driveline Development – Transmission and E-Drive
Updates and improvements to AVL's simulation solution
Hardly any other industry has been undergoing as much change in recent and coming years as the automotive market. In order to support you in the best possible way, we are constantly developing our solutions for you. Here you get an overview of the latest features of Release 2021 R1 in our Solution Area Transmission and E-Drive.

AVL EXCITE™ for e-axle

REXS Import Interface

With the release 2021 R2 EXCITE provides you with the Reusable Engineering EXchange Standard (REXS) Import Interface. It defines an industry-wide standardized interface for a simple exchange of gearbox data.

The Research Association for Drive Technology e. V. (FVA) has developed this format in close cooperation with its member companies. Their experience in the field of gearbox software ensures that the concepts developed are suitable for practical use in an industrial context. In REXS, the components of a gearbox are defined on the basis of common parameters. The REXS specification contains everything you need to define a gear unit model. Essentially, this includes the machine elements, their attributes and the relationships used to define the connection between the individual machine elements.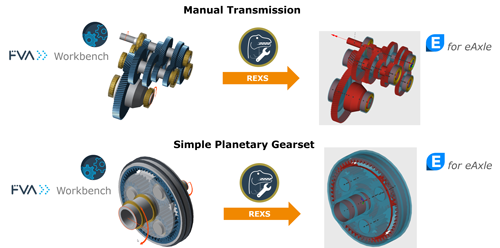 ​​​Figure 1: Examples of REXS Format for Transferring Gearbox Models

Bevel Gears

The already existing model for the representation of bevel gears in AVL EXCITE™ Power Unit is now also made available to you in EXCITE for e-axle with enhanced usability.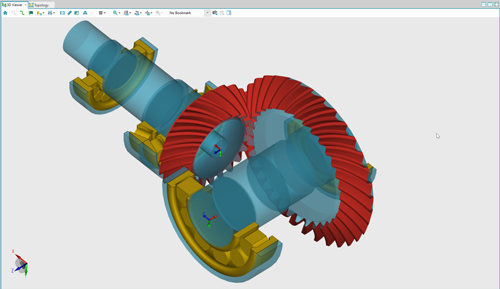 ​​​Figure 2: Bevel Gear Stage of a Final Drive in EXCITE™ for e-axle

To support bevel gears in EXCITE for e-axle, the following functionalities have been added:
New components are introduced:
The new components include a new bevel gear body as a stand-alone body, as well as a new bevel gear subcomponent, e.g. for use on shafts, and the actual bevel gear joint.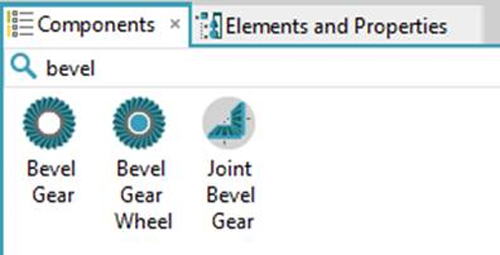 ​​​Figure 3: New Bevel Gear Components
Detailed 3D Visualization:
There is a great variety of manufacturing/machining techniques for bevel gears, each resulting in specific shapes for the tooth trace along the width of the gears. In order to provide a reasonable and realistic 3D representation for all kinds of straight and spiral bevel gears, the most generic representation through spherical involutes has been applied. To complete the gear mesh, a generic root curve has been added.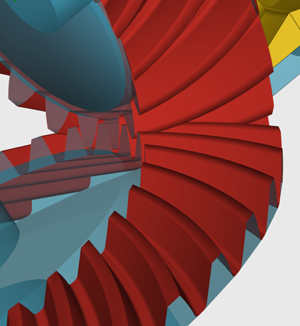 ​​​Figure 4: Spherical Involute Used as Generic Tooth Geometry
Gear geometry input:
The definition of bevel gear geometry has been improved following ISO 23509:2016, but also taking into account typical data sheet specifications for automotive and industrial applications.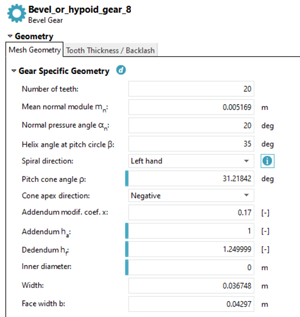 ​​​Figure 5: New Bevel Gear Geometry Definition Window
Kinematic solution in the GUI:
​​​​​​​In the GUI-internal kinematic solution, the specific bevel gear geometries are now taken into account. This provides you with a kinematic animation, automatic repositioning as well as motion export for subsequent CFD oil-flow calculation.

Elasto-Plastic Clutch Joint

With this release, the elasto-plastic clutch joint (EPCL), already known from the AVL Workspace GUI, is migrated to EXCITE for e-axle. In order to easily connect the coupling joint to car bodies using the connection functionality, a new body sub-component, the friction plate, is introduced.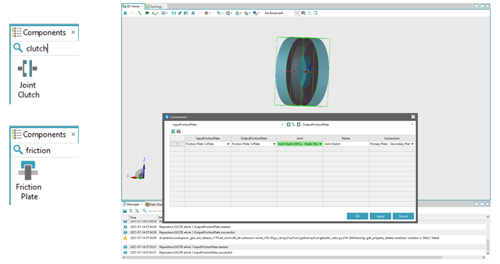 ​​​Figure 6: Clutch Joint and Body Subcomponent Friction Plate

​​​Figure 7: New Elasto-Plastic Clutch Joint

In general, you can use the elasto-plastic clutch for modeling any type of friction clutches in a transmission or driveline, regardless if dry or wet. For wet (multiple-disk) clutches you are offered an additional option for calculating the drag torque.

New e-axle App in the Transmission and E-Drive Solution Area

One of the biggest new features of the 2021 R2 release is the new "e-axle" solution app that has been added to the AVL FIRE™ M One of the biggest new features of the 2021 R2 release is the new "e-axle" solution app that has been added to the AVL FIRE™ M. Using the app, you can now import surface and motion definitions of e-axle bodies from EXCITE for e-axle. The bodies are inserted into the FIRE M model as embedded bodies.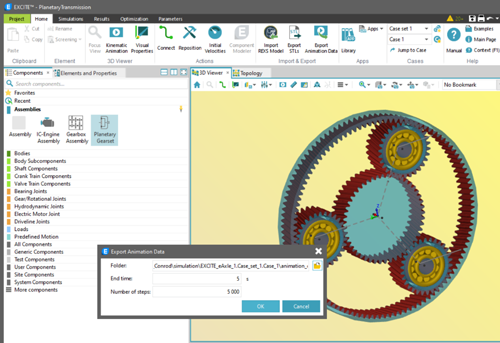 ​​​Figure 8: Export Animation Data from EXCITE for e-axle to FIRE M
AVL FIRE™ M

Import Transmission Model from AVL EXCITE™ for e-axle

By selecting the model file from which to export the EXCITE model, you import the surface models (.stl files) of transmission components and their motion over time. These objects are then used as embedded bodies directly in the FIRE M model. You can control the rest of the model, e.g. fluid definition, directly via the FIRE M GUI within a few minutes.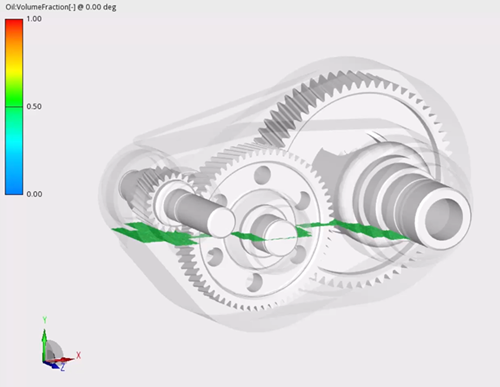 ​​​Figure 9: Transmission Embedded Body Model Loaded form EXCITE™ for e-axle

Poor Quality Embedded Body Surface Meshes Supported

Poor quality surface meshes for embedded bodies may contain gaps, overlaps, inner walls and inconsistently aligned surface parts. Nevertheless, you can use the solver will attempt to account for surface defects up to a certain size. In addition, FIRE M offers you the possibility to define this size yourself, or the solver will determine a suitable value. In general, this size should be chosen to be smaller than the geometric surface features to be resolved in the simulation. However, it should be larger than the surface defects.

y+ Results Around Embedded Bodies

As of the current version, you can visualize y+ values around embedded bodies in 3D results in both single-phase and multi-phase simulations. This is done by simply activating the corresponding 3D result.

In addition, you can also examine the mean y+ values for each of the embedded bodies with 2D results.

Automated Workflow for Simulations of E-Machine Cooling

An automated simulation method for studying the cooling process of E-machines is an important step forward. This covers the entire workflow from mesh preparation, setup preparation, computation, and post-processing once you import an E-machine CAD geometry into the system. Starting with the Release 2021 R2 of FIRE M, this automated process is integrated using a solution app. Now you can simulate thermal analysis using oil and/or air-cooling system in a typical E-machine more efficiently and less time-consuming.
​​​Figure 10: E-Motor Thermal Model
---