{attributes={}, name=downloadList, data=, type=selection_break, options=[], optionsMap={}, mainTitle={attributes={language-id=en_US}, name=mainTitle, data=Discover more, type=text, options=[], optionsMap={}}, sectionList={attributes={}, name=sectionList, data=, type=selection_break, options=[], optionsMap={}, sectionIcon={attributes={language-id=en_US}, name=sectionIcon, data=newsletter, type=list, options=[], optionsMap={newsletter=Newsletter, download=Download, software=Software, white-paper=White Paper, webinar=Webinar}}, sectionName={attributes={language-id=en_US}, name=sectionName, data=Contact us, type=text, options=[], optionsMap={}}, downloadFiles={attributes={}, name=downloadFiles, data=, type=selection_break, options=[], optionsMap={}, LinkTitle={attributes={language-id=en_US}, name=LinkTitle, data=Get in touch with our Simulation experts!, type=text, options=[], optionsMap={}}, CTALink={attributes={language-id=en_US}, name=CTALink, data=https://www.avl.com/registration-cta?articleId=48359172&groupId=10138, type=text, options=[], optionsMap={}}, DownloadFile={attributes={language-id=en_US}, name=DownloadFile, data=, type=document_library, options=[], optionsMap={}}}}}
false

Release Notes 2021 R2
Virtual System Development – Concept, Layout and Integration
Updates and improvements to AVL's simulation solution
AVL ISAC 6™ Component Library

With AVL CRUISE™ M 2021 R2, the AVL ISAC 6™ testbed models are made available to you for office simulation. The release brings a new toolbox holding the ISAC 6 components Automated Gearbox, Driveline, Vehicle, Driver and Track, ready for the setup of drivetrain models assembled out of ISAC 6 and CRUISE M component. The behavior of ISAC 6 testbed models can be assessed in pure office simulation, ISAC 6 testbed models can be extended by CRUISE M components to describe more complex gearbox configurations, hybrid-electric or pure electric drivetrains.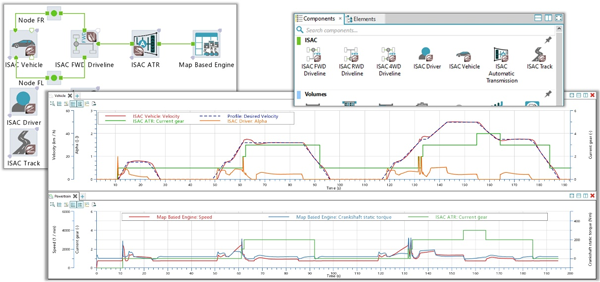 Mechanical Network Customization: FMU-Based Models

Simulating connected mechanical systems is always a challenge. To simplify your model setup and ease the limitations, the latest version of CRUISE M offers you a new mechanical coupling component. When you load a custom model into the dedicated mechanical Functional Mockup Unit (FMU) component, you are precisely guided through the different modeling options and coupling variants. This ensures that you end up with a runnable model. Mechanical component models created in Dymola or Amesim, for example, and exported as model-exchange FMUs can now be seamlessly integrated into CRUISE M at system level.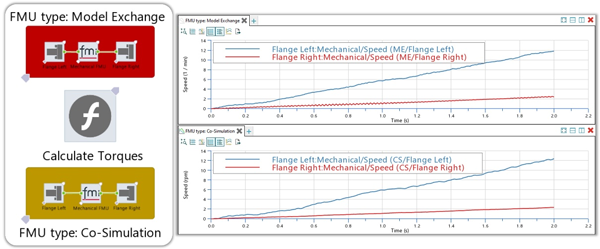 Driving Task: Braking, Thrusting, Coasting

To model and simulate vehicle evaluation tasks like braking, coasting or thrusting (BCT) in a straightforward way, you are now offered new components. When you pull the BCT task from the component library, you now get the possibility to configure different powertrain settings. For example, you can decide whether braking is done with or without gear shifting, downshifting is done during the deceleration phase or whether you should opt for clutch pedal actuation at braking.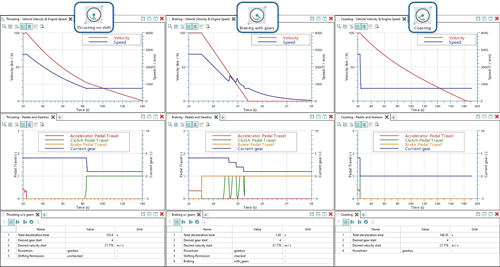 Driving Task: Full Load Acceleration

The further development of the Task Full Load Acceleration (FLA) component, which was released for the first time with CRUISE M 2019 R2, has simplified its use for you. With manual powertrains, you now have the option of controlling the clutch via a closing time or a launch speed range. For automated powertrains, you can brake for a defined time while pressing the accelerator pedal as well as ramping up engine speed before starting the vehicle.
With the new open-loop option in the Driver component, it is possible to forward the request signal of the FLA component directly to the powertrain model. This allows you to configure task variations that you apply to a specific plant model directly from the Simulation Desktop (SDT) parameter backend.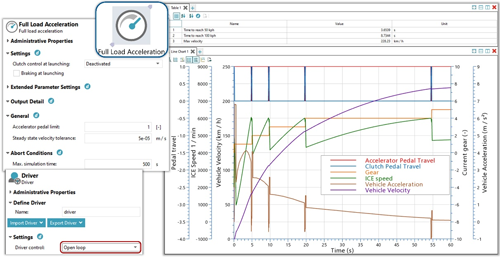 Crank Angle Cylinder: Calculation Speed-Up

To increase the physical complexity of latest combustion models, the implementation of the cylinder code in CRUISE M has been revised. This brings you an acceleration of about 30% compared to the privious version.


Gas Path: Advanced Junction Model

This release also adds a new option to the gas flow junction element for modeling the pressure drop. To determine the geometric arrangement you have to specify the number of individual branches at the junction as well as the two angles of each branch. The additional visualization of the entered data allows you to check the arrangement simultaneously.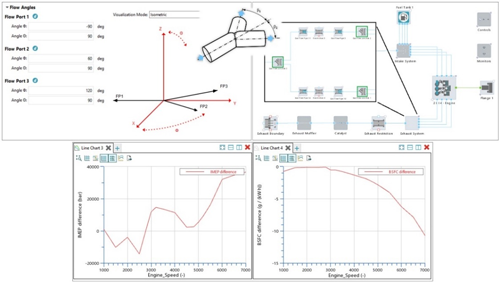 Engine Parameterization Wizard – Cooling Function Model

Another innovation relates to the engine parameterization wizard. This is extended by a simple thermal model. To simulate the temperature of the coolant and oil circuits, the wizard/generator adds a function to the model. This allows the thermal model to be provided as source code, thus enabling any type of customization.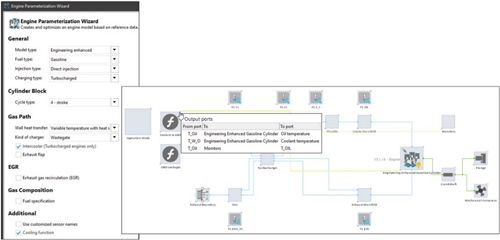 Start-Stop System

A completely new component is the "start-stop system". In a driveline model, the Start-Stop System is wired between the cockpit and engine components and supports the control of engine operating conditions beyond the sole on-off signal provided by the cockpit. This "Start-Stop System" component is dedicated to support modeling of hybrid-electric vehicles as it simplifies the logic required to control the engine operation.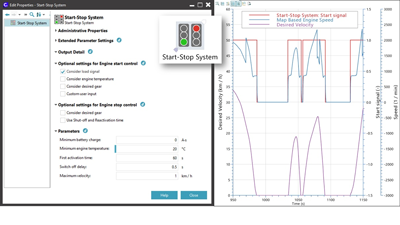 Model Export: Specification of Tunable Parameters

When exporting a CRUISE M model, the model is packed into an FMU. Furthermore, CRUISE M provides you with input (actuator) and output (sensor) channels. This allows you to monitor all kind of model states and to actuate a wide range of model parameters. With this version of CRUISE M, you can choose whether a model parameter should be exposed as FMU channel or as tunable parameter. This is advantageous for you when working with long lists of channels, many of which serve only as parameters.


Scenario Export to and Import from MS Excel

You can now export most scenarios to MS Excel and import them from MS Excel, both in the GUI and the SDT scripting API (using sdt.project.Scenario.export and sdt.project.ScenarioSet.import_scenario).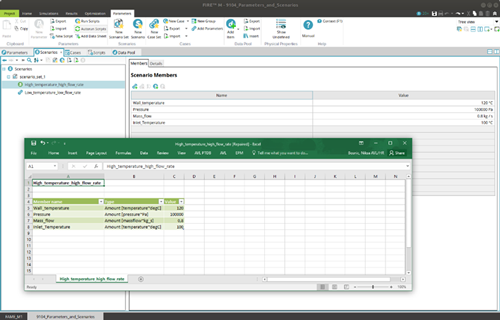 ---