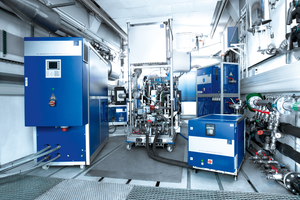 High Dynamic Media Control for a Reliable Reproducibility
AVL Media Conditioning
AVL Media Conditioning Systems are responsible for exact adherence of controllable parameters of the engine's combustion air, coolant and oil, thus allow a high reproducibility of the test runs.
---
AVL Approach
The performance of combustion engines strongly depends on the media conditions. For a better reproducibility under almost real conditions there is a need of a high dynamic control of the media conditioning units. For 25 years, AVL has intensively developed different compact conditioning systems and technologies which are used in high-end engine test cells. If standard systems are not sufficient, customer-specific units are designed by AVL.
---
Benefits at a Glance
A modular design makes it usable in a wide range. For different applications, various modules are available
High control accuracy in steady state and dynamic mode ensures exact data from the test procedure and increases the testbed efficiency
Extreme temperature and pressure ranges for simulating conditions at the test bench which are hard to achieve on the road
Easy integration to the automation system enables a quick initialization (plug & play)
Good repeatability allows a fast achievement of the development goal
Minimized downtime with robust and reliable design
Short commissioning time
Flexible use due to a mobile design
Less maintenance work required
---
Market Requirements
Higher market and legislative requirements for combustion engines have increased the complexity of engine control and combustion systems. In order to reach the high quality standards (e.g. legislation for emission) and optimize development time, media conditioning systems are needed which are able to simulate constant ambient conditions as well as extreme environmental conditions.
---
AVL Products
AVL ConsysAir Intake Air Conditioning
ConsysAir 400
ConsysAir 800
ConsysAir 1600
ConsysAir 2400
AVL ConsysBoost Boost Air Conditioning
ConsysBoost 1200
ConsysBoost 3000
AVL Exhaust Backpressure Adjustment
Exhaust Backpressure Adjustment 80
Exhaust Backpressure Adjustment 150
AVL ConsysCool Coolant Conditioning
ConsysCool 200
ConsysCool S-200
ConsysCool 450
ConsysCool S-450
AVL ConsysLube Oil Conditioning
ConsysLube 25/50
ConsysLube S-50
---
References
CONSYSAIR APPLICATIONS
This combustion air conditioning system has been delivered 400 times around the world. There have also been a large number of custom tailored systems for extreme conditions. Pressure ranges from -400 mbar to +200 mbar and temperatures from -40 °C to +90 °C.
CONSYSBOOST APPLICATIONS
The boost air conditioning is designed as a secondary cooled heat exchanger or as a spray version for pressures up to 5 bar abs. and temperature of 200°C or more. Units with a cooling power of 200 kW have already been delivered.
CONSYSCOOL APPLICATIONS
AVL coolant conditioning systems are installed at more than 800 test cells worldwide. The application starts with simple durability tasks and ends in research and high dynamic racing test cells.
CONSYSLUBE APPLICATIONS
The oil conditioning system is mainly installed at engine test cells. With some modifications it can also be used in single cylinder research engines, dry sump applications and gearbox test cells.
---