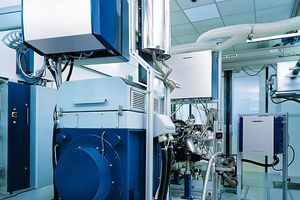 Engine Testing - Performance and Emission
Steady state and transient testing towards engine performance, fuel economy and emission reduction (engine out and/or tailpipe).
---
AVL Approach
The Performance and Emission Test System comprises a base system for steady state and transient development. It includes an exhaust emission measuring system, high precision fuel consumption & conditioning system and can be extended with tools such as automated calibration.
---
Benefits at a Glance
Flexible development environment providing high precision and reproducibility
Conglomerate of best-in-class measurement instrumentation
Highest development efficiency, shortening time to market
---
Technical Data
Supported engine types and sizes:
Compressed ignition (CI) and spark ignition (SI) engines
Power range: ≤ 100KW up to ≥ 1MW
Fuel type and properties: diesel and gasoline fuels with up to 20 % alcohol (M20 or E20) and 6 % biodiesel; natural gas, LPG
Supported development work on:
Baseline ECU Calibration
Charge determination
Initial controller calibration
Steady state compensation maps
ECU master data set
Update cycles
Steady state development:
Engine break in cycle
Acquisition of basic measurement data
Net power investigations and determination of pumping losses
Tolerance investigations (effect of scatter of parameters and components)
Emission reduction strategies
Transient development tasks
Optimization of engine response
Hardware verification
Transient calibration for pre-production engine
Hardware freeze calibration
Exhaust emission development

| | |
| --- | --- |
| Typical Power Classes Light Duty: | Typical Power Classes Heavy Duty: |
| 160kW | 220kW |
| 220kW | 370kW |
| 270kW | 500kW |
| 360kW | |
---
System Scope
Automation and Control
AVL Suite™ based PUMA Open Automation and Control provides uniform usability and compatibility throughout all AVL Suite™ products. Embedded emission test application software is available for entire emission test regulation compliance.
Load System
Active dynamometer based load systems providing thermal optimized design to achieve highly accurate and repeatable engine power determination.
Baseline Measurement
Includes a suitable scope on sensors and transmitters for temperature and pressure measurement via AVL Front End Modules. Measuring devices for blow-by, lambda and combustion analysis complete this scope.
Fuel Consumption Measurement and Conditioning
The high precision measurement of diesel and gasoline fuel consumption is facilitated by being suited to most of the common fuel injection systems.
Exhaust Emission Measurement
For both diluted and undiluted exhaust gas sampling and analysis AVL exhaust gas emission benches, Particulate Sampling Systems, Soot and Opacity Smoke measuring devices are considered.
Air Measurement and Conditioning
From intake air consumption and conditioning to boost air cooling and exhaust back pressure adjustment, all the required measurement and conditioning units are provided.
Coolant Conditioning
For keeping the engine's cooling water temperature within specified tolerances and to have repeatable testing conditions.
Test System Mechanics
Suitably sized air spring designed base plate in combination with engine mounting system for precise positioning and alignment of the engine to the dynamometer axle.
System Integration and Start-Up Service
From project kick-off up to final acceptance with start-up support the customer is assisted with professional AVL project services.
---