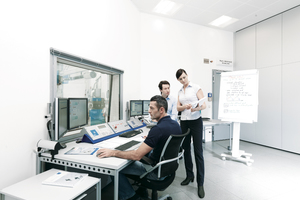 Research Cooperations
In order to maintain global leadership in powertrain development as well as instrumentation, test systems and simulation technologies, the three business divisions of AVL continuously invest in massive in-house research programmes.
---
This includes a wide range of co-operations with industry and more than 50 universities on national and international level.
At a European level AVL collaborates with several associations that support the European automotive research landscape. In this context the most relevant are EARPA (European Automotive Research Partners Association), EUCAR (automotive manufacturers), CONCAWE (fuel industry) and CLEPA (automotive supply industry). Of particular importance is AVL's participation in the European Technology Platforms ERTRAC (road transport), ARTEMIS-IA (embedded & cyber-physical systems), EPOSS (Smart Systems Integration) FCH (fuel cell and hydrogen research) and EGVIA, the European Green Vehicle Initiative.
On international level, AVL actively participates in ASAM, the Association for Standardization of Automation and Measuring Systems, AUTOSAR, the Automotive Open Systems Architecture and others.
The national co-operations are often based on university collaborations and AVL´s memberships in organisations such as the Automotive Cluster Styria, A3PS - the Austrian Agency for Alternative Propulsion Systems, the SafeTRANS cluster about embedded systems in transportation, FVV - the German research association for internal combustion engines, FVA - the equivalent for powertrain research and in Sweden the FKG Vehicle Component Group.
Since 1997 AVL List has been active in about 150 EC-funded RTD projects. A selection of project highlights is listed below.
Selection of RTD projects co-financed by the European Commission under the 7th Framework Programme and Horizon 2020:
---