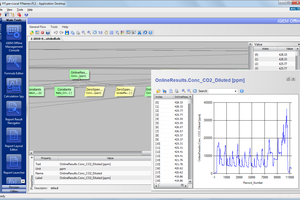 AVL iGEM Offline - Emission Test Data Evaluation
AVL iGEM Offline test data evaluation is an innovative solution for the efficient data analysis of exhaust emission tests according to legislative requirements.
---
AVL Approach
AVL iGEM Offline complies with all current worldwide emission legislations and is also prepared for future legislations/regulations, new measurement methods, alternative fuels and other potential developments. It provides intelligent (support) tools to create individualized calculations and reports.
---
Benefits at a Glance
Central formula database of all legislative calculation formula
Reduction of costs and time through simple system customization and expansion.
Save time and support through quick error and problem localization
Wide scope of usage through easy integration of third party automation systems
Online references to the texts of the corresponding regulation/legislation
---
Functions
AVL iGEM Offline includes a range of effective tools and offers the possibility for authorized users to change or expand an existing record configuration. The formula editor helps change calculation variables and formula and add them into the database. The configuration can be adapted to comply with new legislation or modified technical conditions. Report templates can be created and modified easily via drag and drop operations in the report layout editor. Several different types of reports can be created besides the typical standard reports such as online and modal reports; specimen, equipment and consumable data record sheets; statistics COP and audit reports; testing series reports, and also combinations of different types of reports.
---
Technical Data
Configuration management console for the structured administration of the configuration
Global config storage – central filing (either fileserver or based on ASAM-ODS) for all formula databases and report templates
Security manager and version control for administration of authorization and versioning of formulas and reports
Formula library structures central filing for all relevant calculation formula
Formula Editor with integrated ASAM-ODS Browser to manage all calculation variables, formulas and conditions
Custom function editor to create complex VB.NET based functions
Runtime script generator to create program algorithms for the calculating process automatically
Report layout editor with drag and drop function and integrated ASAM-ODS browser to create report templates easily
Report launcher with integrated ASAM-ODS browser to create data reports
Remote trigger utility – remote controlled performance of reporting processes from different computers
Report result navigator to find existing reports quickly and easily
Database tools (filter manager, query editor, data navigator, TQM) to search and administrate as well as create and perform data and queries inside the Database (AQL)
Calculation spy to generate visual and numeric graphs of complex calculation processes in color-coded flow diagram
Post-processing toolbox (input data auditor, mark data, switch units, etc.) to analyze calculations and reports
On-the-fly documentation – creates calculation reports automatically based on HTML directly from the database
Manual entry station to insert data from third party systems manually
ATF workbench to import and export data from the ASAM-ODS database
ATLANTS (ASAM-ODS) database server (optional)
Microsoft® Excel reporting interface
AVL Concerto reporting interface
---
Applications
AVL iGEM Offline covers emission test data solutions for R&D and certification as well as COP applications.
Optimized for AVL automation systems, the AVL iGEM Offline provides a wide range of pre-defined, certified standard evaluation packages for various AVL exhaust emission applications:
AVL iGEM Vehicle (exhaust emission automation for chassis dynamometer testbeds)
AVL iGEM Engine (exhaust emission automation for engine testbeds)
AVL GEM SORE (exhaust emission automation for Small off road applications)
AVL SHED (evaporative emission applications)
Due to the flexible interfaces and the use of standards the AVL iGEM Offline can be perfectly integrated into third-party equipment.
---