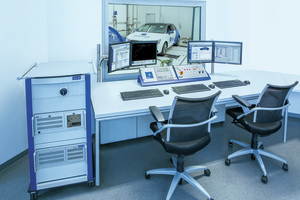 Automation system for emission testing on chassis dynamometers
AVL iGEM Vehicle
AVL iGEM Vehicle provides ready-to-use application packages for passenger cars, medium and heavy-duty trucks, and motorcycles complying with all current Standards including hybrid, EPA 1066, GTR-15, Euro 6d, China 6 as well as RDE testing.
---
AVL Approach
AVL iGEM Vehicle is used for certification, research & development, or for conformity of production purposes. Based on the already established success of AVL PUMA Open, AVL iGEM Vehicle offers high scalability. Simple parameterization allows for adaptions of integration of different testbed configurations and customer application needs. It offers the highest level of flexibility and customization to the user.
---
Benefits at a Glance
Compliance to EPA 1066, GTR-15, Euro 6d, China 6 and RDE
Fully automated procedures in the preparation of common devices for testing, calibration and checks
Simple and flexible integration of new measurement devices using device abstraction as well as a broad driver library
Efficient tools to create custom test cycles and test applications
AVL iGEM Offline – a powerful data evaluation tool with a central formula database - both adhering to legal requirements and also offering individualized report templates
AVL iGEM LabScheduler - an intelligent planning extension for emission test and device diagnostic checks
---
Market Requirements
International emission legislations are changing constantly, as are engine designs and measurements methods. Manufacturers and suppliers alike need to adapt to these constantly changing requirements. This drives the growing demand for innovative solutions in the automation of emission tests. AVL iGEM Vehicle uniquely offers this high degree of adjustability for different testbed configurations and different user needs - keeping the user in control in a challenging marketplace.
---