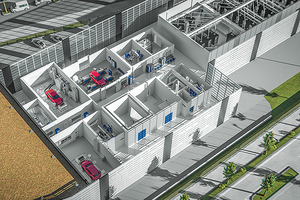 Boost your lab efficiency!
AVL Lab Management™ for Propulsion
One solution to deliver the lab of the future
Rapidly changing test and validation requirements put pressure on test labs to improve accuracy, reliability and reproducibility. However, with an increasing variety of systems and processes, meeting this goal is becoming more demanding than ever. Therefore, it is of vital importance that inefficiencies in operation, errors in data, and the risk of retesting and reworking are reduced.

AVL Lab Management™ solution is a collaborative system of data management tools that address these challenges, covering the end-to-end testing lifecycle for the automotive industry. Driven by the commitment to cut development time and decrease complexity, it offers standardized procedures, workflows and terminology throughout all lab activities.

Our powerful solution consists of individual modules which support the specific needs of each phase of the process. Together, they enable the management and tracking of assets such as testbeds, testing and measurement equipment and test articles in one central place.

As the Lab Management for Propulsion software solution is fully independent from the used hard- and software within the lab it supports any propulsion systems from FCEV, BEV, HEV and ICEV.

Planning
Once a testing need has been identified, the AVL Lab Management™ solution allows you to create a test order and define all test requirements. Schedule tasks, reserve assets such as testbeds and measurement equipment and avoid scheduling conflicts.

Preparation
Our AVL Lab Management™ solution enables you to define required test system parameters and configurations. Prepare the unit under test – such as engines, batteries and whole vehicles – for the test run and assign and calibrate all measurement devices to the appropriate testbed.

Execution
Run through a detailed test sequence with our testbed automation system, storing all measurement results in a shared central platform. Our dashboards and monitoring modules make it easy to stay up-to-date on all test lab operations at a glance.

​​​​​​​Analysis
​​​​​​​Upon test completion the AVL Lab Management™ solution enables the evaluation of measurement data, and the generation of interactive reports. These allow for advanced searches, data analysis and a better understanding of test results.

​​​​​​​Data Management
Our integrated data management system stores and tracks all test data in one central, shared place. Server-side automated processing of test data ensures high quality and traceability. Key performance indicators are derived from a consistent data store in order to drive mission-critical decisions.

Tailored to Your Needs
AVL helps you to define a system configuration that perfectly fits your lab management needs and integrates into your existing IT environment. By utilizing AVL Lab Management modules, third-party tools, powerful interfaces and an agile implementation concept, we deliver a productive solution in the shortest time.

​​​​​​​The AVL solution approach provides a highly-tailored and integrated system with lower total cost of ownership compared to individual software solutions.
---
---