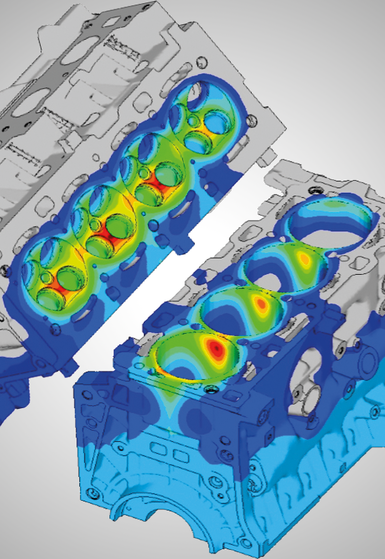 The Challenge
Engine Performance and Emissions
Which combustion concepts can I analyze?
How can I minimize engine-out emissions and tailor my aftertreatment system?
Can I optimize the intake and EGR Systems to meet performance, fuel consumption and emission targets?
Can I accurately predict flow, cavitation and erosion in low and high-pressure injection equipment?
Is it possible to link nozzle flow and fuel injection modelling?
E-Mobility Concepts
Is it possible to analyze the thermal behavior of E-drivetrain components?
How detailed can I investigate the electro-chemistry and electro-magnetics relevant for batteries and fuel cells such as SOFC, PEMFC, TEG, Li-ion and Li-Air batteries?
Thermal Load
Can I optimize residual stresses in structural parts resulting from heat treatment processes (e.g. cylinder head quenching) or from thermal load induced by heat release (e.g. combustion)?
Am I able to calculate the flow, pressure drop and heat transfer in components of the cooling circuit considering effects of nucleate boiling?
Can I use the results to predict solid temperatures, thermal stresses and deformation due to thermal load?
---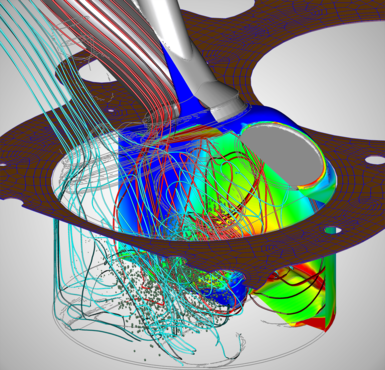 The AVL Solution
The automatic pre-processor is able to efficiently generate grids for geometries with variable volume and/or featuring moving parts such as, pistons, valves, shafts, gears, etc. Automation shifts the otherwise significant effort required for generating a simulation model from the user to the computer.
The solver utilizes a pressure based segregated solution algorithm. It incorporates implicit time discretization as well as accurate conservative and bounded differencing schemes. High-end turbulence models allow for the precise description of transient effects within an engine or on a significantly larger scale.
The integrated postprocessor offers visualization and supports detailed analysis of results online during the simulation and offline interactively or based on marcros and scripts. In-build features allow the fast generation of charts, colored plots and animations in different formats to support the interpretation of both steady and transient phenomena.
---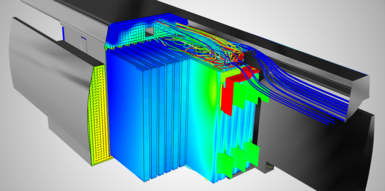 The Added Value
Applicable to most complex problems in terms of geometrical complexity, physics and chemistry
Tools and methods covering full range of powertrain development processes
70 years of leading powertrain development experience and know-how
Qualified and task oriented support along with method development
---
Related Simulation Solutions
---
Main Program & Modules
AVL FIRE™ concept and basic modelling capabilities
Physics and chemistry available with AVL FIRE™
---
AVL FIRE™ M
AVL FIRE™ M is a multi-domain simulation software simultaneously solving non-reacting, single phase fluid flows, heat transfer and solid temperatures in systems without moving boundaries
---
Community References
BMW, D. Suckart
Modelling of Flame-Wall Interactions using a Level-Set Based Flamelet Approach
Graz, AVL International Simulation Conference 2017
BMW, A. Friedrich
Automated Intake System Optimization for High Performance Engines
Augsburg, AVL User Conference 2014
BMW, D. Suckart
Internal Combustion Analysis using Flame Tracking Particle Model
Augsburg, AVL User Conference 2014
BMW, A. Friedrich
Automated Intake Port Optimization of a High Performance Naturally Aspired ICE
Graz, AVL User User Conference 2013
BMW, A. Friedrich
Crankcase Flow of a 4 Cylinder In-line IC Engine
Graz, AVL User Conference 2011
Bosch, D. Mayer
Analyzing Wall Heat Transfer Modeling in Diesel Engines Supporting Numerical Investigations of Strategies for Increasing Thermal Efficiency
Graz, AVL International Simulation Conference 2017
Bosch, F. Köpple
A Novel CFD Approach for an Improved Prediction of Particulate Emissions in GDI Engines by Considering the Varying Piston Surface Temperature
Graz, AVL User Conference 2015
Bosch, D. Weber
Numerical Analysis of Flash Boiling in Gasoline Direct Injection Engines
Augsburg, AVL User Conference 2014
Bosch, P. Jochmann
Towards the Optimization of a Boosted 2-Cylinder SI-Engine: A CFD Study with a Full Engine Model at a Scavenging Operation Point
Graz, AVL User Conference 2013
Bosch, F. Köpple
Investigation of the Potentials of the Numerical Simulation for Predicting the Particulate Emissions in Gasoline Engines with Direct Injection
Graz, AVL User Conference 2013
Bosch, J. Luo
CFD-based SCR system optimization
Jinan, AVL User Conference 2012
Bosch, C. Thulfaut
Simulation of Soot-in-oil Contamination: The Influence of the Piston Bowl Shape
Graz, AVL User Conference 2011
Bosch, N. Müller
Simulation of Ignition and Combustion in a Spark-ignited Gasoline Engine with AKTIM and ECFM Models
Graz, AVL User Conference 2011
Bosch, I. Orlandini
Application of 3D-CFD Simulations in the Development of Spark Plugs
SAE Paper, 2009
CATRA, G. Scharrer
Enhancements of a High-Performance CFD-DEM coupled Code towards Heat and Mass Transfer in Pharmaceutical Application
Graz, AVL User Conference 2015
Chery, G. Liu
Classic Examples of CFD Application in Engine Performance and Combustion System Study
Jinan, AVL User Conference 2012
Chery, Y. Xu
CFD Study of Turbocharge Engine with Catalyst
Kunming, AVL User Conference 2011
CNR, L. Allocca
Study of the Portability of a 3D CFD Model for the Dynamics of Sprays Issuing from Multi-Hole GDI Injectors
SAE Paper, 2011
CNR, H. Maier
The AVL FIRE® Code for the Optimization of GDI Engines Performance: Cyclic Variability, Knock Occurrence, PM Formation
Graz, AVL User Conference 2015
CNR, M. Costa
CFD Optimization of the Mixture Formation Process in a GDI Engine Working under Lean Conditions
Graz, AVL User Conference 2013
CNR, M. Costa
Coupling AVL FIRE® with Optimization Tools for GDI Spray Model Tuning and Enhancement of the Engine Performances
Graz, AVL User Conference 2011
CNR, U. Sorge
An Optimization Approach of the Control Strategy in a Diesel Engine to Reduce Fuel Consumption, Noxious Emissions and Radiated Noise
Graz, AVL User Conference 2011
CNR Istituto Motori, M. Costa
Multiple Injection in a Mixed Mode GDI Boosted Engine
SAE Paper, 2010
CNR Istituto Motori, A. Montanaro
Simultaneous Shadowgraph/Mie Scattering Imaging of Liquid and Vapor Phases of Diesel Sprays and Validation of a Numerical Model
SAE Paper, 2014
CNR Istituto Motori, M. Costa
Assessment of a Numerical Model for Multi-Hole Gasoline Sprays to be Employed in the Simulation of Spark Ignition GDI Engines with a Jet-Guided Combustion Mode
SAE Paper, 2009
CNR Istituto Motori, M. Costa
Numerical Study of a GDI Engine Operating in the Jet Guided Combustion Mode
SAE Paper, 2009
CNR Istituto Motori, D. Siano
Reducing Fuel Consumption, Noxious Emissions and Radiated Noise by Selection of the Optimal Control Strategy of a Diesel Engine
SAE Paper, 2011
Continental, L. Passilly
Thermodynamic Analysis with Various Compression Ratios in Direct Injection Diesel Engines
Graz, AVL User Conference 2015
Continental, E. Celik
Modeling of the Air Fuel Mixing and Flame Lift-off of a Diesel Spray
Graz, AVL User Conference 2015
Continental, F. Atzler
Multiple Injection and Rate Shaping Part 2: Emissions Reduction in Passenger Car Diesel Engines Computational Investigation
SAE Paper, 2009
Scania, D. Konstanzer
Multi-phase Modelling for Diesel Injector Development
Graz, AVL User Conference 2011
Denso, Y. Nishijima
RCM/Gas Engine Simulation
Tokyo, AVL User Conference 2012
Denso, K. Ishida
Li-Ion Battery Analysis and Cell Temperature Prediction
Tokyo, AVL User Conference 2012
Denso, M. Mashida
Diesel Nozzle Flow Simulation Analysis
Tokyo, AVL User Conference 2010
Dongfeng Commercial, H. Yu
The Simulation and Experiment Research on Low-Temperature Combustion of a Heavy-Duty Diesel Engine
Chongqing City, AVL User Conference 2014
Dongfeng Commercial, Y. Zhao
Simulation and Experimental Study of High and Low Pressure EGR System for Diesel Engine
Guilin, AVL User Conference 2013
Emitec, E. Zienicke
Compact Catalyst Design Development based on CFD Simulation
Augsburg, AVL User Conference 2014
FAW, L. Yang
Flow in Control Valve of Common Rail Injector Based on Cavitation
Chongqing City, AVL User Conference 2014
Fiat Chrysler, C. Pecollo
Thermal Analysis of a 4 Cylinder GDI Engine
Graz, AVL User Conference 2015
Ford, J. Jan
Development and Validation of CFD Methodology to Simulate Water Quenching Process
Plymouth, AVL User Conference 2014
Ford, B. S. AbdulNour
Computational Fluid Dynamics Analysis of the Flow in an APCVD Applicator System
SAE Paper, 1995
Ford Otosan, A. Kaynar
CFD Analysis of Water Quench Cooling Process for Cylinder Heads and Blocks
Graz, AVL User Conference 2013
Foton, L. Li
Optimization of Intake Port Design and In-Cylinder Charge Motion Analysis using CFD Simulation
Chongqing City, AVL User Conference 2014
Geely, P. Zhang
Gasoline Exhaust Manifold Design Based on 1D/3D Coupled Analysis
Chongqing City, AVL User Conference 2014
Geely, F. Yuan
CFD Based Spray Parameter Analysis for GDI Engine
Guilin, AVL User Conference 2013
Geely, C. Wang
Effect of Two-step Variable Valve Lift on Vehicle Fuel Economy
Guilin, AVL User Conference 2013
Geely, X. Su
CFD Study of Two-Staged Catalyst for a Turbocharged Engine
Jinan, AVL User Conference 2012
Great Wall, S. Yi
Optimization of EGR Pipe Layout in Intake Manifold for a Diesel Engine Based on CFD
Guilin, AVL User Conference 2013
Great Wall, H. Guang
Influence of Valve Lift for In-Cylinder Flow
Jinan, AVL User Conference 2012
Great Wall, Z. Xu
3D Simulation and Calibration of Multi-hole GDI injector
Kunming, AVL User Conference 2011
Great Wall, G. Liu
CAE for Development of a GWM Diesel Engine with VGT
Graz, AVL User Conference 2011
Great Wall, F. Wang
HC Emission Study of Cold Starting in PFI Engine
Kunming, AVL User Conference 2011
HJS Emission Technology, A. Khibit
Optimization of Urea System for SCR Application
Heidelberg, AVL User Conference 2012
Hyundai, K. Lee
Application to the Automotive Powertrain Development using AST Software Focused on Engine and Aftertreatment System
Graz, AVL User Conference 2011
Hyundai Heavy Industries, Y. Lee
A Study on Efficiency Improvements of a Lean Burn Gas Engine
Graz, AVL User Conference 2013
Hyundai Heavy Industries, Y. Lee
Efficiency Improvements and Analysis of a Lean Burn Gas Engine
Seoul, AVL User Conference 2012
Hyundai Heavy Industries, H. Park
Numerical Study of Cavitation in Fuel Injection Pump of Marine Diesel Engine
Seoul, AVL User Conference 2010
Hyundai Motors, K. Lee
Optimization of PM Sensor Location to Satisfy OBD-II Using CFD
Seoul, AVL User Conference 2014
Hyundai Motors, K. Lee
Automotive Powertrain Development using AVL Simulation Software
Seoul, AVL User Conference 2012
JAC, W. Yao
Application of In-Cylinder Combustion Simulation in GDI Engine Design
Kunming, AVL User Conference 2011
JAC, C. Zhang
CFD Study of Cooling Jacket for a Gasoline Engine
Jinan, AVL User Conference 2012
John Deere, P. Wynthien
Providing Advanced Products and Services to Support the Success of Those Linked to the Land
Graz, AVL International Simulation Conference 2017
John Deere, I. Sharma
SCR CFD Correlation Experiences with FTIR Data using Advanced Methods
Graz, AVL International Simulation Conference 2017
JMC, X. Zeng
The Development of JMC Engine Simulation Platform and its Applications
Graz, AVL User Conference 2015
Keihin, T. Sato
Nozzle Flow Simulation and Injection Hole Geometry Analysis
Tokyo, AVL User Conference 2010
Kirloskar Oil, P. Kamat
Effects of Combustion System Parameters on DI Diesel Engine Performance and Exhaust Emissions
SAE Paper, 2013
Kirloskar Oil, S. Sheikh
Piston Cavity Optimization for a DI Diesel Engine using AVL FIRE® ESE Diesel
Graz, AVL User Conference 2011
LADA, D. Tsepov
A Practical Tool for Estimation of Vehicle Side Window and Side Mirror Soiling using AVL FIRE™
Graz, AVL International Simulation Conference 2017
MAN Truck, W. Bauer
The Role of CFD in Virtual Engine Development
Graz, AVL User Conference 2015
MAN Truck, W. Bauer
Deployment of CFD Simulation Technology in Virtual Engine Development Process
Augsburg, AVL User Conference 2014
MAN Truck, W. Bauer
Demonstration of Multi-Disciplinary Simulation Analysis in Hand an EGR Case Study
Heidelberg, AVL User Conference 2012
MAN Truck, W. Bauer
Quality Intensification of 3D Combustion Simulation by Optimization of Parameters
Graz, AVL User Conference 2011
NAIS, A. Siliato
A Methodology for the Optimization of Spray Pattern of GDI Engines
Graz, AVL International Simulation Conference 2017
Nemak, B. Stauder
Integrated Quenching and Residual Stress Simulation Using FIRE
Graz, AVL User Conference 2013
PATAC, K. Chen
Analysis of O2 Sensor Position and AFR Imbalance Effect on TWC Performance
Graz, AVL International Simulation Conference 2017
PATAC, Y. Wang
Simulation Analysis of Crankcase Ventilation System
Chongqing City, AVL User Conference 2014
PATAC, M. Pei
3D CFD Study of Homogeneous Direct Injected Gasoline Engine
Jinan, AVL User Conference 2012
PATAC, Y. Wang
Oxygen Sensor Location Optimization with CFD Method
Jinan, AVL User Conference 2012
PSA, O. Davodet
Intake Port Flow Simulation
Graz, AVL International Simulation Conference 2017
PSA, J. Houstin
1D / 3D Coupling Simulations for EGR Distribution in the Cylinder
Graz, AVL User Conference 2015
PSA, M. Chauvy
Pollutant Emission Optimization for Diesel Engines
Graz, AVL User Conference 2015
PSA, L. Duchamp de Lageneste
Towards a Numerical Workflow for Pre-dimensioning Automotive Combustion Systems
Graz, AVL User Conference 2011
PSA, J. Daumas
Application of AVL FIRE® to the Oil Quenching of Gearbox Components
Graz, AVL User Conference 2011
PSA, N. Fouquet
3D Modeling of a PEM Fuel Cell with AVL FIRE®
Graz, AVL User Conference 2011
PSA, M. Yagoubi
Evolutionary Optimization of 3D Diesel Combustion Models
Graz, AVL User Conference 2011
PSA, M. Chauvy
SCR Modeling to Characterize Exhaust Lines
Graz, AVL User Conference 2011
PSA, O. Davodet
Using Detailed Chemistry for Modeling Combustion in Automotive Engines
Graz, AVL User Conference 2013
PSA, R. Lebas
Coupling Vaporization Model with the Eulerian-Lagrangian Spray Atomization (ELSA) Model in Diesel Engine Conditions
SAE Paper, 2005
PSA, T. Georjon
Characteristics of Mixture Formation and Combustion in a Spray-Guided Concept Gasoline Direct Injection Engine: An Experimental and Numerical Approach
SAE Paper, 2000
Voest Alpine, D. Piazzullo
Detailed Heat Transfer Modelling & Optimization of a Forced-Convection Kiln using CFD Methods
Graz, AVL User Conference 2015
RCPE, G. Scharrer
Coupled CFD-DEM Simulations for Granular Systems in Pharmaceutical Application
Graz, AVL User Conference 2013
Sage Physics, C. Arnold
Lesson Learned in Combustion Simulations with AVL FIRE
Plymouth, AVL User Conference 2010
Scania, M. Carlsson
3D CFD Simulation of Oil and Gas Flow Across a 2-piece Piston Oil Control Ring
Graz, AVL User Conference 2015
Scania, E. Baudoin
Design of Experiment for Piston Bowl Shape Investigation in a Heavy Duty Diesel Engine
Graz, AVL User Conference 2013
Scania, E. Baudoin
Use of AVL FIRE for Combustion Optimization
Göteborg, AVL User Conference 2012
Scania, D. Konstanzer
Applied CFD to Characterize Ad-Blue Injection Concepts
Göteborg, AVL User Conference 2012
Scania, P. Stralin
Effects of Injection Timing on the Conditions at Top Dead Center for Direct Injected HCCI
SAE Paper, 2003
Schnell Motoren, M. Blankmeister
Combustion Analysis of a Pilot Injection Engine in CHP for Biogas Plants
Graz, AVL User Conference 2011
Sinotruk Ltd., W.Sun
Model Based Study of the Urea Injector's Effects on SCR of an 11 Liter Diesel Engine
SAE Paper, 2014
Tokyo Gas, H. Ryuzaki
Experimental and Numerical Investigation of Premixed Flame Propagation in Confined Combustion Chamber Tokyo, AVL User Conference 2010
Toyota, T. Fuyuto
Factor Simulation of Diesel Combustion and Emission
Tokyo, AVL User Conference 2012
Weichai Power, J. Liu
Valve Timing and Cam Profile Optimization of Turbocharged and Intercooled Diesel Engine
Chongqing City, AVL User Conference 2014
Wuxi, F. Peng
Simulation of Cylinder-to-Cylinder EGR Homogeneous and Structure Optimization of Diesel Engine
Jinan, AVL User Conference 2012
Wuxi, L. Guo
Simulation Analysis on Spray Characteristics Effected by Injector Structure
Kunming, AVL User Conference 2011
Yanmar, R. Kobayashi
Influence of Exhaust System Layout on SCR Device for Mid-Range
Tokyo, AVL User Conference 2014
Yanmar, D. Tanaka
Optimization of GDI Spray by Nozzle Flow Simulation
Tokyo, AVL User Conference 2014
---