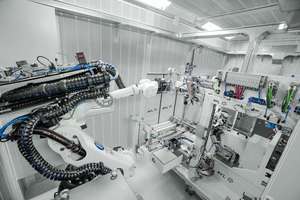 Discover the Defects beforehand
AVL Engine TS™ EOL Cold
As increasing legislative and market demands drive engine complexity, OEMs are frequently sourcing components and subsystems from external suppliers. This calls for additional testing to ensure that the final engine meets all the parameters as they were defined at the beginning of the development process.

Our engine verification tool, AVL Engine TSTM EOL Cold, is an end-of-Line cold test solution that can be installed in-line or off-line with respect to the assembly line. With all the necessary sensors built-in for thorough engine function checks, it is optimized, fully automated and features specific test profiles and data storage capabilities for post-test analysis and statistics.

Test duration lasts between 30 and 180 seconds and we can perform up to 1500 engine verification tests on engines in various states of preparation on the assembly line.

​​​​​​​Modular in its design, its upgradability provides a degree of future-proofing. Designed with flexibility in mind it includes a fitting scope on sensors and transducers for temperature and pressuring monitoring. Measuring devices for intake, exhaust, blow by, torque, turbocharger and NVH are also incorporated.

​​​​​​​Intelligently Mixing Mechanics and Data

​​​​​​​Using our own algorithms, this engine testing solution uses an electric motor to rotate the system or engine being tested at several speeds in a small space, and with a high level of reliability. Conducting tests in the shortest time possible, it is designed to produce more accurate results with less test effort. This means that fewer test cells are required, that defects are identified quickly, and that repairs can begin immediately.

​​​​​​​Featuring advanced automation software which controls the test runs, data acquisition and result management, the system can be fully or partially automated. This enables local administration and preparation, test parallelization to reduce overall cycle time and test reporting and statistics.

​​​​​​​As a supplier of turnkey solutions, we know how important flexibility is to our customers. That's why AVL testing solutions such as this are designed to meet your specific needs. And with our added customer support, seven decades of experience and global network of experts and facilities, you know that you're in good hands from the start of your engine production project right through to final acceptance.
---
---