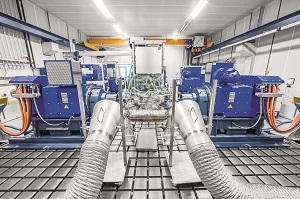 Perfection in diverse applications
AVL Powertrain TS™
A versatile test system for the validation of pure ICE and electrified powertrains
With global emission legislation becoming increasingly stringent, and international markets becoming more competitive, powertrain complexity is growing. And this complexity is reflected both at system and component level, which leads to increased development and testing effort.

Every component, system and subsystem must be validated individually, as well as the complete powertrain. In an electrified powertrain, for example, the battery must be validated, and so must the e-motor, the inverter and then the entire integrated system.

In the era of real driving emissions (RDE) development, this poses significant challenges for OEMs. However, it also offers opportunities for improving the conventional development architecture.
Introducing the AVL Powertrain Test System

AVL Powertrain TS™ is designed to help you manage the complexity of ICE and electrified powertrain validation during the entire development phase. It enables you to conduct tests with dynamometers on each output shaft. With Powertrain TS you can mount a diverse range of powertrains (such as ICE-driven powertrains with MT, AT, DCT, CVT transmissions, and powertrains for HEV, BEV or FCEV) and other components on the same testbed.

By imposing speed and torque to the powertrain it emulates real-world driving conditions, road data replication and time-lapsed testing. Direct torque measurements at the drive shaft and realistic vehicle simulation allows you to conduct highly realistic testing activities. And this can be carried out exhaustively, 24/7.
Multiple Applications, Multiple Benefits

Powertrain TS is a versatile tool that you can apply to a wide range of activities. You can use the system for tasks such as durability testing, performance development, RDE and driveability testing, integration of HV components and on-board diagnostics. Our flexible system also lets you conduct safety-critical tests where unforeseen interactions result in undefined operating conditions.

Powertrain TS lets you optimize hybrid control strategies and conduct performance evaluations of the entire powertrain. Thanks to the exhaustive reproducibility it offers in testing, you can even use it to ensure specific lifetime targets of powertrain components.

Highly automated and with a focus on safety thanks to its unmanned operation, it ensures confidence, reduces effort and maximizes return on investment. Reducing the need for prototypes while validating concepts early in development, it cuts time and costs, and supports robust results.
---