{attributes={}, name=downloadList, data=, type=selection_break, options=[], optionsMap={}, mainTitle={attributes={language-id=en_US}, name=mainTitle, data=Discover more, type=text, options=[], optionsMap={}}, sectionList={attributes={}, name=sectionList, data=, type=selection_break, options=[], optionsMap={}, sectionIcon={attributes={language-id=en_US}, name=sectionIcon, data=newsletter, type=list, options=[], optionsMap={newsletter=Newsletter, download=Download, software=Software, white-paper=White Paper, webinar=Webinar}}, sectionName={attributes={language-id=en_US}, name=sectionName, data=Contact us, type=text, options=[], optionsMap={}}, downloadFiles={attributes={}, name=downloadFiles, data=, type=selection_break, options=[], optionsMap={}, LinkTitle={attributes={language-id=en_US}, name=LinkTitle, data=Get in touch with our experts, type=text, options=[], optionsMap={}}, CTALink={attributes={language-id=en_US}, name=CTALink, data=https://www.avl.com/registration-cta?articleId=27273972&groupId=10138, type=text, options=[], optionsMap={}}, DownloadFile={attributes={language-id=en_US}, name=DownloadFile, data=, type=document_library, options=[], optionsMap={}}}}}
false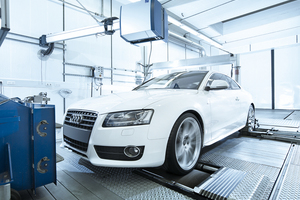 Proven and efficient solutions
AVL Vehicle Chassis Dyno TS™ Emission Certification
Comprehensive solution for light-duty emission certification
Before an operating license can be issued for a vehicle, it must be tested and certified in relation to many different factors. These include. Exhaust emission and fuel consumption (electric energy for hybrid vehicles) measurements which certification tests are carried out on a chassis dynamometer.

Emission regulations are defining the test process as well as the appropriate measurement and test methods. Increasingly stringent emission legislations are resulting in challenging new testing requirements. These include tasks such as new and longer test cycles, with vehicle-dependent gearshift strategy, measurement of battery SOC for all vehicle types, 4 phases cycles, continuously repeating cycles, ultra-low concentrations measurements and so on.

In addition to these requirements, RDE testing is also demanded for legal compliance, which is itself leading to new emission calibration development needs. RDE tests are conducted on the road, but the development process is carried out in the test cell. And all of these new requirements are arriving on OEMs doorsteps at the same time as the hybridization of the powertrain, which brings additional compliance needs and much more complex emission calibration strategies.

Vehicle Emission Test Solutions

The AVL Vehicle Chassis Dyno TS™ Emission Certification covers all the elements needed for light-duty emission certification. This includes load systems, emission measurement systems, vehicle fans and the climate control of the testbed, as well as automation systems. Our test system covers all global legislative requirements and provides the necessary flexibility to support you in your development tasks.
Why Choose AVL?

Many known legal authorities trust in our vehicle emission testing system. Our compliance with all global legislation is well established.

Our advanced testing system provides reliable data quality by offering secure and traceable data. Furthermore, our comprehensive workflow management system makes it easier for your operator to track the complex certification process and ensure that you can easily prove your compliance at any time.

AVL is pioneering the road-to-lab solution. This vehicle test solution integrates everything you need to bring the road into your test cell. This makes achieving emission compliance easier and more efficient.

From simple upgrade projects to complex greenfield projects - over the last 70 years we have gained the experience necessary to provide you with the best possible support for your emission reduction tasks. Having everything under one roof not only ensures smooth and optimized project execution, but also saves you a lot of money.
---