{attributes={}, name=downloadList, data=, type=selection_break, options=[], optionsMap={}, mainTitle={attributes={language-id=en_US}, name=mainTitle, data=Discover more, type=text, options=[], optionsMap={}}, sectionList={attributes={}, name=sectionList, data=, type=selection_break, options=[], optionsMap={}, sectionIcon={attributes={language-id=en_US}, name=sectionIcon, data=newsletter, type=list, options=[], optionsMap={newsletter=Newsletter, download=Download, software=Software, white-paper=White Paper, webinar=Webinar}}, sectionName={attributes={language-id=en_US}, name=sectionName, data=Contact us, type=text, options=[], optionsMap={}}, downloadFiles={attributes={}, name=downloadFiles, data=, type=selection_break, options=[], optionsMap={}, LinkTitle={attributes={language-id=en_US}, name=LinkTitle, data=Get in touch with our experts, type=text, options=[], optionsMap={}}, CTALink={attributes={language-id=en_US}, name=CTALink, data=https://www.avl.com/registration-cta?articleId=15475448&groupId=10138, type=text, options=[], optionsMap={}}, DownloadFile={attributes={language-id=en_US}, name=DownloadFile, data=, type=document_library, options=[], optionsMap={}}}}}
false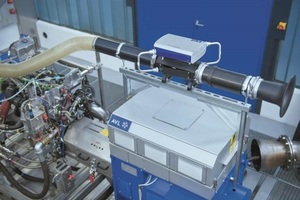 Measuring success
AVL FLOWSONIX™ Air
Air consumption measurement device
Because air consumption is a vital reference value in emission certification, OEMs need to ensure an accurate measuring process to meet ever stricter regulations. Therefore, AVL has created the innovative AVL FLOWSONIX™ Air , an air consumption measurement device that is fast, accurate and robust.
How Does it Work?

AVL FLOWSONIX Air measures intake air mass flow with high accuracy, a large downturn ratio and fast response time. It consists of three components – the measuring head, evaluation unit and two short inlet and outlet pipes. These are designed to have as little influence on the engine as possible. Only a small pressure drop (0.25 kPa) occurs in the measurement head, which results in a negligible influence on the engine.

Its flexible design allows for a quick and easy installation on any engine type. With a wide measurement range of 1:70 this means that only two pipe diameters are required – light duty (DN 100) and heavy duty (DN 150).

Its < 5* DN up-stream and down-stream tubing needs little space. This small size, and a power consumption of just 25 W, results in a compact and efficient, yet powerful system.
Ultrasonic Measurement Technology

The FLOWSONIX Air uses an ultrasonic transit-time differential technique to accurately measure air mass flow in the intake. Two ultrasound pulses – one propagating into the air flow and one against it – are measured to determine air consumption.

The system measures the acceleration of the sound pulse travelling with the air flow, as well as the deceleration of the sound pulse travelling against the airflow. By comparing the two results, the mass of air flowing through the intake can be accurately assessed, delivering measurement uncertainty of less than 1 % of the reading.
---
---