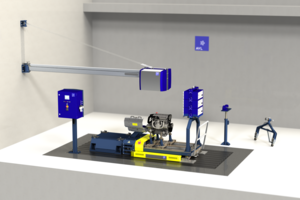 Optimized mechanical products for efficient and reliable testbed operation
AVL Test Cell Mechanics
Besides intelligent measuring technique and automation, the mechanical automation of testbeds can increase productivity by minimizing the setup and testbed downtimes and by enhancing the quality of the results due to an appropriate design.
---
---
AVL Approach
The pursuit of increased productivity and efficiency also requires a rethinking of the configuration and the operating processes of the testbeds and will be guaranteed by process-oriented design and the high functionality of testbed equipment. The demand for short installation times and easy adjustment of the testbed equipment requires modular concepts with standardized mounting possibilities.
Unproductive duties like engine commissioning and decommissioning, rigging, unit under test alignment, system checks, calibration, service, maintenance and repair tasks have to be shifted out of the test cell to ensure optimal test cell utilization.
A prerequisite for smooth and efficient test processes is sophisticated testbed mechanics in combination with mobile pallet systems for the shortest possible unit under test changing times.
AVL's modular concepts allow for a high degree of scalability from simple durability testbeds to highly sophisticated and complex powertrain development testbeds.
---
Benefits at a Glance
High functionality due to process oriented design
Short installation times via standardized mounting possibilities
High flexibility by modular design
Wide range of standardized and customized solutions
Professional partner for complex and individual customer specific requirements
Low maintenance and high availability through sturdy design
Global service & support
---
References
Based on long-term experience of all kinds of projects that have been implemented worldwide, AVL provides tailor-made solutions for standard applications and customer-specific applications for engine, powertrain, hybrid, e-motor, racing and component testbeds.
---