{attributes={}, name=downloadList, data=, type=selection_break, options=[], optionsMap={}, mainTitle={attributes={language-id=en_US}, name=mainTitle, data=Discover more, type=text, options=[], optionsMap={}}, sectionList={attributes={}, name=sectionList, data=, type=selection_break, options=[], optionsMap={}, sectionIcon={attributes={language-id=en_US}, name=sectionIcon, data=newsletter, type=list, options=[], optionsMap={newsletter=Newsletter, download=Download, software=Software, white-paper=White Paper, webinar=Webinar}}, sectionName={attributes={language-id=en_US}, name=sectionName, data=Contact Us, type=text, options=[], optionsMap={}}, downloadFiles={attributes={}, name=downloadFiles, data=, type=selection_break, options=[], optionsMap={}, LinkTitle={attributes={language-id=en_US}, name=LinkTitle, data=Get in touch with our experts, type=text, options=[], optionsMap={}}, CTALink={attributes={language-id=en_US}, name=CTALink, data=https://www.avl.com/web/guest/registration-cta?articleId=14602537&groupId=10138, type=text, options=[], optionsMap={}}, DownloadFile={attributes={language-id=en_US}, name=DownloadFile, data=, type=document_library, options=[], optionsMap={}}}}}
false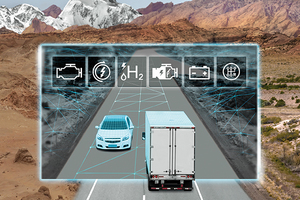 Increase quality, reduce effort
Virtual Calibration in Non-Standard Conditions
AVL Virtual Testbed™ helps you reduce effort and reliance on prototypes and test trips
When you are developing and parameterizing controls for fuel cell systems, it is important to ensure safe and efficient operation under both standard and non-standard ambient conditions. This might include common situations such as cold start operations, for example. However, it also needs to consider less common factors, and control adjustments need to take into account ambient conditions such as extremes of temperature, humidity or elevated altitude.

Testing and validation is already an expensive and complex activity, but accounting for such factors increases this expense. This calls for large numbers of prototypes, along with costly test trips to examine the capability of systems in different climatic regions. Even mitigating these costs by switching much of the test burden from on-road and on-vehicle to climatic testbeds can be costly. Testbeds, that accommodate tests within the relevant range of non-standard ambient conditions, often come with huge hourly costs.

A solution is therefore vital, to manage the performance and the cost efficiency of fuel cell systems.

The AVL Approach

At AVL that's just what we've created, with the AVL Virtual Testbed™. Our unique software toolchain provides an effective environment for testing and validating fuel cell systems under non-standard conditions.

Adopting our AVL Virtual Testbed can reduce climatic testbed use by up to 80 %. You can frontload a wide range of tasks, such as pre-calibration and calibration of control and diagnosis functions, protection functions, and temperature-dependent purge or drain calibrations. These can all be investigated instantly under different ambient conditions, component temperatures and component conditions – and at high quality.

This then reduces the burden placed upon on-road test trips, facilitating those activities efficiently and quickly.

When used in combination with our optimization tool, AVL CAMEO™, it becomes easy to optimize simulation runs in non-standard conditions. It allows you to enhance process efficiency and refine fuel cell calibration to consider a variety of ambient conditions using a global DOE approach.

Stand Out in the Market

With our Virtual Testbed we are providing a holistic testing environment and consistent toolchain. It comprises modelling capabilities, methodologies and engineering know-how in a single solution. Drawing on our established automation and optimization toolchain, it allows you to transfer many testbed or in-vehicle fuel cell development activities to a virtual environment. Furthermore, by utilizing our multi-system simulation tool AVL CRUISE™ M you can calibrate your fuel cell in real time.

With predefined use cases you can effectively integrate the Virtual Testbed into your fuel cell development cycle. Our tool helps you save time and money, increase quality, and greatly reduces testing effort.
---
---