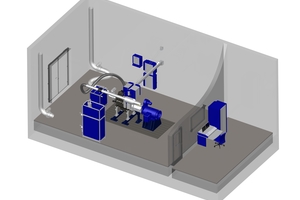 Durability Development
Supporting the task of durability development and fatigue strength assurance is a vital step during the process of creating a new engine and engine components. The goal is to ensure, with the smallest possible testing effort, the lowest possible number of warranty claims and lifecycle cost once the vehicle is launched on the market.
---
AVL Approach
The AVL Durability Test System comprises all necessary devices and system modules, as well as specific needed automation functions to support durability development with pre-installed test procedures.
---
Benefits at a Glance
Built-in durability test libraries.
Proven safety concept for engine operation.
Energy recuperation if AC dynamometer is used.
Robust system design.
---
Technical Data
Supported engine types and sizes:
Compressed ignition (CI) and spark ignition (SI) engines
Power range: ≤ 100KW up to ≥ 1MW

Typical Power Classes:

Endurance Testing Library

The application library provides the typical tasks used during the mechanical development of engines.
The following test runs and library components are available:
Break-in test run
Pmax-tmax test run
Oil-consumption test run
Thermo-stress test run
Cat-ageing test run
---
System Scope
Automation and Control
AVL Suite™ based PUMA Open Automation and Control providing uniform usability and compatibility throughout all AVL Suite™ products.
Load System
Passive or active dynamometer based load systems providing thermal-optimized design to achieve high accurate and repeatable engine power determination.
Baseline Measurement
Includes a fitting scope on sensors and transmitters for temperature and pressure measurement via AVL Front End Modules. Measuring devices for blow-by and lambda are completing this scope.
Optional Fuel Consumption Measurement and Conditioning
The high precision measurement of diesel and gasoline fuel consumption is facilitated by being suited to most of the common fuel injection systems.
Optional Exhaust Emission Measurement
For durability testing of catalytic converters (cat-aging) and/or particulates filters undiluted exhaust gas sampling and analysis AVL exhaust gas emission benches, particulate sampling systems, soot and opacity smoke measuring devices can be considered.
Exhaust Back Pressure Adjustment
For defined flow conditions.
Coolant and Lube Conditioning
For keeping the engine's cooling water and lube temperature within specified tolerances and to have repeatable testing conditions.
Test System Mechanics
Suitably sized air spring designed base plate in combination with engine mounting system for precise positioning and alignment of the engine to the dynamometer axle.
System Integration and Start-Up Service
From project kick-off up to final acceptance with start-up support the customer is assisted with professional AVL project services.
---