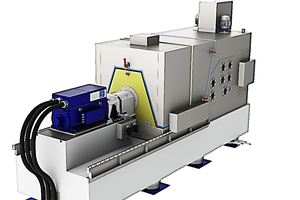 Get the optimum out of your E-Drive applications
Load systems for E-Drive Testing
Application areas for E-Drive Testing increased over the past years from analysis to determination of electrical, mechanical, thermal and acoustic characteristics. The wide AVL high performance dynamometer portfolio meets this demands with our E-Drive testing systems optimally.
---
---
AVL Approach
AVL's E-Drive Testing dynamometers as included in an AVL Electric Motor Testbed serve as the basis for a comprehensive development, testing, verification and validation environment for electric drives.
The modular approach permits the utilization of different dynamometer performance classes by keeping the mechanical elements largely identical. This reduces the number of testbed versions and increases adaptability.
---
Benefits at a Glance
Torque ripple measurements
Efficiency measurements and improvements
Performance measurements
Stall torque test, idling test
Stationary, transient and dynamic testing
NVH Testing
EMC Testing
---