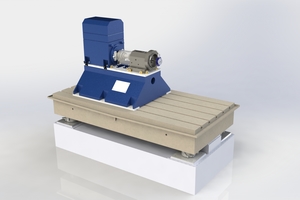 AVL Single Cylinder and Components Test Systems
AVL test systems are available for testing single cylinder research engines, engine/powertrain/vehicle components such as gearboxes/differentials/valvetrains, KERS systems, brake systems, oil/water/fuel systems.
---
AVL Approach
The AVL Single Cylinder Testbeds are carefully designed to ensure a wide operating range and the high measurement quality needed when doing power development on single cylinder research engines. Driveshaft design and torque measurement selection is done with the experience of AVL in supplying such test systems to our racing customers.
The AVL Components Testbeds provide a flexible platform for testing any kind of powertrain component. The mechanic design and dyno selection is done according to the particular requirement to maximize the utility. Auxiliary systems as oil/water conditioning systems provide suitable media supply to the test specimen if needed. A battery simulator/battery tester are used when testing KERS components.
The AVL Dynamic Brake Testbed with integrated windspeed-simulation has all the features required for dedicated brake R&D, performance and durability testing under realistic conditions.
The AVL PUMA OpenTM Components Testing System provides the power and flexibility in data acquisition and test automation needed on these kinds of testbeds. It integrates seamlessly into the world of parameter management and result data storage with any other AVL testbed.
---
Benefits at a Glance
Custom specific test systems tailored to the particular need, made out of well-proven standard components

Automation system with a similar look and feel as standard across all AVL engine/powertrain testbeds ensures homogeneity in operation, data handling and the minimization of training efforts

Interchangeable data acquisition modules with AVL engine/powertrain testbeds guarantees identical high measurement quality, same calibration procedures and common spare parts
---
Technical Data
AVL High Speed Single Cylinder Racing Testbed
Power (nominal / peak): 220 / 440 kW
Torque (nominal / peak): 160 / 320 Nm
Speed (nominal / max): 13,000 / 22,000 rpm
Other dyno systems for different power/speed ranges available.
AVL Dynamic Brake Testbed
Power (nominal / peak): 800 / 1300 kW
Torque (nominal / peak): 3185 / 6685 Nm
Speed (nominal / max): 2,400 / 5,000 rpm
Windspeed: 3600m³/h, 360km/h

Other dyno systems for different power/speed ranges as well as windspeed specifications available.
---
System Scope
Automation and Control
AVL SuiteTM based PUMA Open Automation and Control provides uniform usability and compatibility throughout all AVL SuiteTM products. PUMA Open Components testing provides the power and flexibility needed on dedicated component testbeds.
Load System
Any active dynamometer out of the AVL portfolio can be used. The selection is done according to the particular needs.
Baseline Measurement
High precision sensors and transmitters for temperature and pressure, measurement via AVL Front End Modules. Support of all AVL measuring devices needed for the particular type of components.
Fuel Consumption Measurement and Conditioning
When needed, AVL fuel flow measurement will be integrated.
Air Measurement and Conditioning
From intake air consumption and conditioning to boost air cooling and exhaust Back Pressure Adjustment, all the required measurement and conditioning units can be provided if needed.
Oil/Water Conditioning
Conditioned media (lubrication oil / cooling water) are supplied via AVL media conditioning systems when needed.
Test System Mechanics
Suitably sized air spring designed base plate in combination with a flexible mounting system for the test specimen allow for quick exchange of the UUT and flexible use of the installation. The design is made according to the requirements.
System Integration and Start Up Service
From project kick-off up to final acceptance with start up support, the customer is assisted with professional AVL project services.
---