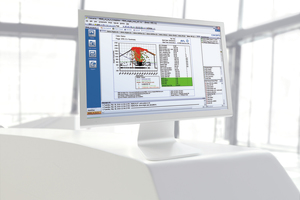 AVL Concerto M.O.V.E
AVL CONCERTO M.O.V.E is a powerful post-processing tool specifically designed to automatically handle AVL M.O.V.E data.
---
AVL Approach
The software supports the user by evaluating, correlating and validating the measured data during in-vehicle applications. Predefined layouts, for example for PEMS evaluations, reduce the work for complete test validation and report generation to just a few clicks, even for non-expert users.
---
Benefits at a Glance
A single tool for many applications: complete calculations, data evaluation and standard report generation which cover the complete vehicle development chain from in-vehicle applications over testbed testing, up to offline simulation
All data post-processing tasks within one tool such as: indicating data analysis, generic map/ engine map calculation (based on CONCERTO license)
Workflow oriented tool for real driving emissions (RDE) testing and more
Easy integration of the upcoming RDE regulations worldwide
Continuous legislative updates available as a software subscription option
Ability to import and merge data from AVL M.O.V.E devices (PM PEMS, GAS PEMS, Flow Meter, KMA Mobile)
---
Key Features
Supports data evaluation for HD, NRMM and RDE-LDV applications
Predefined result pages, plots and layouts for a wide range of in-vehicle testing like PEMS and fuel consumption evaluations
Printing and saving of standard reports
Supports exhaust flow calculations and US and EU options for humidity and NOx corrections
Ability to import and merge data from proprietary CAN Dataloggers
Google Maps integration
Video Integration < 2GB (not available with concerto M.O.V.E standalone package)
Alternative units/automatic unit conversion
Automatic or manual time alignment
Export: numeric data via clipboard, ASCII-file or HTML
Graphics and tables as file (BMP, EMF, JPG, HTML, PDF, bitmap)
Calculator: simple formula creation via predefined function and macro instructions
Data presentation possibilities: line, bar, x-y diagram, tables
Access to various data: generic ASCII files, AVL IFiles (indicating files), ASAM ATF files, CTF files, MDF files
Data export to CONCERTO transport file (CTF File) – native binary data format. (limited by the CONCERTO M.O.V.E Package functionality)
---
Product Overview
AVL CONCERTO M.O.V.E - flexible and modular software packages
CONCERTO is available in several pre-defined configuration packages according to the users application need.
Software License Package
Description

CONCERTO M.O.V.E Standalone Package:

The standalone package delivers a convenient workflow for in-vehicle calculations and verifications. The software is optimized for use by in-vehicle engineers.

CONCERTO M.O.V.E Option based on CONCERTO - Advanced for Indicating:

Includes the full functionality of the CONCERTO M.O.V.E standalone package and additional specific functions relevant for combustion analysis tasks (e.g. graphical formula editor CalcGraf with function library for combustion analysis, etc.)

CONCERTO M.O.V.E Option based on CONCERTO - Advanced for Testbed:

Includes the full functionality of the CONCERTO M.O.V.E standalone package and additional specific functions relevant for testbed data evaluation (e.g. access to ASAM-ODS data base systems, support of 3D engine maps, etc.)

CONCERTO M.O.V.E Option based on CONCERTO – Premium:

Includes the full functionality of the CONCERTO M.O.V.E standalone package, CONCERTO-Advanced for Indicating, CONCERTO-Advanced for Testbed and additionally a set of expert functionalities (e.g. extended data access, COM- and Active-X-Interface for advanced remote control, advanced data search function, user interface - adaptability, etc.)
---