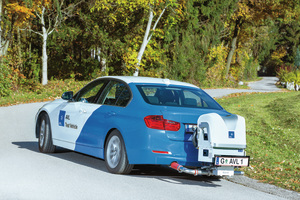 AVL M.O.V.E Real Driving Emission Testing
AVL M.O.V.E iS System is a complete and tailored solution for Real Driving Emissions testing of passenger cars.
---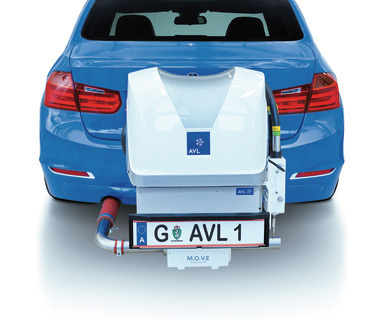 AVL Approach
The accurate and reliable measurement of real world emissions is only one element of the overall RDE package. There are many other important elements the user needs to handle:
Exact test execution according to legislative requirements
Recording and automatic time alignment of data from different devices
Fast & reliable data post processing based on the RDE standards
Seamless data exchange between different development stages





The AVL M.O.V.E iS System covers all of these aspects by making use of a central data control system (System Control Unit) which offers the user an intuitive and graphical user interface with step-by-step guidance through the relevant legislative testing procedures.
Evaluation of test data is made easy, even for non-expert users, with AVLs "CONCERTO M.O.V.E POST PROCESSING" software. The software is capable of evaluating the test data according the European RDE standards with just a few mouse clicks.
---
Benefits at a Glance
Test Execution according to legislative requirement
Recoding and time alignment of data from different devices and sensors
Calculations methods and test validation for HD, NRMM and RDE-LDV applications
Seamless data exchange between different development stages
---
Market Requirements
Today it is commonly agreed that a substantial reduction of the real driving emission levels is technically achievable. The upcoming EU6d - Real Driving Emission (RDE) legislation for passenger cars in Europe is designed to ensure that all required technical measures are implemented accordingly. Passenger car OEMs are requested to carry out tests on the road with Portable Emission Measurement Systems (PEMS) in order to prove compliance with the RDE regulation.
---
AVL M.O.V.E iS
AVL M.O.V.E has been designed to support the manufacturer needs:
Complete
Seamless tool chain - from the installation on the vehicle, test execution and data evaluation, up to data exchange between different development stages.
Integrated
Device control, data recording and data visualization via a central control unit. Workflows support efficient execution and evaluation of the test.
Safe
To avoid having toxic exhaust gases in the vehicle, the system is designed to be installed inside but particularly outside the vehicle, e.g. on the tow bar. No dangerous carry-on gas bottles are needed.
Quick and Easy
The pre-installed system can be quickly and easily mounted on a standard tow bar within less than 5 minutes.
Application focused design
Influences on the vehicle are eliminated thanks to the lightweight, compact & aerodynamic design of the system, which does not require any modifications on the vehicle. The system supports operation with or without exhaust flow meter.
---
All Products
AVL M.O.V.E GAS PEMS iS:
A new solution for the upcoming EU6d - Real Driving Emissions (RDE) legislation
AVL M.O.V.E System Control:
Integration Platform
AVL CONCERTO PEMS:
Powerful data post processing solution including report generation
---