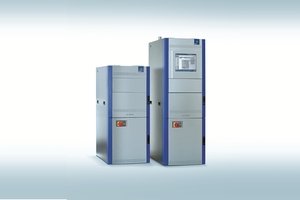 AVL PSS i60 Particulate Sampler
The AVL PSS i60 is a full flow particulate sampler used to collect minute particles in diluted exhaust gas for gravimetric analyses.
---
AVL Approach
The AVL PSS i60 particulate sampler for gravimetric particle measurement is characterized by its innovative and compact system design for exhaust certification testing. Optimized gas flow rates combined with an enhanced mass flow control and direct electronic signal processing, increase the accuracy and reproducibility of the measurements, especially with regard to the extremely low PM emissions of today. The new particle filter design and the temperature controlled sampling offer the best conditions for determining very small particles and quantities.
---
Benefits at a Glance
Safe investment in intelligent technology of the highest flexibility and retrofitability
Compliance with latest emission legislations, e.g. Euro 5/6, EPA CFR 40 part 1065
Compact design for particulate sampling, particle counting and H-THC measurements
Intelligent service and diagnostic functions reduce downtimes and increase efficiency
Substantially reduced expenses for installation and total cost of ownership
---
Market Requirements
Current and future emission legislations, such as Euro 6 or EPA 40 CFR part 1065 / 1066, call for new and additional solutions and require an optimized and extended particle measurement technology. The AVL PSS i60 particulate sampler as reference solution for certification and development on chassis dyno, as well as engine testbeds, is the perfect solution to these new challenges.
---
Functions
The AVL PSS i60 is a full-flow particulate sampling system and is used to collect particulates from the diluted exhaust gas on a filter during a test cycle. At the beginning and the end of the test cycle the filter is weighed and the particulate mass is calculated, considering the background where applicable (gravimetric measurement).
For light-duty applications, the AVL PSS i60 SD (single dilution) allows the installation of a heated FID or particulate, the AVL APC 489 Particle Counter and background measurement in a single 19" cabinet.
For heavy duty and non-road applications, the AVL PSS i60 DD (double dilution) enables the installation of a heated FID, a heated CLD and the particulate background measurement in a single 19" cabinet.
---
Options
The functionality of the AVL PSS i60 particulate sampler can be extended by the following enhancements:
Local language support of the user interface for all major languages
Uninterruptible power supply for integrated industry PC
Heated FID analyzer for THC tunnel measurement
Heated CLD analyzer for NO/NOX measurement
Particulate background measurement
---
Technical Data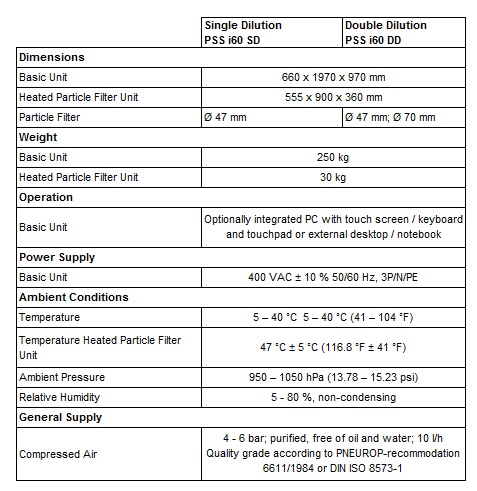 ---
Applications
The CVS full-flow dilution based particulate mass determination is also the reference for partial flow determinations. The AVL PSS i60 SD is used for light-duty and passenger car chassis dynos. For heavy-duty and non-road engine testbeds the double dilution version AVL PSS i60 DD is used. Applications for engine performance and emission development, certification and conformity of production (COP) are fully covered with the AVL PSS i60. The system is used on transient and stationary engine testbeds for R&D, certification and quality control as well as on chassis dynos for HD vehicles.
---
iGEM PSS Control SW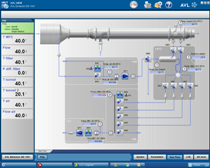 The intelligent iGEM platform constitutes the basis for optimum operation, high-grade diagnostics, easy connectivity and upgradeability. This platform is the control software for all products of the iGeneration. The iGEM PSS control software comes with core features such as:
Diagnostic checks can be automatically performed via the integrated calendar function
The interactive diagnostic system can also be controlled remotely via the network or the internet
The operating systems of all electronic units (such as the CAN node) can be checked (debugged) and also be replaced (software update) using remote access
---
Available Types
The AVL PSS i60 particulate sampler is available for single and double dilution applications. The following variations are defined:
AVL PSS i60 SD
A primary dilution tunnel is used to dilute and mix the exhaust gas coming from the engine. Features:
Heated FID for THC measurements
AVL APC 489 Particle Counter
Particulate background measurements
AVL PSS i60 DD
An additional secondary dilution is used to dilute and mix the exhaust gas coming from the engine for the measurement of high particulate concentrations. Features:
Heated FID for THC measurements
Heated CLD for NO/NOX measurements
Particulate background measurements
---