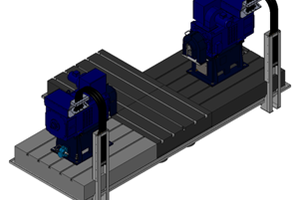 Durability and performance development for 2WD Powertrain
2WD Powertrain Test System
The increasing complexity of modern powertrains is placing increasing demands on on the Instrumentation and Test Systems. Validating the powertrain in an early development phase requires test methods where as much system functions as possible can be tested without proving ground tests. Therefore it is mandatory to test available components as soon as possible to improve durability, functionality and performance. The Test System must be flexible to develop various transmission types:
Manual Transmission (MT)
Automatic Transmissions (AT)
CVT-Transmission
Automated Manual Transmissions (AMT)
Double Clutch Transmissions (DCT)
Transmissions for Hybrid Electrical Vehicles (HEV)
---
AVL Approach
The success of testing modern and complex powertrains is clearly determined by the "Road to Rig" approach. AVL's 2WD Powertrain Test System covers the requirements for durability and performance validation of modern powertrain and transmissions. Increased and enhanced rig testing is the way to reduce vehicle development times.
AVL's flexible Test System design enables the development of Front-Engine (longitudinal and transversal) – Front Drive and Front-Engine – Rear Drive 2WD powertrains.
AVL's Test System involves two major modules:
The vehicle mass simulation is calculating the load to the powertrain based on the road load equation using aerodynamical drag and rolling resistance.
The load dynamometers (AVL DynoTrain) do have an optimized inertia to ensure a proper vehicle mass simulation.
---
Benefits at a Glance
Evaluation of specified strain limits of the transmission case and rotating parts
Evaluation of specified lifetime of gear teeth and bearings
Determination of lifetime of transmission clutch pack and brake lifetimes
Evaluation and optimization of the component dimensioning
Driving Performance and strategy
Upgrade to Maneuver Based Testing possible
---