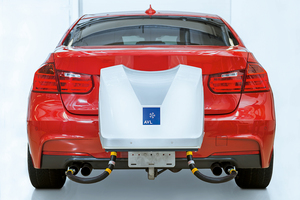 AVL M.O.V.E GAS PEMS iS
The AVL M.O.V.E GAS PEMS iS Portable Emission Measurement System (PEMS) is designed to measure NO/NO2 and CO/CO2 concentrations in the exhaust gas of diesel and gasoline vehicles.
It features a compact, lightweight and robust design based on AVL's experience with the existing AVL GAS PEMS 493 and PEMS testing.
---
AVL Approach
The new AVL GAS PEMS iS maintains the high measurement accuracy and analytical performance of the AVL GAS PEMS 493, but also offers high flexibility and easy use under RDE applications where energy, space, weight and safety requirements are extremely stringent.
It features a compact, lightweight and robust design. Due to the low drift of the chosen analyzers there is no need to carry along calibration gas bottles in the vehicle during the test. Another timesaving feature is the automated span calibration with the external calibration unit e-Cal iS.
---
Benefits at a Glance
Optimized & complete solution for RDE application
Compact & lightweight
Easy and fast installation
Flexible installation in or outside the car and with and w/o exhaust flow meter
No additional damping plates needed for passenger car application
Wide operating range (-10°C to +45°C)
High measurement accuracy
Device protection during start-up at low temperatures
Low maintenance effort and easy access to all consumables
Automated span checks with e-Cal iS
---
Market Requirements
The Real Driving Emission (RDE) legislation for passenger cars in Europe requires that passenger car OEMs carry out tests on the road with Portable Emission Measurement Systems (PEMS) in order to prove compliance with the newly defined RDE regulation. PEMS testing on passenger cars requires small, lightweight devices that are compact enough to fit into the smallest of vehicles and, importantly, are quick and easy to install. As opposed to the heavy duty and non-road machinery in-use legislation that is currently in force in Europe, there is no need for total hydrocarbon (THC) measurement on passenger cars. This makes it possible to reduce the size and power consumption of the PEMS equipment by removing the flame ionization detector (FID) and by doing so negating the requirement for its associated burner gasses (such as H2/He) to be carried in bottles inside the vehicle.
---
Technical Data
The GAS PEMS iS can be easily installed outside of a vehicle, for instance on a tow bar / trailer hook mounted bicycle carrier or alternatively, simply in the boot / trunk of the vehicle. For the passenger car application there is no need for an additional vibration damping plate because the device features its own internal damping system.
A Central Power Distribution Device (E-Box) provides the power network, battery management and Ethernet switch to the complete AVL M.O.V.E iS System. This unit is mounted together with the battery packs between GAS PEMS iS and the outer cover. This new concept allows very quick installation because there is no need to unplug/ plug the devices when switching from one car to another, for example. A prepared system, on a tow bar carrier, pre-installed and warmed-up, can be mounted to the car within a few seconds. A smart LED setup provides information about which power source is currently in use and also the battery packs status. The sample probe is fixed with a special support frame near the tailpipe duct.
In the case of a test vehicle with a Dual Exhaust Pipe configuration, a new Y-type heated line is available, as an option, to reduce the installation effort.
The GAS PEMS iS operates within a temperature range of -10 °C to + 45 °C, without any additional external heating or cooling devices, due to its own specifically developed internal temperature conditioning system. This ensures that the GAS PEMS iS is able to operate accurately and reliably in a wide temperature band.
Inside the device, a dedicated heating control circuit protects critical electronic parts and the analyzers during periods where it is operated at very low temperatures. Maximum energy efficiency is achieved through intelligent control of the temperature conditioning system.
A "Hibernate – Mode" allows early morning test starts to be that little bit less painful. Setting the system to Hibernate overnight means that it will keep the internal components at a reduced, but still elevated temperature, meaning that the warm-up time in the morning is reduced. There is even an automated start-up timer function available.
A service door allows easy access to the consumable parts within the system. Optimized components mean extended service intervals and reduced maintenance efforts.
Control of the GAS PEMS iS System and the external calibration units is via the AVL M.O.V.E System Control Software
The evaluation and processing of testing data is done with the "M.O.V.E CONCERTO POST PROCESSING" software.
Operating temperature (ambient)

-10°C to 45°C

Storage temperature

-30 to +70°C
(Oxygen sensor needs to be removed below 0°C and above 50°C)

Dimensions (WxHxD)

Measuring module:
~ 490x350x330 mm,

with outer cover:
~ 550x420x430mm

Weight

~ 30kg (NOx Module)

~ 50 kg incl. already 2*Li-Ion Battery packs*,, tow bar carrier and a 1.2m heated line

*) AVL recommended battery packs, can be ordered as an option

Warm-up time at 20°C ambient temp.

~ 1hr (ready for measurement)

Power demand

22 to 28V DC, approx. 220W @ 20°C ambient temperature
(with 2m sample line and after warm up)

Sample flow rate

< 3.5 l/min

Sampling conditions

End of tail pipe, ±50mbar relative pressure

Inputs/outputs electrical

1xHeated line connectors
1x Ethernet (TCP/IP )

Analyzer technologies

UV (NO/ NO2)

NDIR (CO/CO2)

Electrochemical: (O2)

Measurement range

NO/ NO2:
0 to 5,000 ppm (NO)
0 to 2,500 ppm (NO2)

CO/ CO2:
0 to 49,999 ppm (CO), 0 to 20 vol% (CO2)

Accuracy

CO:
0 to 1,499 ppm: ± 30 ppm abs.,
1,500 ppm to 49,999 ppm:
± 2% rel.;

CO2:
0 to 9.99 vol.%: ± 0.1 vol.% abs.,
10 to 20 vol.%: ± 2% rel.

NO:
0 to 5,000 ppm: ± 0.2% FS or ± 2% rel.

NO2:
0 to 2,500 ppm: ± 0.2% FS or ± 2% rel.

Zero drift

CO:
20 ppm/8h

CO2:
0.1 vol%/8h

NO/ NO2:
2 ppm/8h

Span drift

CO:
≤ 20 ppm abs./8h or 2% rel./8h

CO2:
≤ 0.1 vol% abs./8h or 2% rel./ 8h

NO/ NO2:
≤ 1% rel./ week

Linearity

Slope : 0,99 ≤ slope ≤1,01,

Intercept ≤0,5 %,

SEE: ≤1% of range

and R2: ≥ 0,999

Pneumatics inputs/outputs

1x external calibration module
1x exhaust and drainage OUT

Heated lines

Available lengths:

1.2 m Y-Type
1.2 m Single
2.5 m Single
5.0 m Single

T Adjustable: 70°C to 120°C
---
Measuring Principle
High measurement accuracy is achieved by the usage of proven test cell analyzers which are optimized for in-vehicle application
NO/NO2 measurement is carried out using an ultra-violet (UV) Analyser, which can measure NO and NO2 simultaneously and directly without the need for a converter.
CO/CO2 measurement is carried out using a non-dispersive infra-red (NDIR) analyser which has been especially optimized for high accuracy and high resolution of CO at low concentrations.
All analyzers are mounted inside temperature-controlled enclosures to ensure stable conditions and a high degree of accuracy, even at changing ambient conditions.
---