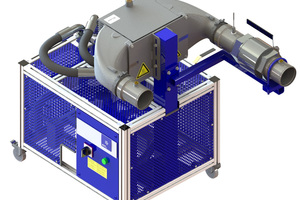 AVL ConsysBoost
BOOST AIR CONDITIONING
The boost air conditioning unit AVL ConsysBoost conditions the boost air temperature at a predefined set value and keeps it within a tight tolerance range mainly for steady state and dynamic applications with constant demand values.
---
AVL Approach
AVL offers two standard sizes of AVL ConsysBoost for precise boost air control using a industrial air/water heat exchanger. Alternative solutions, such as spray variants, are available for following a dynamic temperature profile.
---
Benefits at a Glance
The precise adherence to a pre-defined boost air temperature significantly improves the repeatability of measuring results on turbo-charged combustion engines and therefore increases the testbed efficiency
The ability to simulate different pressure losses for different vehicle intercoolers enables use on a wide range of engines
The compact and mobile unit can be moved to different testbeds, reducing investment costs by eliminating the need for another unit
Space-saving installation close to the engine by separating the conditioning part from the heat exchanger
---
Options
If the use of the engine's intercooler is required, AVL offers ConsysBoost Spray. The intercooler is mounted inside a box with spray nozzles. By controlling the water flow, which is supplied via the spray nozzles, a very good temperature control dynamic is achieved.
---
Technical Data
AVL CONSYSBOOST

Classification

CB 1200,3000

Typical application

Engine testbed/
boost air cooling

Standard control range

Temperature and accuracy

15 bis 70°C
+/- 1°C

Standard control range

Pressure and accuracy

4.5 bar absolute

No control

Advanced1 control range

Pressure and accuracy

2 to 5 bar absolute

No control

Standard flow rate range

1200 to
3000 kg/h

Advanced flow rate range

400 to
3000 kg/h

Dimension

Starts with
910 x 950 x
1150 mm

(L x W x H)

Weight

Starts with
150 kg
1Advanced = options or modifications
---
References
The AVL ConsysBoost is designed as a secondary cooled heat exchanger or as a spray version for pressures up to 5 bar and temperatures of 200°C or more. Units with a power of 200kW have already been delivered.
---
Control Principle
The boost air temperature control is indirectly performed by controlling the cooling water flow through the heat exchanger. A circulation pump ensures an adequate flow of the cooling water in the heat exchanger, even for low power applications. In addition, this pump improves the control behavior by returning the heated up cooling water back flow to the heat exchanger inlet. For simulating the pressure drop of different engine intercoolers, a manually operated valve is installed between the AVL ConsysBoost unit and the engine intake duct. This makes the device suitable for a wide range of units under test. If the engine's own intercooler is to be used, the AVL ConsysBoost Spray Unit is available.
---