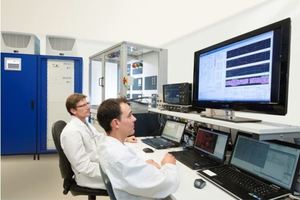 AVL Power Electronics Test Systems
Develop, test and validate power inverters
The power electronics test system provides a real-world environment for the development, test and validation of inverters. Individual and system level testing is possible for start-stop, mild/full hybrid, and full electric vehicles.
---
The Challenge
Electrified powertrains are complex integrations of electrical and mechanical components that have been tested and validated individually. Test environments must be able to test on both a unit and on a system level.

Real world test environment
Can all communication and interfaces between individual components be tested under real operating conditions?
Unit and system test level
How can troubleshooting and system issues be identified early?
---
The AVL Solution
The test system offers a range of voltages and currents combined with innovative software tools to emulate real world test conditions. The e-motor, its rotor sensor position and the battery are all emulated. The test environment can be used to test power inverters and AC/DC charging equipment for start-stop, mild/full hybrid, and full electric vehicles. It covers a broad range of applications such as hardware and software development, endurance testing and fault simulation.
---
The Added Value
Flexible, high-precision testing environment
Suitable for deployment in laboratory
Validation of maps even under failure scenarios
Test results easily and quickly available
Flexible, easy-to-use and configurable automation system
Full compatibility with AVL InMotion 4™ Real Life Test System
High reproducibility of AC and DC load cycles
Energy-efficient test system thanks to power recovery
---
Details
The system consists of:

AVL Automation Platform
The proven AVL automation platform PUMA Open 2™ has been especially adapted for the testing of power electronics components. The system provides processing capacity for the automation, control and simulation software as well as the interfaces for I/O modules and other sub-systems, measuring devices and application systems.

AVL E-STORAGE BETM
Different systems and power classes out of the AVL E-STORAGE product line are available to supply the unit under test with energy. Due to its high level of dynamic performance, enhanced accuracy, broad voltage range and low residual ripple, the AVL E-STORAGE BE™ can provide a precise and stable voltage output or precisely emulate a real-world battery.

AVL E-Motor Emulator (Inverter Test Systems)
The AVL E-Motor Emulator (E-ME) is used for the precise emulation of the electric motor phase currents. The E-ME reproduces the exact behavior of an electric motor including its rotor position sensor.

Coolant conditioning systems
A coolant conditioning system with temperature and flow control mode is available to condition the coolant of an e-motor, power electronics or a battery. The electrical heating unit, which is integrated in the coolant-conditioning device, enables a rapid preheating of the coolant. All devices are prepared to be fully integrated in the testbed automation system.

AVL Power Electronics Chamber
A climatic chamber is used for environment simulation within the typical temperature and air humidity ranges as specified by endurance test recommendations for electric motors used in electrified powertrains of road vehicles. Due to its modular design the climatic chamber can also be added to the testbed at a later time.

AVL Grid Emulator
Due to its fully free programmable multi-phase high-power output the AVL Grid Emulator is able to simulate all worldwide grids. In addition, effects from real grids with harmonics and power failures can be tested.
---