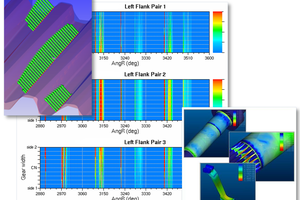 AVL EXCITE™ Strength and Durability Analysis of Transmissions and Drivelines
Strength and durability analysis of transmission and driveline components is part of AVL's non-linear rigid/flexible multi-body dynamic software AVL EXCITE™.
---
AVL Approach
Transmissions can be calculated and analyzed on a stand-alone basis, for example on a transmission testbed, together with the combustion engine as the power unit, and as an integrated subsystem of an entire driveline.

Analysis targets include the strength and durability of transmission and driveline components like shafts, gear tooth and gear box housing, as well as the detailed investigation of mechanical frictional losses in gear contacts and bearings of transmissions.
---
Benefits at a Glance
Accurate dynamic loads for strength and durability evaluation due to fully coupled system approach
Interaction between engine, transmission and driveline considered
Transient dynamic loads in gear tooth contacts used for evaluation of flank surface and actual root bending stresses
---
Functions
Transient analysis, flexible structures
Fully coupled bending & torsional vibrations
Detailed cylindrical gear contact model with real profiles incl. modifications and corrections
Gear tooth stress calculation based on ISO 6336
Transmission and driveline specific component models and joints (roller bearings, differential and planetary gear joint, wheel-roller contact joint)
All types of transmissions supported (MT, automated MT, AT and DCT)
---