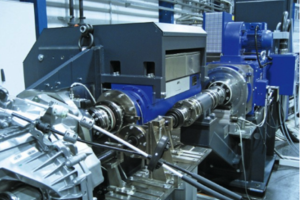 Test and Validate
Transmission
More than 300 installations globally and 20 years' experience in development and design of transmission, drivetrain and powertrain testbeds as well as test facilities.
---
The increasing complexity of modern powertrains is placing increasing demands on the Instrumentation and Test Systems. Parallel development activities of key powertrain components (combustion engine, hybrid engine, transmission, etc.) require transmission and drivetrain testing activities at the earliest possible stage. To ensure this, the Test System must precisely emulate the real engine. For testing transmissions and drivetrains various system solutions are requested conducting the testing tasks with consistency between all the different Systems.
AVL Approach
With decades of experience, AVL provides a wide range of Solutions for developing and testing modern powertrain Systems from transmission testbeds to drivetrain testbeds for various powertrain configurations. AVL is the only Company in the world to combine competence in powertrain design with competence in state-of-the-art measurement and testing technology for Light-, Mid- & Heavy Duty vehicles.
Various system solutions available for:
Transmission and Drivetrain Endurance
Drivetrain Performance
Transmission and Drivetrain Verification
Noise Vibration and Harshness (NVH)
Shiftability Optimization
---
Benefits at a Glance
Great breadth of experience from more than 300 test system installations
Consistency between AVL test systems via integrated open development platform
Uniform development environment from lab to rig to road
High precision of measurement and reproducible measurement results
---