{attributes={}, name=downloadList, data=, type=selection_break, options=[], optionsMap={}, mainTitle={attributes={language-id=en_US}, name=mainTitle, data=Discover more, type=text, options=[], optionsMap={}}, sectionList={attributes={}, name=sectionList, data=, type=selection_break, options=[], optionsMap={}, sectionIcon={attributes={language-id=en_US}, name=sectionIcon, data=newsletter, type=list, options=[], optionsMap={newsletter=Newsletter, download=Download, software=Software, white-paper=White Paper, webinar=Webinar}}, sectionName={attributes={language-id=en_US}, name=sectionName, data=Contact Us, type=text, options=[], optionsMap={}}, downloadFiles={attributes={}, name=downloadFiles, data=, type=selection_break, options=[], optionsMap={}, LinkTitle={attributes={language-id=en_US}, name=LinkTitle, data=Get in touch with our experts, type=text, options=[], optionsMap={}}, CTALink={attributes={language-id=en_US}, name=CTALink, data=https://www.avl.com/registration-cta?articleId=10709611&groupId=10138, type=text, options=[], optionsMap={}}, DownloadFile={attributes={language-id=en_US}, name=DownloadFile, data=, type=document_library, options=[], optionsMap={}}}}}
false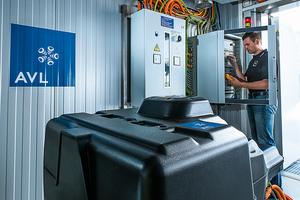 Exploring the Limits with Maximum Safety
AVL Battery Test Systems
Evaluating Electrochemical Energy Storage
In modern electrified powertrains (xEVs), huge demands are placed on batteries. These electrochemical energy storage and conversion devices must meet market requirements such as long-lasting high power and energy performance, and dynamic charge and discharge processes.

To support automotive battery development tasks we have created the AVL Battery Test System. This 'plug-and-play' solution is a free-standing or containerized battery testbed that can be delivered as a ready-to-go turnkey solution without needing any further adaptations.

Tailored Solutions

Featuring proven components, the system can be utilized by the operator throughout the energy storage system development process. Modular, flexible and comprehensive, it can be used for the testing of cells, modules and packs for a wide range of applications, including scooters, passenger cars, and light and heavy-duty vehicles.

The system is ideal for the verification of supercapacitors as well as lead-acid, nickel-metal hydride and lithium-ion batteries under a wide range of climatic conditions. Advanced safety measures, including fire suppression and gas extraction systems, allow for extreme testing limits to be explored without any risk to the operator.
A Comprehensive Package

This robust, reliable and accurate system comes with a range of features, including the relevant battery test software, facility management system and safety features. With AVL's global footprint and decades of automotive development experience, it can be tailored to fit your needs, your workflow, and your goals.

Additional benefits include:
Unique control technology for realistic charging and discharging profiles enables excellent control accuracy with parallel high current dynamics
High system versatility with automatic configuration changes reduces downtime
Easy to use thanks to user-friendly battery test automation software AVL LYNX 2™
Maximum safety thanks to functional AVL safety design
---