{attributes={}, name=downloadList, data=, type=selection_break, options=[], optionsMap={}, mainTitle={attributes={language-id=en_US}, name=mainTitle, data=Discover more, type=text, options=[], optionsMap={}}, sectionList={attributes={}, name=sectionList, data=, type=selection_break, options=[], optionsMap={}, sectionIcon={attributes={language-id=en_US}, name=sectionIcon, data=newsletter, type=list, options=[], optionsMap={newsletter=Newsletter, download=Download, software=Software, white-paper=White Paper, webinar=Webinar}}, sectionName={attributes={language-id=en_US}, name=sectionName, data=Contact Us, type=text, options=[], optionsMap={}}, downloadFiles={attributes={}, name=downloadFiles, data=, type=selection_break, options=[], optionsMap={}, LinkTitle={attributes={language-id=en_US}, name=LinkTitle, data=Get in touch with our experts, type=text, options=[], optionsMap={}}, CTALink={attributes={language-id=en_US}, name=CTALink, data=https://www.avl.com/registration-cta?articleId=12732633&groupId=10138, type=text, options=[], optionsMap={}}, DownloadFile={attributes={language-id=en_US}, name=DownloadFile, data=, type=document_library, options=[], optionsMap={}}}}}
false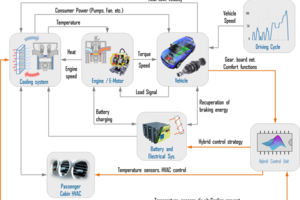 Protecting technology
Thermal Control System
For modern electrified powertrains a sophisticated vehicle thermal control strategy is essential to thermally condition an increasing number of temperature sensitive components. The control strategy has to ensure that all components are supplied with the right amount of cooling media at the correct temperature level. Besides ensuring thermal safety, the thermal system actuators have to be controlled in concert with the present vehicle operating condition to fulfil requirements concerning energy efficiency, powertrain performance, durability and noise.

To ensure the fulfilment of all these targets AVL provides a continuous thermal control function development support from concept phase until SOP. AVL offers the specification of operating and control strategies in line with the vehicle software and function development, including testing and calibration.

In early development phases 0D and 1D system simulations that consider all interdependencies are employed before physical prototypes or components are available. This enables the handling of system complexity, improves system maturity and reduces calibration, testing effort and cost.
---