ADAS Engineering Driving Tour UK 2018
AVL Highway Pilot
AVL's ongoing commitment to innovative solutions and the future of mobility see the company undertake the ADAS Engineering Driving Tour 2018 through the UK: During a week-long testing programme in February 2018, the latest demonstration vehicle featuring AVL's Highway Pilot function was driven around Great Britain.

The vehicle was fully equipped with the latest AVL technology in autonomous driving and followed a driving course to test function robustness throughout various driving conditions and environments collecting data to further support the ADAS development efforts in the UK.
Scroll down to read all about the tour and the tour diary by our team!

---
---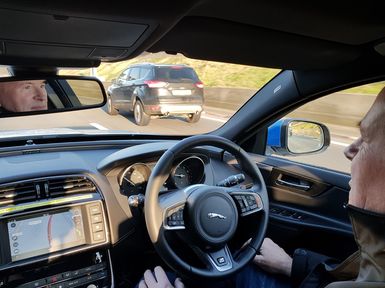 About AVL's testing program
AVL becomes the first company to undertake a complete testing tour of Great Britain with an autonomous vehicle developed here in the UK.
Rapidly growing demand for Connected and Autonomous Vehicles (CAV) and Advanced Driver Assistance Systems (ADAS) is changing the landscape of the automotive industry. The UK is establishing itself at the forefront of CAV and ADAS development.
Along with UK government support, many companies are investing heavily, with higher level Autonomous Vehicles and their sophisticated functions expected to be introduced to the market in the coming years. AVL is at the forefront of developing skills and innovative solutions for Autonomous Vehicles at its technology centres across the UK.
For several years already, the company has been developing ADAS and highly autonomous systems installed into demonstration vehicles. The company's latest demonstration vehicle features AVL's Highway Pilot function, enabling hands-free and feet-free driving. This solution has been undergoing extensive testing on selected public roads and test tracks in the West Midlands over the last six months. To verify the robustness of this Highway Pilot function in further real-world conditions, considering further variations in weather, light, traffic and road layout, AVL is expanding the locations used for the public road trials, by undertaking an extensive test programme covering most of the major road network in England, Scotland and Wales. The data gathered will increase the industry's understanding of the challenges facing Autonomous Vehicles. At all times, a qualified test driver and engineer are present to take over control.
The latest AVL demonstration vehicle also represents an Integrated Open Development Platform, which allows other companies to evaluate technologies and gain insight into development challenges.

AVL is the world's largest independent company for development, simulation and testing of passenger cars, trucks and large engines with more than 8,600 employees worldwide.
---
About AVL Vehicle Centre in Coventry
In preparation for testing of the Highway Pilot on UK roads the ADAS/AD demonstration vehicle was extensively developed at AVL's
advanced Vehicle Centre based in Coventry
. Engineering development executed at the centre included
Manufacturing of bespoke wiring harness solutions
Installation of AVL's private CAN networks
Interfacing with the vehicle CAN networks
Sensor calibration
Static safety checks
---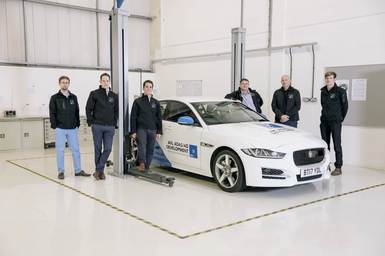 Meet the test drive team
Name: Kacper Bierzanowski
Job Title: Senior Project Engineer
Role in the highway pilot project: Lead Engineer
Tasks Include:

Software architecture
Software design
Software development
Lateral controller development
Longitudinal controller development

Personal highlight of the highway pilot project:
"Seeing the test driver when their confidence in the Highway Pilot feature raises and they actually can relax behind the steering wheel"
Name: Darren Cousen
Job Title: Senior Project Manager
Role in the highway pilot project: Project Manager
Tasks include:
Personal highlight of the highway pilot project:
"Seeing the car running on the road and the features being demonstrated."
Name: Iñaki Durand
Job Title: ADAS/AD System Engineer
Role in the highway pilot project: System engineering support
Tasks include:

Develop a requirement framework to robustly capture performance targets and function definition
Support the creation of internal processes to take the vehicle validation from track to public roads.
Occasional test driver.

Personal highlight of the highway pilot project:
"Testing the initial functionality first-time on the track and seeing the system actually working!"
Name: Peter Guerrier
Job Title: Senior Electronics and Control Engineer
Role in the highway pilot project: Test driver / Risk assessment coordinator
Personal highlight of the highway pilot project:
"The opportunity to drive one of the most advanced autonomous cars on a 1000 mile road test trip and be part AVL's contribution to the exciting future of highway driving technology."
Name: Matthew Lennon
Job Title: ADAS Engineer
Role in the highway pilot project: Highway Pilot Feature Owner
Tasks include:

System integration
Vehicle integration/ modification design
System architecting
Perception function development
Feature test management and execution

Personal highlight of the highway pilot project:
"My highlight of the project so far has been the excitement of testing the next generation of ADAS features on the road and gauging the public's reaction and acceptance of future technology."
Name: Stuart Rowell
Job Title: Team Leader - ADAS
Role in the highway pilot project: Technical Lead
Tasks include:

Overseeing project goals
Reviewing technical delivery
Assesment of the features

Personal highlight of the highway pilot project:
"'Driving' hands-free for the first time in the car which the team developed"
Name: Nick Stinton
Job Title: Control Engineer
Role in the highway pilot project: Installation of all hardware and communication networks on the vehicle.
Tasks include:

Creating CAN networks
Creating interfaces to Vehicle networks
Creation of bespoke link harnesses for calibration
Manufacture of mounting system for all hardware

Personal highlight of the highway pilot project:
"Providing a subtle and very neat solution that leaves the vehicles looking almost untouched."
---
Tour Summary
Tour overview:

15th February: Coventry

20th February: Glasgow

21st February: Manchester

21st February: Cardiff

22rd February: Greater London
Trip summary by our driving team:
1,190 miles
40 mph average
40.8 mpg average
29.8 hours

Testing in such a large variety of environments and for prolonged periods enables a thorough evaluation of system performance and capability. This enables complete familiarity with system characteristics which provides firm ground for investigation and diagnosis of system drawbacks. The collected data will be processed and combined with the experience gained to plan and develop improvements to the current system.
The experience gained also clearly demonstrates the sensitivities of operation of a level 3 autonomous feature allowing valid and efficient testing in future.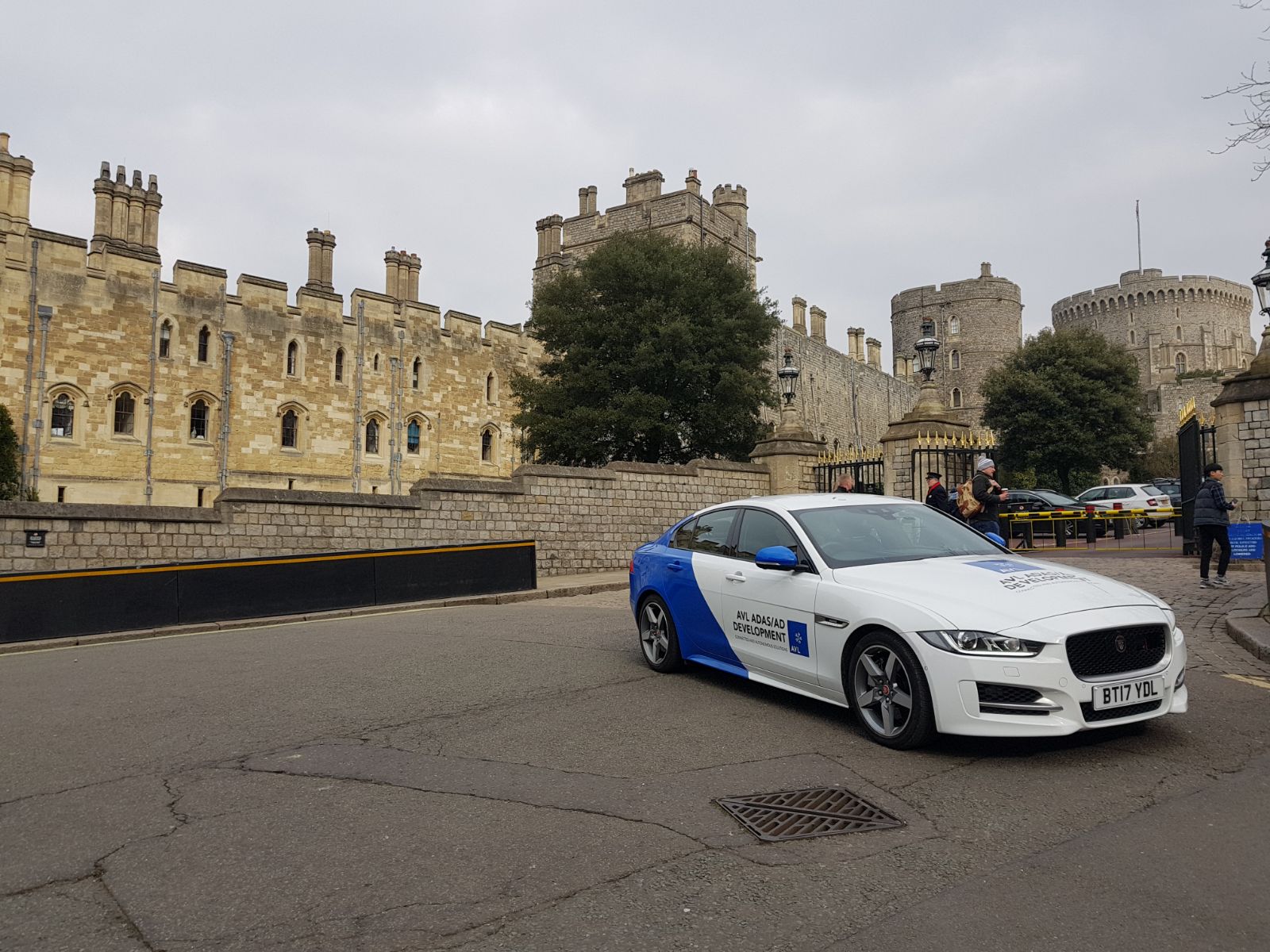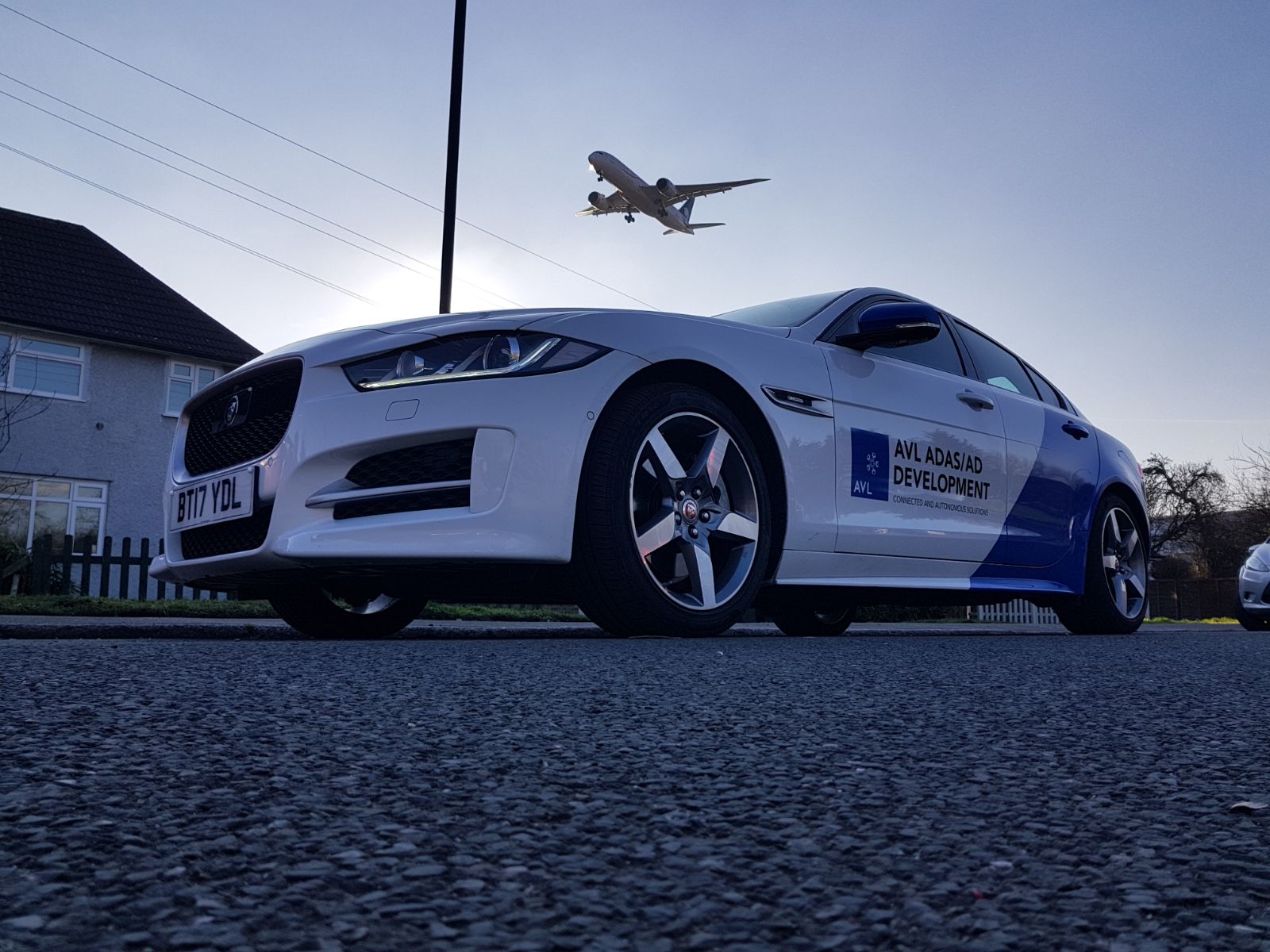 ---

Tour Diary
Coventry: Start of the tour
15th February, 2018
Our crew, Peter and Matthew, completed the final system checks from AVL's vehicle centre in Coventry and set off for the first leg of the UK tour! What happened today:
Completed system check and test run
The first two hours on the road
Conditions Encountered: Bright Sunshine, Heavy Traffic
Successful Testing: Lane Centering and Adaptive Cruise Control

First Update: On the way to Glasgow
20th February, 2018
Our robustness drive through the beautiful landscape leads us further north to Scotland. We encounter typical winter driving conditions and are able to collect valuable data about the performance of our detection systems and response of our vehicle control.
The weather and road conditions:
Light to mid rain, significant spray on dual carriageway, further north thick fog
Testing:
Favorable conditions with LC (Lane Centring) operational allows speed variation
LC operational during longitudinal gradients
LC operational in off camber highway scenarios
ACC (Adaptive Cruise Control) operational on complex single carriageway
Operation at reduced cruise speed through construction areas using line detection to perceive cat's eyes to good effect
Performance & findings:
Spray causes significant challenges to detection; data gathering here will aid further development and refinement
These roads present a greater variation in road camber, which has highlighted short-comings in the current calibration – The learning here will be used to develop improvements to system performance which will compensate for these effects
Despite some challenging conditions, the performance and availability of the feature was nonetheless encouraging
Our testing crew is happy with the collected data and looks forward to our next leg of road to Manchester!



Second update: From Glasgow through the Lake District to Manchester
21st February, 2018
Glasgow to Lake District sum-up:
W

eather and road conditions: Both wet and dry road, direct low sun, very good road conditions with well visible lines and a consistent surface. Good sampling of curvature, camber and profile
Testing:

Impact of direct low sunlight on the camera brought new insights on future camera and sensor selection to improve line detection performance
Some driving on B roads with only the center line available, for which the system is not currently designed
Line detection was kept operational for evaluation purposes to assess ability to detect road edges

Performance & findings:

Split wet and dry road with bright sunlight generated unusual reflection patterns for camera input - preprocessing function must be developed to improve adaptability of filtering functions; current state processed image was dominated by brighter high-intensity regions
Perception of center line on B roads was better than expected despite low radius corners and road profile undulations: This opens up opportunities for adding functionality to enable operation on wider variety of roads than highways
Lake District to Manchester sum-up:
Weather and road conditions: Favourable weather conditions, bright soft light with minimal shadows
Testing: Some lateral system calibration to overcome most obvious shortfalls with limited success without the lead software developer present
Performance & findings: Additional data collection on ACC feature to be used during calibration
The route taken today was always expected to challenge the system, going beyond pure highway driving for which the functionality was originally designed. However, we are very pleased with the current capabilities of perception in these challenging conditions – this gives us a very good base for future developments.



Third update: From Manchester to Cardiff
22nd February, 2018
Weather and road conditions:

Bright sunshine early on, with some cloud later on
Ideal road conditions: Both M6 and M5 featured good road surface and high-quality lines allowing prolonged dependable operation.

Testing:

Camera in different light/sunshine conditions (bright to clouded)
Line detection
Verification of latest calibration efforts and adaptations
Driver input data verification to sensor data in urban environments

Performance & findings:

Best camera performance in cloudy, dry conditions
Bright sunshine testing did present some challenges for the line detection but generated some acceptable results with room for improvement
M6 and M5 proved to be perfect testing ground due to highly visible linings
This part of the drive will be used for the generation of performance metrics for example target trajectory deviation statistics
The ideal conditions enabled prolonged calibration efforts in order to compensate for some shortfalls experiences in day 1 and 2
State achieved improved target trajectory holding in medium severity curvatures (previously poor, hugging outside of curvature) but compromises straight line stability – further calibration work and potentially functionality development required in order to handle both states satisfactorily
We are now on the way to the M25 to autonomously cruise around greater London - stay tuned!


Fourth and final update: London calling! An automated drive around greater London
23rd February, 2018
Weather and road conditions:

The day started cloudy with intermittent sunlight – later in the day the clouds cleared for bright sunshine again
Ultimately good conditions for line detection
Motorway/highway road surface roughness changes were notably more frequent than on previous roads/days

Testing:

Operation on the M25 provided a condensed summary of most road conditions faced previously and enabled trial of drastic calibration efforts
High traffic density provided complex scenarios for ACC evaluation
Special focus on impact of rough road conditions
Complex road marking layouts for additional sensor data collection

Performance & findings:

Logging systems and flight recorder operation proved to be challenging
Primary canalyzer laptop refused to boot (power system fault suspected); limited testing due to short battery power with the backup laptop
Encountered many complex road marking layouts which were detrimental to line detection performance when combined with lighting condition (reflective patches, 'scars' from previous line marker positions, small infrequent cat's eyes) – Sensor data collected in these scenarios will contribute to future system development

---