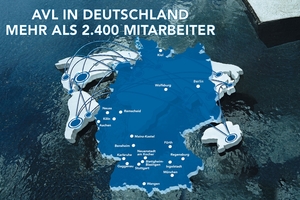 Starker Unternehmensverbund für einen der wichtigsten Automotive Märkte
Die AVL Gruppe in Deutschland
Als weltweit größtes, privates Unternehmen für die Entwicklung und das Prüfen von Antriebssystemen wird AVL für ihr herausragendes Engineering- und Vertriebsnetzwerk geschätzt. Diesen Anspruch setzen wir in Deutschland – dem Automobilstandort Nummer eins – konsequent um. Insgesamt neun AVL-Gesellschaften mit 19 Standorten bilden unser Netz an lokalen Unternehmen, die mehr als 2.400 Mitarbeiterinnen und Mitarbeiter beschäftigen. Daraus resultieren eine unmittelbare Nähe zum Kunden sowie vielfältige Spezialisierungen auf den Gebieten Antriebsstrangentwicklung sowie Mess- und Prüftechnik. So sind wir jederzeit in der Lage, den Anforderungen unserer Kunden mit herausragenden Produkten und maßgeschneiderten Dienstleistungen begegnen zu können.
Für unsere Mitarbeiterinnen und Mitarbeiter ergeben sich daraus sehr facettenreiche Karrieremöglichkeiten in ganz Deutschland.
Erfahren Sie im Folgenden mehr über die AVL Gruppe in Deutschland und Ihre bundesweiten Karrieremöglichkeiten.
---
Events
Click on a region to display events of that region
Warum AVL - Gute Gründe warum Sie sich für AVL als Arbeitgeber entscheiden sollten
---
Faszination Antriebsstrang
Die Faszination und Leidenschaft für Antriebsstrangsysteme sowie unser Bestreben, diese immer weiter zu optimieren, treiben uns täglich zu Höchstleistungen an. Mit Ihrem Know-how und Engagement möchten wir einen entscheidenden Beitrag für die bezahlbare und umweltfreundliche Mobilität von morgen leisten. Teilen Sie mit uns diese Faszination und Leidenschaft? Dann lassen Sie uns gemeinsam dieses Ziel erreichen!
---
Technologie der Zukunft & spannende Aufgabenstellungen
Träumen Sie davon, Ihre Visionen in realen und zukunftsweisenden Entwicklungsprojekten umzusetzen? Dann nutzen Sie Ihre Chance! Als kompetenter und hoch spezialisierter Partner der nationalen und internationalen Automobilindustrie unterstützen wir unsere anspruchsvollen Kunden in allen Phasen der Entwicklung neuer Antriebstechnologien. Ihnen eröffnen sich somit eine Vielzahl an spannenden Möglichkeiten, Ihr Know-how tagtäglich neu unter Beweis zu stellen.
---
Individuelle Karriereplanung
Wir betrachten die Karriereplanung als eine Frage der individuellen und persönlichen Entwicklung unserer Mitarbeiterinnen und Mitarbeiter. Unser Anliegen ist es, jede Mitarbeiterin und jeden Mitarbeiter optimal zu fördern und ihnen all die Unterstützung zu geben, die sie zum Erreichen ihrer Ziele benötigen. Wie sieht Ihre Karriereplanung aus und wie können wir Sie dabei unterstützen?
---
Hohe Eigenverantwortung
Das Engagement unserer Mitarbeiterinnen und Mitarbeiter ist für den Erfolg unseres Unternehmens von höchster Bedeutung. Nur mit Ihrem Fachwissen haben wir die Chance, unsere marktführende Position zu halten und nachhaltig auszubauen. Aus diesem Grund übertragen wir unseren Mitarbeiterinnen und Mitarbeitern ein Höchstmaß an Eigenverantwortung, und tragen so zu Ihrer persönlichen und fachlichen Entwicklung bei.
---
Angenehmes Arbeitsklima und gute Zusammenarbeit
Es ist unser Anspruch, Ihnen bestmögliche Arbeitsbedingungen sowie ein freundliches und familiäres Arbeitsumfeld zu bieten. Auch in Situationen, die ein außergewöhnliches Engagement von Ihnen erfordern, sollen Sie sich stets wohlfühlen. Werden Sie Teil des AVL Teams!
---
Verantwortung für unsere Mitarbeiter
Neben herausfordernden und spannenden Aufgabenstellungen ist die Vereinbarkeit von Beruf und Familie zum Erbringen von Spitzenleistungen unerlässlich. Mit gezielten Maßnahmen und umfangreichen Arbeitgeberleistungen tragen wir dazu bei, dass sich unsere Mitarbeiterinnen und Mitarbeiter wohlfühlen und die Balance zwischen Karriere und Privatleben wahren können.
---
Unternehmenskultur
Als mittelständische Tochterunternehmen eines inhabergeführten und international tätigen Konzerns sind wir unabhängig und somit in der Lage, unsere langfristigen Ziele konsequent zu fokussieren und kontinuierlich in die Zukunft unseres Unternehmens und unserer Mitarbeiterinnen und Mitarbeiter zu investieren. Unsere Unternehmensstrukturen sind durch flache Hierarchien und schnelle Entscheidungswege gekennzeichnet.
---