Pressemeldungen 2016
Press Release Filters
Note: Click on the FILTER button to apply your filter Settings.
Year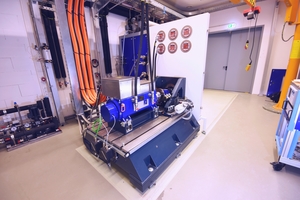 AVL E-Motorenprüfstand: High Performance bei Hitachi
Nach gut zwei Monaten Bauphase wurde einer der leistungsstärksten E-Motorenprüfstände Europas bei Hitachi Automotive in Oberding nördlich von München offiziell eröffnet und in Betrieb genommen. Mit Leistungsdaten von 400 kW und einem Drehzahlbereich von bis zu 20.000 Umdrehungen pro Minute ist der Prüfstand auch für AVL ein nicht alltägliches Projekt.
---
Bereits in der Planungsphase im Herbst 2014 wurde allen Beteiligten schnell bewusst, dass der Kunde hohe Ansprüche an den neuen Prüfstand stellt. So enthielt der Anforderungskatalog beispielsweise Eckdaten wie 400 kW Leistung und ein Drehzahlbereich von bis zu 20.000 Umdrehungen pro Minute. Sowohl die Projektplanung durch Michael Herbel (Solution Office) und David Hellwig (Vertrieb) als auch die Umsetzung durch Roland Dieterle (Projektleiter) in dem bestehenden Gebäudekomplex nördlich vom Münchner Flughafen ging dank Marco Marques, dem engagierten Projektverantwortlichen bei Hitachi Automotive, nahezu reibungslos über die Bühne. Schon zu diesem Zeitpunkt äußerten die gemeinsamen Kunden – deutsche Automobilhersteller – reges Interesse.
Im Frühjahr 2016 war es dann endlich soweit. Ende April wurde der E-Motorenprüfstand durch den CEO von Hitachi Automotive, Ohnuma-san, gemeinsam mit Kawabata-san (CTO Hitachi Automotive), Machida-san (Executive Manager Hitachi Europe) und Fujishita-san (EU Executive Vice President von Hitachi) mit einem Festakt eröffnet. Weitere Teilnehmer waren unter anderem Entwicklungsleiter aus den Bereichen elektrische oder alternative Antriebe von mehreren deutschen Fahrzeugherstellern.
Nach den Reden von Ohnuma-san und Machida-san stellte Roland Jeutter, Geschäftsführer der AVL Deutschland GmbH, den anwesenden Gästen den Prüfstand en détail vor. Darüber hinaus sprach er Hitachi Automotive gegenüber den Dank der gesamten AVL für das entgegengebrachte Vertrauen aus und überbrachte dem Geschäftspartner die allerbesten Wünsche für eine erfolgreiche Zukunft.
Im Anschluss wurde gemeinsam das rote Band zerschnitten. Es folgte eine für japanische Kunden traditionelle japanische Segnung. Nach einem Rundgang über den Prüfstand erfolgte eine kurze Testfahrt von Ohnuma-san mit einem Kunden. Dabei drückten Sie gemeinsam den Start-Button des AVL-Automatisierungssystems, das mit dem E-Motor eines zukünftigen Elektrosportwagens ausgestattet war.
Der E-Motorenprüfstand wird bei Hitachi im Verbund Inverter-/E-Motor-Test und als Verifikations- und Validierungsumgebung für die verschiedensten Elektromotortypen genutzt. Aktuell ist das System bereits so ausgestattet, um auch zukünftige Anforderungen effizient zu bewältigen. Derzeit wird darüber diskutiert, die Leistungsabgabe auf 800 kW zu erhöhen. Da Hitachi zukünftig Systeme mit bis zu 800 kW, 1.600 A und 1.000 V testen möchte, plant der Kunde, diesen Schritt im Jahr 2017 umzusetzen.
Mindestens ein weiterer Prüfstand soll in Deutschland am Standort Oberding (München) errichtet werden und auch in Japan sind weitere E-Motorenprüfstände gemeinsam mit AVL im Gespräch.
---
Technische Daten
Drehmomentbereich: bis 545 Nm
Leistungsbereich: bis zu 400 kW (später 800 kW)
Drehzahlbereich: bis zu 20.000 Umdrehungen pro Minute
Automatisierungssystem: AVL PUMA Open™
HV DC-Stromversorgung: 1.000 V DC, 800 A (später 1.600 A); integrierte elektrische Test- und Messgeräte
Hochpräzisions-Ölanlage, Kühlanlage
Klimakammer: von -40 °C bis +150 °C
---
Über Hitachi
Hitachi Automotive Systems Europe wurde 1997 in Großbritannien gegründet. Das Unternehmen ist eine hundertprozentige Tochtergesellschaft von Hitachi Ltd., gegründet 1910 in Japan. Hitachi verfügt jeweils über eine Niederlassung in Oberding und Roßwein (Sachsen) sowie drei Produktionsstätten in Roßwein, Zatec (Tschechische Republik) und in Bolton (UK). Das Unternehmen fertigt Motormanagementsysteme für viele OEMs in Europa.
---