Pressemeldungen 2016
Press Release Filters
Note: Click on the FILTER button to apply your filter Settings.
Year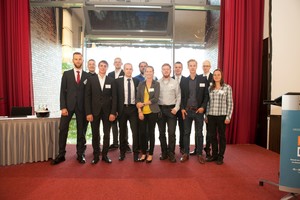 4. Rostocker Großmotorentagung
AVL ermöglicht Studenten Einblicke in die Forschung und Entwicklung von Großmotoren
Am 15. und 16. September 2016 fand die 4. Rostocker Großmotorentagung im Radisson Blu Hotel unweit des Rostocker Stadthafens statt. Unter der Leitung von Prof. Dr.-Ing. Horst Harndorf, Lehrstuhl für Kolbenmaschinen und Verbrennungsmotoren der Universität Rostock, trafen sich Experten aus Industrie und Forschung, um über die Zukunft der Großmotoren in Bezug auf Emissionen, Kraftstoffen und Kosten zu diskutieren.
AVL unterstützte die Tagung in Form des Studentensponsorings und gab den teilnehmenden Studenten die Möglichkeit, einen Überblick in aktuelle Forschungs- und Entwicklungsthemen im Bereich Großmotoren zu erhalten. Darüber hinaus präsentierte AVL an ihrem Stand verschiedene Lösungsansätze zu branchendominierenden Themen. So entstanden zahlreiche fachliche Dialoge im Spannungsfeld zwischen Gesetzgebung sowie Entwicklern und Nutzern von Großmotoren.
Weiter Informationen erhalten Sie hier.
---
---