Pressemeldungen 2016
Press Release Filters
Note: Click on the FILTER button to apply your filter Settings.
Year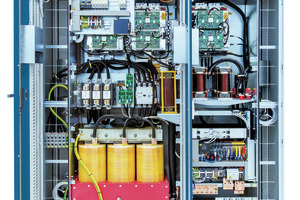 Internationale Zuliefererbörse 2016 in Wolfsburg vom 18. bis 20. Oktober
AVL - kompetenter Partner in den Bereichen Elektrifizierung, Simulation und Kalibrierdatenmanagement
AVL präsentiert seine Lösungskompetenz zu branchendominierenden Themen erstmalig auf der Internationalen Zuliefererbörse (IZB) in Wolfsburg vom 18. bis zum 20. Oktober 2016.
---
Mainz-Kastel, 18. Oktober 2016 – AVL präsentiert seine Lösungskompetenz zu branchendominierenden Themen erstmalig auf der Internationalen Zuliefererbörse (IZB) in Wolfsburg vom 18. bis zum 20. Oktober 2016. In Halle 2, Stand 2405, zeigt AVL zahlreiche neue Lösungsansätze, um aktuelle Aufgabenstellungen wie die Elektrifizierung des Antriebsstrangs, Simulationen im Entwicklungsprozess und individuelles Kalibrierdatenmanagement effizient zu bewältigen. Dabei spannt AVL den Bogen vom neuen Batterietestsystem AVL E-STORAGE BTE™ mit Hochvolt-Fähigkeiten über zukunftsweisende Simulationswerkzeuge bis hin zu modernsten Datenmanagementlösungen.
"Die Elektrifizierung von Antriebssystemen trägt zur wachsenden Vielschichtigkeit des Antriebsstrangs bei, sodass Kunden verstärkt ganzheitliche Lösungen benötigen. Zudem führt die steigende Komplexität von Versuchsfahrten, Messungen, Tests und Simulationen zu beständig wachsenden Datenmengen. Wir tragen diesen Entwicklungen Rechnung und geben Interessenten die Möglichkeit, sich unsere ganze Bandbreite technologischer Lösungen zu diesen aktuellen Fragestellungen aufzeigen zu lassen," sagt Roland Jeutter, Geschäftsführer der AVL Deutschland GmbH.
Antriebsstrangkonfigurationen wie in Hybridfahrzeugen verwenden Batterien zur elektrochemischen Energiespeicherung. Die wichtigsten Entwicklungsaufgaben beim elektrifizierten Antriebsstrang bestehen darin, Lebensdauer, Sicherheit, Leistung, Energiebedarf und Kosten von Batteriesystemen zu optimieren. Mit AVL E-STORAGE BTE™ präsentiert AVL ein kombiniertes System, das nicht nur als Batterietester sondern auch als Batterieemulator (-simulator) eingesetzt werden kann. Damit lassen sich Batterien, E-Motoren und Inverter bereits in frühen Entwicklungsphasen testen und validieren. Es bietet eine einzigartige Kombination aus herausragender Mess- und Regelgenauigkeit und höchster Dynamik.
Um eine effiziente und sichere Entwicklung moderner Antriebsstränge bei zunehmender Komplexität der Systeme in akzeptablen Zeiträumen zu ermöglichen, ist die Simulation mittlerweile ein unverzichtbarer Baustein im Entwicklungsprozess. Ihr Einsatzspektrum reicht von der Untersuchung detaillierter physikalischer Vorgänge einzelner Komponenten über die Bewertung des Fahrzeugenergiemanagements bis zum Einsatz in Echtzeitumgebungen als virtuelle Testumgebungen. Mit den Simulationsprogrammen AVL EXCITE™, AVL FIRE™, AVL CRUISE™ M und AVL BOOST™ stehen für die gesamte Bandbreite von Aufgabenstellungen die entsprechenden leistungsfähigen Werkzeuge zur Verfügung.
Im Rahmen der Entwicklungsziele ist die Reproduzierbarkeit des Kalibrierprozesses von höchster Bedeutung. Über den kompletten Produktlebenszyklus hinweg müssen die Daten abrufbar sein und dokumentiert werden. AVL CRETA 4™ unterstützt den Anwender durchweg in diesem Prozess, bei Berücksichtigung von Zuständigkeiten und individuellen Kompetenzen im Hinblick auf komplexe Kalibrieraufgaben. Mit Hilfe von in der Vergangenheit gewonnenen Daten lassen sich zukünftige Projekte mit AVL CRETA 4™ vorausschauend planen.
Über AVL
AVL ist das weltweit größte, unabhängige Unternehmen für die Entwicklung, die Simulation und das Testen von Antriebssystemen (Hybrid, Verbrennungsmotoren, Getriebe, Elektromotoren, Batterien und Software) für Pkw und Nutzfahrzeuge. AVL beschäftigt weltweit über 8.050 Mitarbeiter. 2015 betrug der Umsatz 1,27 Milliarden Euro.