Pressemeldungen 2016
Press Release Filters
Note: Click on the FILTER button to apply your filter Settings.
Year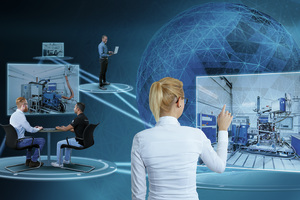 AVL PUMA Open 2™ - Prüfstandsautomatisierung der nächsten Generation
Mit AVL PUMA Open 2™ präsentiert AVL seine neueste Generation eines modernen Automatisierungssystems. Mit seiner durchgängig einfachen, intuitiven Bedienbarkeit bietet das System die Möglichkeit, mittels effizienter Parametrierung und rascher Validierung, Prüfstandsaufgaben vorab im Büro zu bearbeiten. Dies führt zu einer signifikanten Erhöhung der produktiven Prüfstandszeit. Die neue Generation des Automatisierungssystems aus der AVL Team SUITE™ wird seinem Slogan "The ease of automation" damit völlig gerecht.
---
Die wachsende Komplexität in der Antriebsstrangentwicklung, die Elektrifizierung von Antriebssystemen, alternative Kraftstoffe und neue Technologien tragen erheblich dazu bei, dass Kunden immer mehr ganzheitliche Lösungen benötigen, um aktuelle Herausforderungen effizient zu bewältigen. Mit der neuesten Generation AVL PUMA Open 2™ können Kunden nun auf ein Automatisierungssystem zurückgreifen, das sowohl weiterhin verlässlich und stabil ist als auch zahlreiche neue Funktionen und innovative Verbesserungen bietet. Darüber hinaus ist die Plattform das einzige Automatisierungssystem, das bei allen Prüfstandstypen einsetzbar ist.
Validieren im Büro - Testen am Prüfstand
AVL PUMA Open 2™ ermöglicht die Vorbereitung von Prüfläufen und Parametersätzen im Büro sowie die Administration von Projekten, Ergebnissen und Bedienerrechten. Die Erfassung von Messwerten, Verrechnung diverser Größen und die Ausführung der automatischen Testläufe erfolgen am Prüfstand. Durch die Integration aller Systemfunktionen gewährleistet AVL PUMA Open 2™ überdies das reibungslose Zusammenspiel aller Prüfinstrumente und Prüfstandskomponenten. Eine wesentliche Neuerung von AVL PUMA Open 2™ ist die nahtlose Integration aller Prüffelddaten, ausgehend von Testparametern über globale Daten bis hin zu Ergebnisdaten.
Mittels einer leistungsfähigen Suchfunktion können Daten schnell aufgefunden und weiterverarbeitet werden. Die automatische und schnelle Vernetzung von AVL Messgeräten und Prüfstandsautomatisierung, signifikante Laufzeiterhöhung und massive Reduktion unnötiger Daten durch integrierte Diagnosewerkzeuge sind einzigartige Vorteile der Automatisierungsplattform. Durch leistungsstarke Schnittstellen zwischen AVL CAMEO 3™, AVL PUMA Open 2™ und AVL IndiCom 2™ wird zudem das Abfahren innovativer Kalibriermethoden erstmalig ermöglicht.
Die AVL Team SUITE™ - ein Set von Expertentools – stellt sicher, dass im gesamten Entwicklungsprozess Dynamik, Performance und Flexibilität auf höchstem Niveau gewährleistet wird.
Über AVL
AVL ist das weltweit größte, unabhängige Unternehmen für die Entwicklung, Simulation und das Testen von Antriebssystemen (Hybrid, Verbrennungsmotoren, Getriebe, Elektromotoren, Batterien und Software) für PKW und Nutzfahrzeuge. AVL beschäftigt weltweit über 8.050 Mitarbeiter. 2015 betrug der Umsatz 1,27 Milliarden Euro.
Kontakt
Dipl.-Ing. Michael Ksela, Unternehmenssprecher AVL
Tel +43 664 132 81 78
e-mail: michael.ksela@scoopandspoon.com