Pressemeldungen 2016
Press Release Filters
Note: Click on the FILTER button to apply your filter Settings.
Year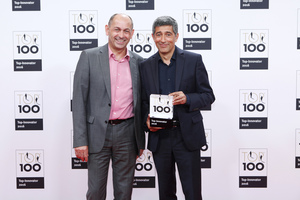 Unternehmen aus Regensburg schafft es in Deutschlands Innovationselite/Ehrung durch TOP 100-Mentor Ranga Yogeshwar
AVL Software and Functions unter den TOP 100
Regensburg – Zum 23. Mal werden die TOP 100 ausgezeichnet, die innovativsten Unternehmen des deutschen Mittelstands. Die AVL Software and Functions GmbH gehört in diesem Jahr zu dieser Innovationselite. Das Unternehmen aus Regensburg nahm zuvor an einem anspruchsvollen, wissenschaftlichen Auswahlprozess teil. Untersucht wurden das Innovationsmanagement und der Innovationserfolg. Der Mentor des Innovationswettbewerbs, Ranga Yogeshwar, ehrt den Top-Innovator im Rahmen des Deutschen Mittelstands-Summits am 24. Juni in Essen.
---
Das Top-Management der AVL Software and Functions GmbH hat sich ganz klar der Innovation verschrieben. Ein Drittel seiner Arbeitszeit beschäftigt sich die Geschäftsleitung mit diesem Thema und bringt durch 25 Weiterbildungstage im Jahr immer wieder neue Impulse ein. Bei der Entwicklung von Software und Elektronik für die Automobilindustrie steht der 2008 gegründete Regensburger Mittelständler mit seinen knapp 250 Beschäftigten weltweit an erster Stelle. Geschäftsführer Dr. Wolfgang Schelter sieht die Gründe dafür in einer zielgerichteten Grundlagenforschung und innovativen Entwicklungen: "So sichern wir unsere starke globale Wettbewerbsfähigkeit". Die Zahlen geben ihm recht: Der Top-Innovator verzeichnete zuletzt ein Umsatzwachstum von 44 Prozent im Vergleich zu 7 Prozent auf dem allgemeinen Automobilmarkt.
Die zweite wichtige Säule in der Innovationsstrategie sind die weitreichenden Partnerschaften mit Universitäten, Industriepartnern und Clustern rund um den Globus. Gerade die intensiven Beziehungen zu lokalen und regionalen Industriepartnern spielen eine wichtige Rolle: "Das führt teilweise bis zur gemeinschaftlichen Entwicklung von Produkten", betont Geschäftsführer Dr. Georg Schwab. In diesem Netzwerk richten die Unternehmen den Blick stets auch in die Zukunft. Sie beschäftigen sich beispielsweise mit der Frage, wie Industrie 4.0, also die Verzahnung der industriellen Produktion mit modernster Informations- und Kommunikationstechnik, die Rahmenbedingungen für Arbeitnehmer verändern wird.
Über 4.000 Unternehmen interessierten sich in diesem Jahr für eine Teilnahme an TOP 100. 366 von ihnen bewarben sich für die Qualifikationsrunde. Davon kamen 284 in die Finalrunde. 238 schafften schließlich den Sprung in die TOP 100 (maximal 100 in jeder der drei Größenklassen). Bewertet wurden die Unternehmen wieder von Prof. Dr. Nikolaus Franke und seinem Team vom Lehrstuhl für Entrepreneurship und Innovation der Wirtschaftsuniversität Wien. Sie fragten über 100 Parameter in fünf Bewertungskategorien ab: "Innovationsförderndes Top-Management", "Innovationsklima", "Innovative Prozesse und Organisation", "Innovationsmarketing/Außenorientierung" und "Innovationserfolg".
Die TOP 100 zählen in ihren Branchen zu den Schrittmachern. Das belegen die Zahlen der Auswertung: Unter den Unternehmen sind 97 nationale Marktführer und 32 Weltmarktführer. Im Durchschnitt erzielten sie zuletzt 40 Prozent ihres Umsatzes mit Marktneuheiten und Produktverbesserungen, die sie vor der Konkurrenz auf den Markt brachten. Ihr Umsatzwachstum lag dabei um 28 Prozentpunkte über dem jeweiligen Branchendurchschnitt. Zusammen meldeten die Mittelständler in den vergangenen drei Jahren 2.292 nationale und internationale Patente an. Diese Innovationskraft zahlt sich auch in Arbeitsplätzen aus: Die TOP 100 planen, in den kommenden drei Jahren rund 9.500 neue Mitarbeiter einzustellen.
Der Mentor von TOP 100, der Wissenschaftsjournalist und TV-Moderator Ranga Yogeshwar, ist von der Qualität der Unternehmen beeindruckt und hofft auf eine Signalwirkung: "Die Art und Weise, wie die TOP 100 neue Ideen generieren und aus ihnen wegweisende Produkte und Dienstleistungen entwickeln, ist im wahrsten Sinne des Wortes bemerkenswert. Ich freue mich deshalb, dass die Auszeichnung diese Qualitäten sichtbar macht. Hoffentlich ermuntert ihr Erfolg andere Unternehmen, es ihnen gleichzutun. Denn diese Innovationskultur wird in Zukunft für alle Unternehmen immer bedeutender."
TOP 100: der Wettbewerb
Seit 1993 vergibt compamedia das TOP 100-Siegel für besondere Innovationskraft und überdurchschnittliche Innovationserfolge an mittelständische Unternehmen. Die wissenschaftliche Leitung liegt seit 2002 in den Händen von Prof. Dr. Nikolaus Franke vom Institut für Entrepreneurship und Innovation der Wirtschaftsuniversität Wien. Mentor von TOP 100 ist der Wissenschaftsjournalist und TV-Moderator Ranga Yogeshwar. Projektpartner sind die Fraunhofer-Gesellschaft zur Förderung der angewandten Forschung und der BVMW. Als Medienpartner begleitet das manager magazin den Unternehmensvergleich. Mehr Infos unter www.top100.de.
Ansprechpartner AVL Software and Functions GmbH
Stefan Schmid
Im Gewerbepark B29
93059 Regensburg
Telefon: 0941 63089-108
Ansprechpartner compamedia GmbH
Sven Kamerar
Nußdorfer Straße 4
88662 Überlingen
Telefon: 07551 94986-33