Pressemeldungen 2016
Press Release Filters
Note: Click on the FILTER button to apply your filter Settings.
Year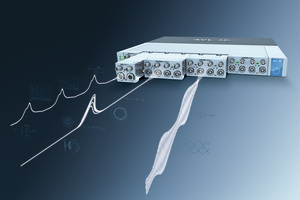 Automotive Testing Expo Europe 2016 in Stuttgart vom 31. Mai bis 2. Juni
AVL unterstreicht Lösungskompetenz in den Bereichen RDE und Elektrifizierung
Vom 31. Mai bis zum 2. Juni 2016 präsentiert AVL auf der Automotive Testing Expo Europe 2016 in Stuttgart am Stand 1604 zahlreiche neue Lösungen und Produkte, um zukünftige Herausforderungen wie RDE (Real Driving Emissions) und die Elektrifizierung des Antriebsstrangs effizient zu bewältigen.
---
Dabei spannt AVL den Bogen von der aktuellsten Generation der Prüfstandsautomatisierung AVL PUMA Open 2™ über die hochmoderne Messgeräteserie zur Kraftstoffverbrauchsmessung AVL PLUtron™ bis hin zum neuen Hochgeschwindigkeitsmesssystem AVL X-ion™ und dem Batterietestsystem AVL E-STORAGE BTE™ mit Hochvolt-Fähigkeiten.
"Die Zukunft der Automobilindustrie wird derzeit insbesondere von den Themen RDE und Elektrifizierung beherrscht. Auf der Testing Expo Europe geben wir Kunden die Möglichkeit, sich unsere ganze Bandbreite technologischer Lösungen zu aktuellen Fragestellungen aufzeigen zu lassen, um diesen Herausforderungen bestens gerüstet zu begegnen," sagt Roland Jeutter, Geschäftsführer der AVL Deutschland GmbH.
Zahlreiche Anforderungen an den modernen Antriebsstrang führen zu zunehmender Komplexität in der Entwicklung. Die Elektrifizierung von Antriebssystemen, alternative Kraftstoffe und neue Technologien tragen erheblich dazu bei, dass Kunden verstärkt ganzheitliche Lösungen benötigen. Mit AVL PUMA Open 2™ bietet AVL den Kunden beispielsweise ein einzigartiges Automatisierungssystem, das bei allen Prüfstandstypen einsetzbar ist. Sämtliche Systemfunktionen sind integriert, wodurch AVL PUMA Open 2™ das reibungslose Zusammenspiel aller Prüfinstrumente und Prüfstandskomponenten gewährleistet.
Strenge Emissionsgesetzgebungen werfen zudem die Frage auf, wie sich der Kraftstoffverbrauch im realen Fahrbetrieb im Vergleich zu gesetzlich vorgeschriebenen Testzyklen dynamisch und effizient messen lässt. Im Bereich Kraftstoffverbrauchsmessung leitet AVL daher eine neue Ära ein. Die neuen bedienerfreundlichen Messgeräte
AVL PLUtron™ CLASSIC und CORE bieten eine einzigartige Dynamik sowie höhere Auflösung und Messgenauigkeit als konventionelle Messinstrumente. AVL PLUtron™ ist für Messungen sowohl am Prüfstand als auch im Fahrzeug geeignet und wird so den neuesten Gesetzgebungen gerecht.
Die wachsende Komplexität des Antriebsstrangs – nicht zuletzt verbunden mit zunehmendem Elektrifizierungsgrad – sowie steigender Zeit- und Kostendruck führen darüber hinaus zu höheren Anforderungen an die Messtechnik. Diesem Trend begegnet AVL mit AVL X-ion™, einem Hochgeschwindigkeitsmesssystem zur Datenerfassung im Bereich Antriebsstrangentwicklung. Als modulares Erfassungssystem lässt es sich leicht an unterschiedlichste Prüflinge, Testumgebungen und Messaufgaben anpassen und eignet sich für unterschiedliche Anwendungsbereiche wie Verbrennungsmesstechnik, optische Untersuchungen, Rotationsanalyse und elektrische Leistungsmessung.
Beim gewünschten Wechsel zu alternativen Antrieben, wird es – nach Meinung von Experten – langfristig einen Zeitraum der Dualität zwischen Elektro- und Verbrennungsmotor geben. Antriebsstrangkonfigurationen wie in Hybridfahrzeugen verwenden Batterien zur elektrochemischen Energiespeicherung. Die wichtigsten Entwicklungsaufgaben bestehen daher darin, Lebensdauer, Sicherheit, Leistung, Energiebedarf und Kosten dieser Speichersysteme zu optimieren. Mit AVL E-STORAGE BTE™ präsentiert AVL ein kombiniertes System, das nicht nur als Batterietester sondern auch als Batterieemulator (-simulator) eingesetzt werden kann. Damit lassen sich Batterien, E-Motoren und Inverter bereits in frühen Entwicklungsphasen testen und validieren. Es bietet eine einzigartige Kombination aus herausragender Mess- und Regelgenauigkeit und höchster Dynamik.
Über AVL
AVL ist das weltweit größte, unabhängige Unternehmen für die Entwicklung, die Simulation und das Testen von Antriebssystemen (Hybrid, Verbrennungsmotoren, Getriebe, Elektromotoren, Batterien und Software) für Pkw und Nutzfahrzeuge. AVL beschäftigt weltweit über 8.050 Mitarbeiter. 2015 betrug der Umsatz 1,27 Milliarden Euro.